Quorn/S. Notts FHs attack sab when prevented from killing a fox
Large field tried to push sab into dish, whip them & steal camera
15-1-19 Facebook - Nottingham Hunt Saboteurs Once again teaming up with Lincoln Hunt Saboteurs we headed east to their turf where the Belvoir were due to be meeting at Humby Hall, Lincolnshire. They weren't there, and the area was quiet, so we quickly loaded up and headed back West as we had another juicy target to look at.
This was a meet of the Quorn who were hosting the South Notts at Poultney farm, Ulverscroft. It was a hilly area with lots of large woods so we knew we'd have our work cut out trying to find them. We quickly located a large number of slack jawed vehicle support staring vacantly into a large wood (quite why they're willing to pay money for the pleasure is beyond us) so knew we were warm and one group of foot sabs headed in to have a look.
We spoke to an elderly hunt supporter up in the fields who confirmed the Hunt were in Benscliffe Wood. He told us it had been a quiet day so far but that the Quorn had "found" (killed) in these woods a few weeks ago. The Hunt then came out of the wood and the field followed, and followed, and followed. Close to a hundred riders in total, many it appeared from the South Notts who were clearly keen to seize the opportunity to hobnob with their more illustrious Southern neighbours.
South Notts huntsman Stuart Barton then headed into Nowell Spring Wood where hounds quickly put a fox up and chased it south, fortunately straight to where some of our sabs were waiting and able to mask it's scent. The large field took offence at this and tried to push a sab into a ditch and whip them as well as trying to steal a camera. Clearly the two Hunts showing off to each other...
The Hunt then headed North at speed and the field had a gallop over some open countryside before the Huntsman, clearly stuck for any ideas what to do boxed up at 1.45.
A short but pretty hectic day where we used lots of fuel. If you can support us please do: https://ko-fi.com/nottshuntsabs.
LACS Chief Investigator snapped attending Hunt Club point-to-points
Accused of hypocrisy by antis, attending events that fund Hunts
Martin Sims says he attended to support daughter, a would-be jockey
Revealed that Sims & wife were assaulted at one event - police dealing
Also revealed that daughter's horse registered with notorious Tiverton Staghounds
Turmoil in LACS has already led to formal advice from Charity Commission
12-1-19 Daily Telegraph League Against Cruel Sports investigator accused of 'hypocrisy' after attending hunt fundraiser The League Against Cruel Sports has become embroiled in accusations of hypocrisy after one its most senior officials attended hunt fundraising events. Martin Sims, the charity's Director of Investigations, has been seen attending a number of point-to-point meets, which raise money for and have to promote the "furtherance" of hunting. The retired police officer, whose investigative team carry out covert surveillance on countryside sports, has publicly condemned fox hunting as a "barbaric throwback to crueller times" and a "dark and menacing blight on the countryside".
Both hunt supporters and saboteurs have described his attendance at the events as "hypocrisy". It comes amid turmoil at the charity, which has ousted a number of high-profile trustee and faced public criticism of its tactics. The "serious and damaging dispute" between members of the organisation has resulted in the Charity Commission offering "formal regulatory advice", a spokesman for the regulator confirmed.
Yesterday the Telegraph revealed that local saboteurs groups have branded the league a "parasitic organisation" and some had refused to co-operate with it. It has now emerged that Mr Sims was recognised at the Cornwall Hunt Club point-to-point in Wadebridge on December 9, in which his 22-year-old daughter was competing.
After he was spotted pro-hunting activists began investigating his links to the sport and found a number of images of him including at a Dart Vale and Haldon Harriers event in Buckfastleigh in March, the Shooting Times reported. Point-to-point rules state when a meet is organised by a hunt it "must include the furtherance of the interests of that particular Hunt or Hunts in general".
One saboteur, who did not wish to be named for fear of reprisals, said: "It is hypocritical, point-to-points prop up the Hunt, you're essentially putting money in the pocket of the Hunt. To go himself and to get photographed there is foolish if nothing else."
The animal rights campaigner said that there would be a question of a conflict of interest if the League were aware of his attendance in advance. Another activist, who claims to have been ousted from the league by the current leadership after 25 years campaigning, added: "Point to Point is inextricably linked to hunting. Due diligence is about preventing this in the first place for Leagues sake."
Mr Sims' daughter, who is pursuing a career as a jockey, rides a gelding which is owned by her mother.
For a horse to compete in a point-to-point a horse the owner has to pay a subscription to a Hunt and the Sims' horse is registered with the Tiverton Staghounds, records show. Tiverton is one of only three packs of staghounds in the country, and the practice has received particular attention from the League.
In November, after a prosecution of the Quantock Staghounds based on video evidence obtained by the League was dropped, Mr Sims described it as a "national disgrace" that deer were being pursued for "cruel sports".
Mr Sims spent 31 years in the police, working his way up to Chief Inspector of Sussex Police before taking over as the head of Britain's National Wildlife Crime Unit. The 56-year-old became the Director of Investigations after retiring from the police.
A League spokesman said: ""Martin has attended point to point races where his daughter has ridden. She is pursuing a career as a jockey, and given the dangers, he wanted to be there for her. At a recent event, following Martin's high-profile condemnation of stag hunting on national TV, Martin and his wife were assaulted, with this matter now in the hands of the police. Martin is one of the most experienced wildlife crime experts in the country. During his one year in post the number of prosecutions brought to court under his leadership has more than trebled. The Hunts know he is a threat to their existence, which is why they are attacking him, both verbally and physically."
S. Dorset FH rider charges sabs trying to call hounds off fox
12-1-19 Facebook - Weymouth Animal Rights VIDEO This is how the South Dorset Hunt react when sabs save a fox and spoil their 'sport' ! Hit report to follow.
POWAperson adds - Sabs on road rate hounds running past them in pursuit of fox. Woman rider repeatedly charges her horse into sabs. For full report on the day, which featured repeated attempts to chase foxes and harassment and attempted theft by supporters, see here.

Fox fleeing from the Hunt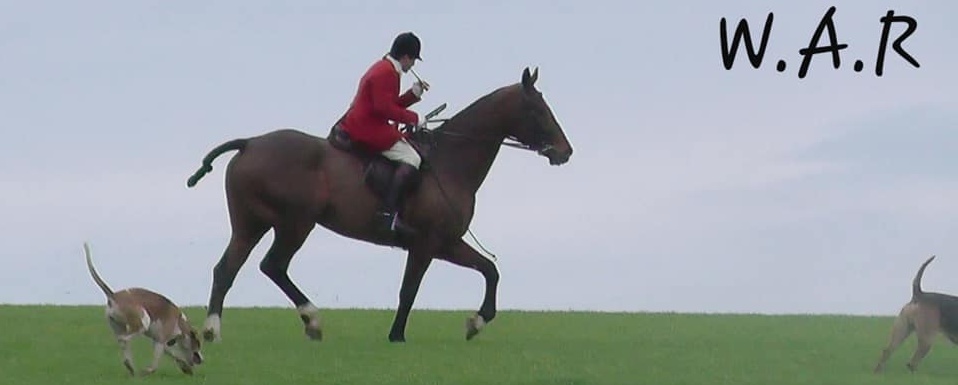 Huntsman encouraging hounds to hunt on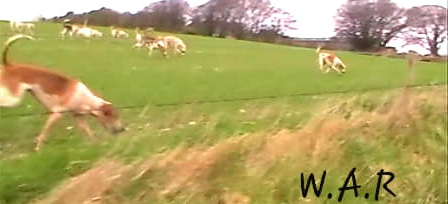 Hounds in cry after fox being rated by sabs on road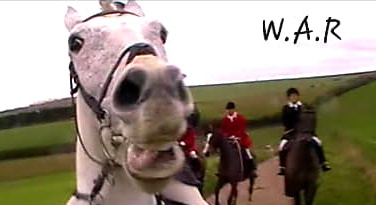 Woman rider repeatedly rode this horse at and into sabs rating hounds
Cottesmore FH hunt foxes but sabs ensure no kills - blocked sett
6-1-19 Facebook - Hertfordshire Hunt Saboteurs 05/01/2019, Cottesmore Hunt - Meet: Preston Hall, Preston, Leicestershire With Northants and Lincoln Hunt Saboteurs + WildAct The hound van was parked in Ridlington Road and eyes were on as the Cottesmore Hunt gathered at Preston Hall. One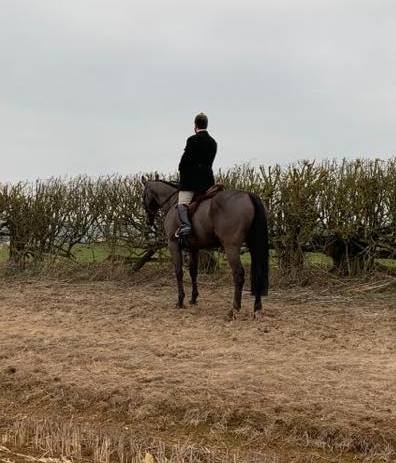 team was dropped in to strategic areas to pre-spray.
The Hunt finally left the meet and it seemed like they were straight onto a fox as they headed west from the meet parallel to Ridlington Road with hounds going into cry. Sab teams were already in the field to rate the hounds and keep them in close sight. The Hunt turned north with hounds briefly in cry at the next covert before moving off at speed. A beautiful hare fled the area to safety. Sabs followed as they headed towards another covert scaring a field of sheep as they encircled it. After milling around for a short while with hounds briefly speaking the Hunt turned towards Brooke Road. A couple of muntjac also fled the area.
The Cottesmore Hunt headed south to hunt the country between Ridlington and the A47 centred on Park Farm and Quaker Spinney. Teams of sabs spread out to cover as large an area as possible. A rider was spotted on point close to Park Farm before hounds went into prolonged cry as they chased at speed in the direction of Belton-in-Rutland followed by the main field. The BOP wagon went in towards a small covert after the hounds had left the area and sabs feared a clean-up operation but BOP drove past. Another point rider was spotted.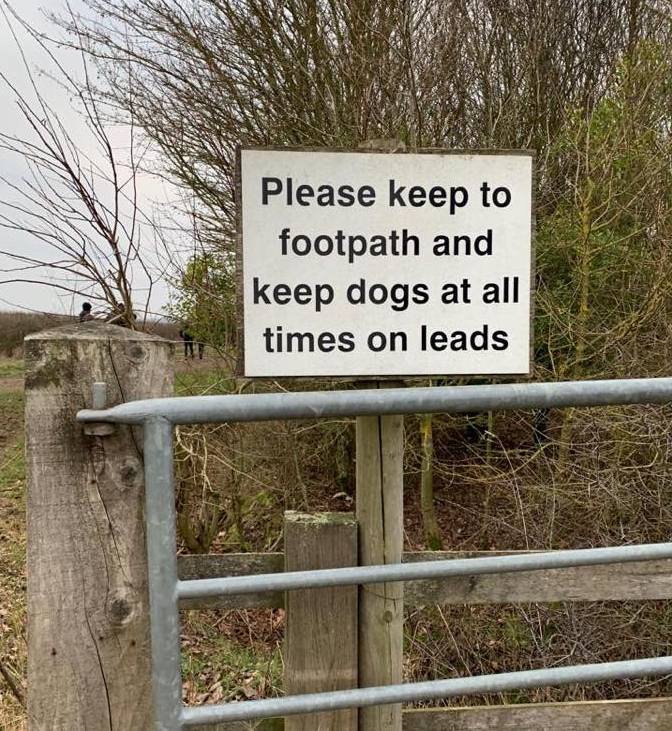 The Hunt carried on north moving fast and direct contact was lost for a while. Vehicles were searching the area as much as possible with the lack of roads and spotted hunt support around Launde Park Wood.
The usual pathetic bunch of hunt support thugs had turned up and tried to block in sab vehicles. Foot sabs headed towards Launde Park Wood and heard the hounds speaking. BOP and another terrierman quad were hanging about on the outside of the wood. As sabs entered the wood hounds were gathered back together and led out by the whip for the long trek back towards Wills Farm.
Unfortunately, foxes are not the only animal persecuted by Hunts. One team had found a large badger sett close to Park Farm that had been recently blocked in with clear spade marks. They set to recording the damage and unblocking the sett to save the badgers from being suffocated. The sett blocking will be reported to police.
Late in the afternoon the BOP wagon was put on a trailer even though the Hunt were still actively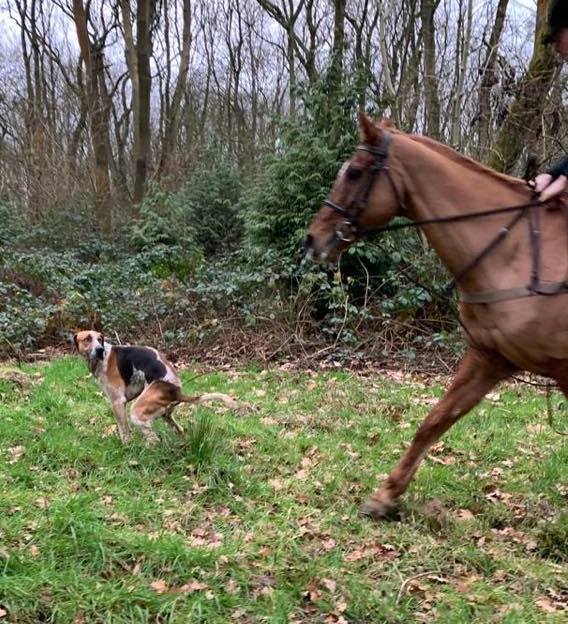 hunting - obviously the Cottesmore have realised the BOP exception is invalid. A team of foot sabs headed back into the field found the Hunt and observed as they headed back to pack up.
The hopelessly ineffective hunt thugs then decided it was time to earn their blood money and descended on the green landy chasing it along a public byway before blocking them in. The usual motley crew surrounded the vehicle with their permanently attached cameras focused on the windows. Police were called and as units were already in the area luckily arrived within a few minutes. The thugs were told to withdraw and statements given to police meaning another late finish to the day.
This was a tough day for sabs with limited vehicle access meaning foot sabs covered large distances over undulating country to keep in contact with a fast moving hunt. All sab teams worked effectively to prevent the blood junkies having any success. We are pretty confident of a no kill day and a badger sett has been unblocked undoubtedly saving more lives.
if you can help us financially please do every single penny goes towards saving lives. https://ko-fi.com/hhsabs.
Pics above - 1/ Rider on point. This makes no sense on a 'trail hunt' - but then a lot of what they do whilst pretending doesn't either [holloas, presence of terriermen, charging around on roads, railways etc.] 2/ Scrupulously observed by the Hunt - not. 3/ Is the hound sensing a message to the rider. More seriously, hounds crapping all over pasture land is a concern. They can spread various nasties like hydatidosis, neospora [causes cattle to abort, etc.]
NT comes under heavy pressure to cancel more 'trail hunt' licences
Campaign begins to make Hunts submit applications for meets in public places
4-1-19 Independent National Trust bans fox-hunt packs after 'terriermen' filmed and fox disembowelled - Pressure mounts over hunt licences as calls grow for permit system The National Trust has banned two hunt packs from its land and is being urged to cut ties with a third that witnesses say killed a fox.
Ledbury FH hounds invade garden after fox, owner rates them off
Later, sabs have to pull hounds out of small hole fox went down
4-1-19 Facebook - Three Counties Hunt Saboteurs VIDEO Blocked badger setts in a cull zone where the cull continues Hounds hunting a fox through gardens - fox hunted into small hole, sabs pull hounds out Ledbury Hunt, Friday 4th January 2019, Murrell's End, Hartpury First Port of call was a blocked sett which was dealt with and reported. The hounds were up Limbury Hill and then found a fox at Blackwell's End farm and a holloa was heard from a hunt follower on the road as sabs from up the hill used voice calls lifting their heads.
After second horsing at Tweenhills, they crossed the A417 and hunted a fox through gardens at Broad Street, Hartpury. One quick thinking householder after seeing the fox flee for his life through his garden ran out and rated the pack of hounds away from the hunted animal. Quite a few people not very happy and asking lots of questions!
Then a repeat performance as they approached Ashleworth…. Onwards then to Ashleworth meadows where they hunted a fox towards Haw Bridge. A sab filmed the hunted fox from near the pub but regrettably he ran back the way he had come. He went to ground in a small hole [below] and hounds trying to dig him out again as they marked were pulled out physically by sabs. Wisely the Hunt retreated, not so wisely they then crossed the main road and hunted another fox in the dusk up to Cumberwood Farm and back down to the outskirts of Tirley. In the dark they did stop the pack in the end.

Another blocked badger sett was found at the end of the day, looked recent but not today. This sett had been very active. The cull continues in this area with free shooting but those who hate badgers are not content with a cull that goes on for 7 months. The illegal killing and damage to setts also continues.
Very busy day in which it was ,yet again, really obvious that the Ledbury are hunting foxes. Bearing in mind that they are enjoying the South Herefordshire Hunt country (whilst whatever is left of that hunt join in with them) it does make you wonder what sort of echo chamber the MFHA (Masters of Fox Hounds Association) exist in. No one is buying the trail hunting theatrics, certainly not in this part of the world.
Please continue to support us paypal.me/threecountiessabs.
Pics below - 1/ Fox fleeing from hounds. Soon after, escaped down hole 2/ Hound making clumsy attempt to exit a garden