Motorists appalled by horrific death on road of deer after Exmoor Hunt
Quantock Stag Hounds believed to be responsible for outrage
Exmoor resident Sir Rannulph Fiennes says he feels 'ashamed'
21-4-17 Devon Live Drivers horrified to witness 'public execution' of terrified deer A scared deer leaped from a bridge on to a road and was 'executed' by a huntsman yesterday in front of several 'disgusted' members of the public, according to someone who witnessed the incident.
An eyewitness, who does not wish to be named, said the shocking ordeal left her 'horrified and deeply saddened'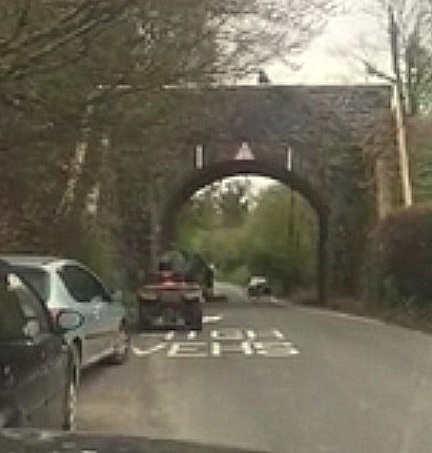 after the 'exhausted' animal was cornered by hounds on a bridge above a public road near Dulverton [right]. She watched as the scene played out and said she was left in 'pure disgust', and questioned how such a 'barbaric ordeal' was legal.
Speaking to DevonLive, she said: "I am not the usual type to complain about anything to this degree but yesterday I witnessed something which deeply saddened and disgusted me along with many other members of public present at the time. "The staghounds were out on a hunt close to the Mason's Kings, not far from Black Cat, Dulverton way and they had clearly been chasing a poor stag for some time when it came to the old railway bridge. he hounds had it cornered and the poor animal was so exhausted it could hardly stand, it's tongue hanging out and it's body wobbling all over the place."
She said she, along with others, were held up on the road when quad bikes and other vehicles blocked the animal's escape routes and a gunman scrambled up the side of the bridge towards the animal. She said: "The animal, clearly distressed, took one look at its only route to potential escape and threw itself off the top of the 30ft bridge and crashed on to the road below in front of all of the members of public. The animal lay in the road - seriously injured but still alive - to which the gunman then shot and ended the prolonged suffering."
She and many others watching were horrified by the 'barbaric ordeal'. She said: "Members of the public were frantic, shouting at the huntsmen in pure disgust. All of this is actually completely legal - how is this allowed? I think the law has a great deal to answer for. I am not against controlling populations of wildlife such as deer and foxes. I live on a nearby farm and have studied wildlife related subjects at a university level so have a good understanding of the countryside. I do not, however, think there is a place for such practices in this day and that alternative more humane and effective ways exist to manage wild populations and it is about time that these animals were protected and respected."
DevonLive has contacted several local staghound groups to ask who organised the hunt, but none of them have yet responded.
POWAperson adds - We have been privately informed that the Hunt responsible was the Quantock Stag Hounds. This Hunt already carries 2 convictions for illegal hunting. Sir Rannulph Fiennes, an Exmoor resident who turned against hunting after his local hunt killed a fox that used to visit him, has made the following Facebook post -
21-4-17 Facebook - Sir Ranulph Fiennes As a resident of Exmoor I am ashamed!
Pic below, credit DevonLive -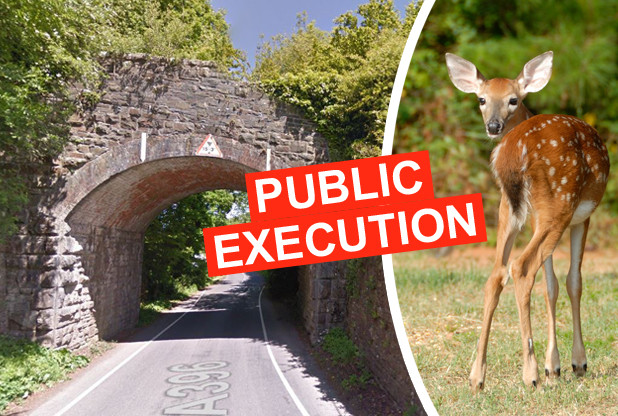 Police stop South Dorset FH dig out as monitor's car windows smashed
Same monitor had helped rescue young riders stuck in a bog
30-3-17 Facebook - Dorset Hunt Sabs Hit Report – Thursday, 30th March 2017 Today we paid a visit to the South Dorset Hunt meeting at Rollington Farm in Corfe Castle. We were joined by two hunt monitors and the police maintained a strong presence all day. It was a unusually large turn out for the South Dorset Hunt due to the fact that terrier boys and support had gathered from other local Hunts including the BSV who have finished for this season. After leaving the meet, the Huntsman lead the hounds and field along the ridge on the southern side
of the B3351. Foot sabs were already in situ pre spraying and observing them...
We knew today would be difficult due to limited access in certain areas and the terrain being very boggy in places, but with a super fit foot team, sabs done a fantastic job of keeping the Huntsman on his toes. The Huntsman headed to Rempstone Heath and whilst waiting for foot sabs in the area the sabs in the landy saw a girl cantering along the grass verge looking like she needed help. We could see the Huntsman off his horse and a few other riders also on foot and we suspected there had been an accident.
One of the hunt monitors who was out today confirmed that everyone was now OK but 3 younger riders had strayed off the track and ridden their horses into extremely boggy ground where they had gotten stuck. The hunt monitor assisted them ( the riders, the Huntsman and other members of the field ) to free their horses and make sure they were OK. Perhaps the Huntsman should be more mindful of where he is taking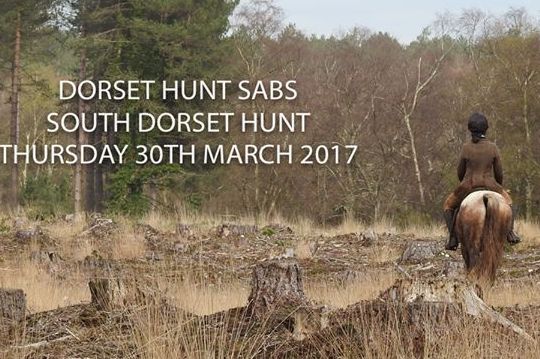 the Hunt in future - a little research into the local area would not have gone a miss. We did observe one of these riders ( photo of grey horse, left, with the mud up to top of its tail ) with her horse still covered in mud from the bog towards the end of the afternoon - poor thing must have been extremely tired !
This is not the first time this monitor has helped young riders who have gotten into trouble - the last incident being when young riders fell off whilst jumping a huge hedge and were then trampled by horses. This is shown in a previous video and he stayed with them and comforted them making sure they were safe until adults came to their aide.
The Hunt remained in the Rempstone Heath area for the rest of the day travelling as far up as Vitower House where the foot sabs observed a running fox that had been flushed out from the reed beds. This fox ran to ground seeking refuge and its life from the hounds -foot sabs were observing and ready to intervene if necessary so the Huntsman gathered the hounds and headed South toward the Lookout Tower.
The sabs in the Landy heard the hounds in cry in Wytch Moor and thankfully the foot sabs were soon on the scene from the other side and managed to intervene and call the hounds off the line - another fox saved !!
The Huntsman then headed back towards Ower Farm where the fox was observed running to ground. Again with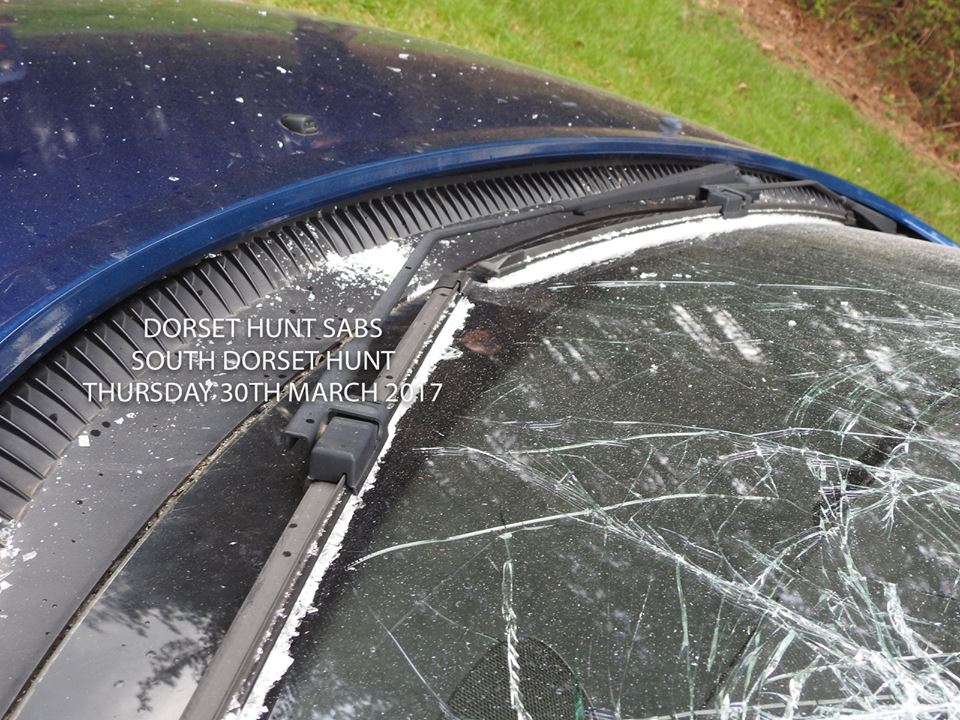 limited access we were getting a little worried for this fox. Luckily the police, who were amazing today, appeared and we sent them in that direction. Very shortly the terrier boys were fleeing the scene and we suspect this was due to the police sitting on the hill - either that or they thought they had stumbled into a vegan fair !! The terrier boys were getting pretty shirty by now having lost out on killing at least two foxes ! The Hunt packed up just after 5pm...
One of our hunt monitors had parked his vehicle by Wytch Farm, this being the monitor who I mentioned earlier who helped with getting the horses out the bog and the young riders earlier in the season. After walking miles and being a great help to us keeping tabs on the Hunt today, he retuned to his car to find his windscreen smashed. This had been done with a white flint type stone / rock in five places showering his seats and dash board with shards of glass - this is the thanks he has got for helping the Hunts he has been monitoring the last season ! We find this a beyond disgraceful way to conduct themselves - the South Dorset Hunt vehicles are regularly left strewn along grass verges and not once have we ever touched them, even though we don't agree with what they are doing !! The police who had stayed in the area all day were soon with us and at the moment this is ongoing. We intend to fund raise to pay for the damage to the monitor's car and will post a GFM up soon.
SHAME ON YOU - YOU BRING SHAME TO THE SOUTH DORSET HUNT AND THE HUNTING COMMUNITY !!!! Lets face it its already a disgraceful community but today they have certainly shown their true colours !!
Each and every one of us would like to take this opportunity to say a heartfelt thanks to all our supporters for their support, donations and the tip-offs we have received over the last season. We appreciate your support and can assure you we will be back fighting fit ready for the next season.
Monitor uploads video compilation of hunt horse mistreatment
26-3-17 YouTube – Scorpio Vulpes How some hunters treat their horses Monitors are often shocked by the way some hunters treat their horses. Here are some examples.
Pics below - 1/ Horse foaming at mouth 2/ Using horse as weapon against female monitor 3/ Galloping on hard road 4/ Hunting amongst traffic 5/ Hitting horse on head with crop 6/ Swerving horse in front of monitor's car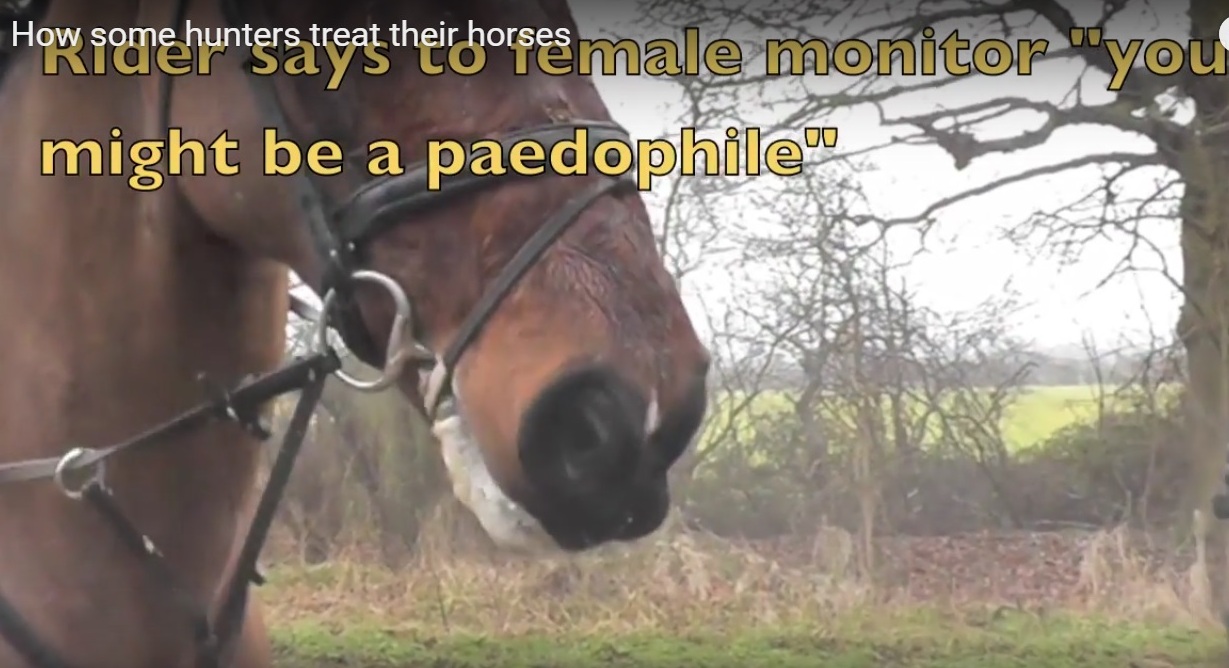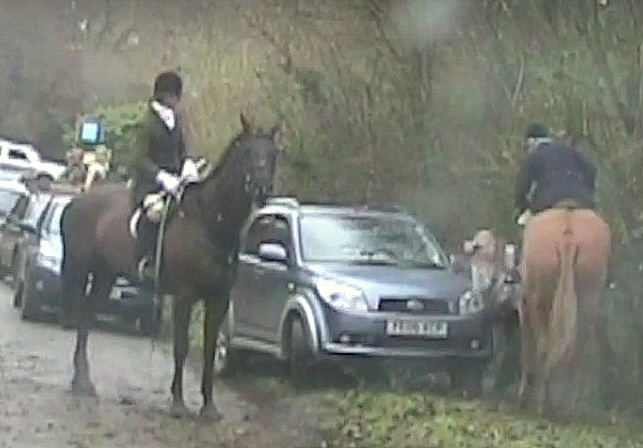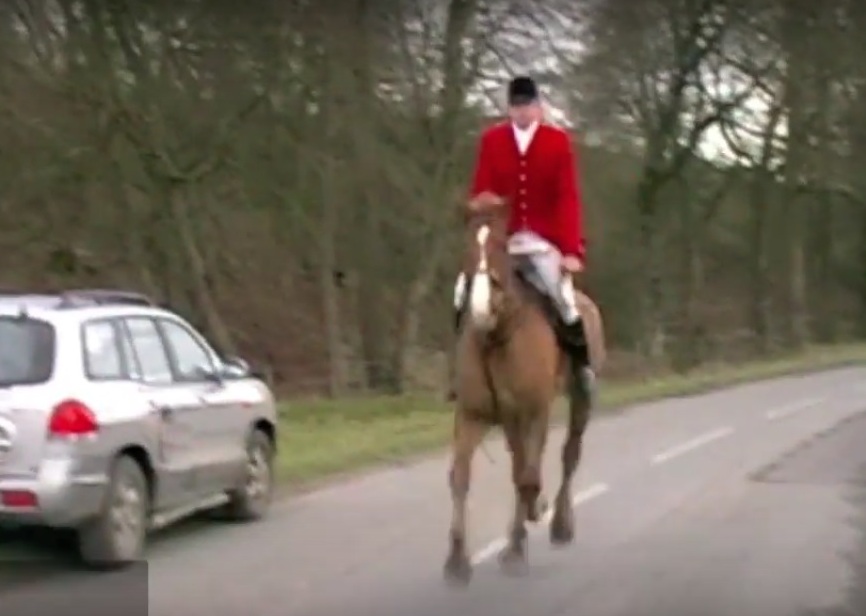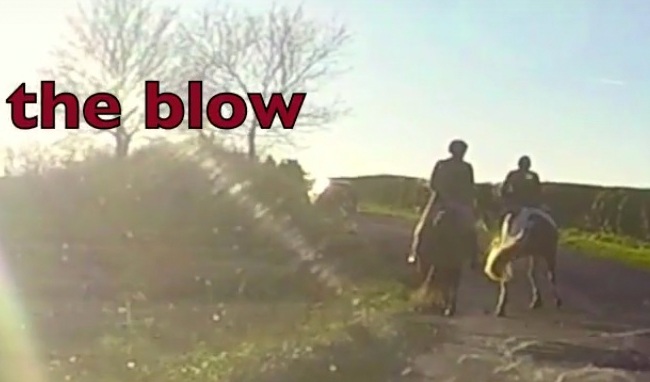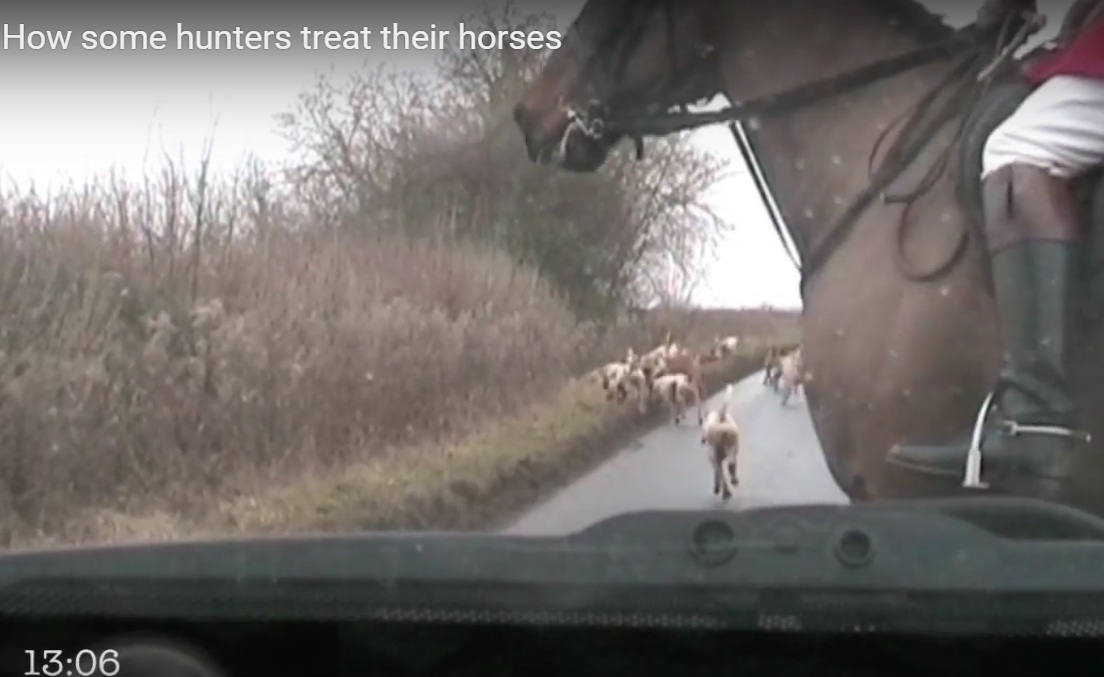 As S.Herefordshire FH 5 re-bailed, sab gets threatening mail re. case
Still no charges laid in cruelty to fox cubs scandal that closed Hunt
24-3-17 Kidderminster Shuttle Five arrested in South Herefordshire Hunt investigation have been re-bailed Five people who were arrested on suspicion of animal cruelty at the South Herefordshire Hunt's kennels in Wormelow have been re-bailed. The police are investigating an alleged offence in May last year.
The first two people, a 37-year-old man and 27-year-old woman, both from Hereford, were first arrested last May. A 37-year-old man from Abergavenny was then arrested in June, and a 53-year-old woman from Abergavenny and 45-year-old man from Powys were arrested in August. All five were arrested on suspicion of animal cruelty and have been re-bailed until May.
24-3-17 Facebook - Hunt Investigation Team Police Update The 5 suspects from the South Herefordshire Hunt have been rebailed again!! This time until May. Maybe the police think that this will just go away in time or that the longer they leave it that people's appetite for justice will diminish. We will not rest until justice is done in this case. We believe that the police have lost all interest in this case and any desire to follow the evidence. It stinks of corruption and collusion at the highest level. Meanwhile news has reached us that a local hunt sab, not connected to HIT, has received threatening mail hand delivered to their address in relation to this case. Again, the police inaction serves to embolden these psychopaths. Such threats to HIT personnel or associated groups will be met very robustly!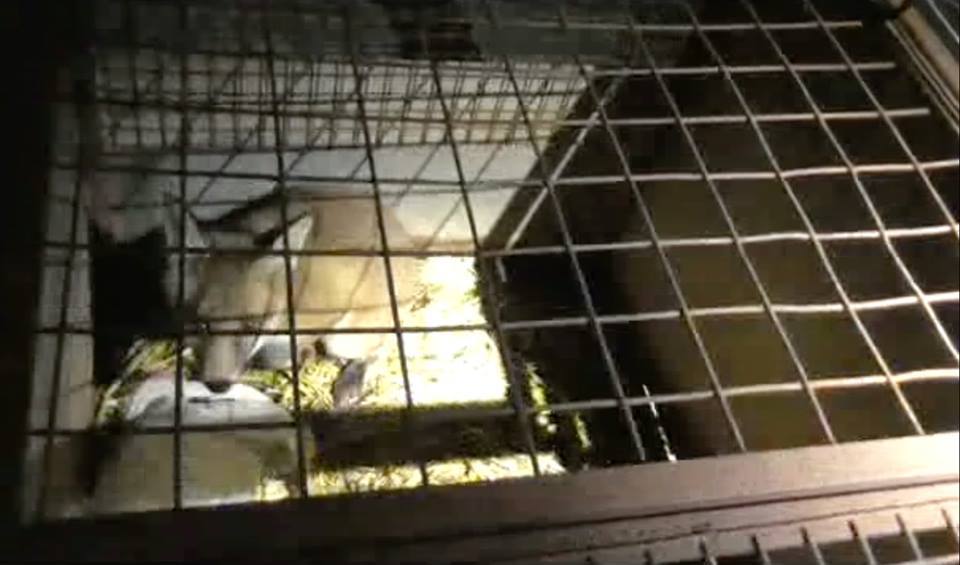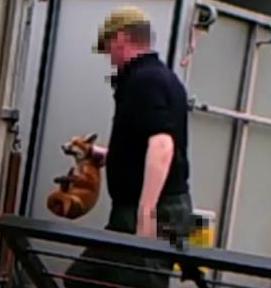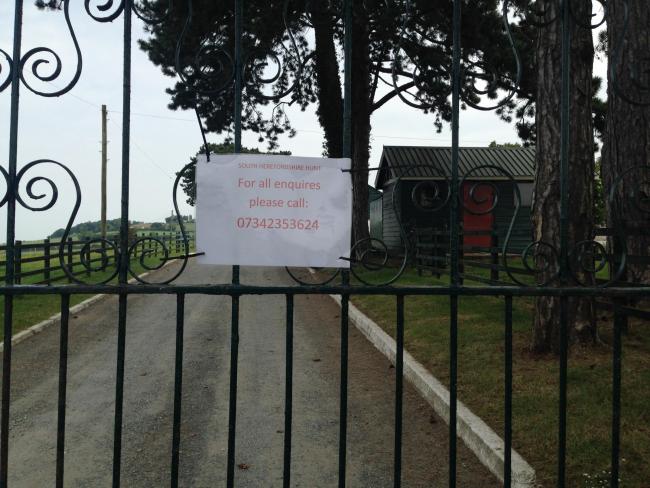 Anti hunting FB page responds to CA bid to have it closed down
24-3-17 Facebook - Ban Hunting with Dogs Please if everyone can stop putting death threats on and abusive language because Tim Bonner is abusing his power and is trying to shut this page down via the House of Commons.
However there seems to be the usual lies by the Countryside Alliance as this quote is completely untrue, "The comments go beyond simply being abusive to being extremely threatening, with one simply saying, "Kill him". Following a complaint by the Alliance this particular comment was removed but only after 48 hours, but all the others remain."
No complaint was made directly to the page and Facebook did not remove this comment as we had no notification to say it had been removed. Also the said post was removed anyway and does not exist on this page. It seems that Tim Bonner is misleading the House of Commons and Facebook so his buddies can literally get away with MURDER.

24-3-17 Countryside Alliance News Countryside Alliance reports Facebook page to Commons committee for failing to moderate "abusive and threatening" The Countryside Alliance have reported an abusive Facebook page, "Ban Hunting with Dogs" to the Commons Home Affairs Select Committee for allowing abusive and threatening posts to be repeatedly published on the page.
Last week the Alliance spoke out against vile comments that were posted on the page relating to the death of well-known show jumper, Sue Webb: Since then, further comments have been published on the page relating to a blessing of the Chiddingfold, Leconfield and Cowdray Hunt by a Surrey Vicar. The comments were posted last Friday and have not been taken down. The comments go beyond simply being abusive to being extremely threatening, with one simply saying, "Kill him". Following a complaint by the Alliance this particular comment was removed but only after 48 hours, but all the others remain.
The Alliance have submitted evidence to the Chair of the Home Affairs Select Committee, Yvette Cooper MP [left], as part of her Committee's inquiry into "Hate crime and its violent consequences". Last week Ms Cooper blasted social media executives for "having a terrible reputation among their users for failing to act on reports of hate speech and other offensive material."
Chair of the Home Affairs Select Committee,.. In his letter to Ms Cooper, Chief Executive of the Alliance, Tim Bonner [right] said:

"We would like to bring to your attention, and ask your Committee to consider, the impact malicious communications can have on its victims and communities. Those involved in lawful hunting, as regulated by the Hunting Act 2004, are often subjected to malicious communications online. Abusive and threatening comments are repeatedly posted on the Facebook page; "Ban Hunting with Dogs"."
The Alliance have also written to the London Facebook Headquarters requesting that the "Ban Hunting with Dogs" Facebook page be closed due to repeated offences that breach new social media guidelines published by the Crown Prosecution Service (CPS) last autumn: Guidelines on prosecuting cases involving communications sent via social media , Countryside Alliance welcomes new social media guidelines aimed at tackling online abuse . The Alliance argue that the comments made in relation to the late Sue Webb breach Category 4 of the guidelines, "Communications which are grossly offensive, indecent, obscene or false" and that the comments made in relation to a Surrey vicar breached Category 1 of the guidelines, relating to "credible threats"...
POWAperson comments - Passions run high on both sides. Simple abuse, whomsoever by, achieves nothing, reflects poorly on the abuser and does not help their cause. Malicious threats are unacceptable wherever they come from. It is perfectly possible, and preferable, to make one's point and vent ones feelings, without indulging in it. However, it must be said that it is rich of Mr. Bonner to make the complaints he does when hunters and their supporters don't just routinely engage in vitriolic online abuse of antis but, in the field, frequently, obstruct, harass, threaten and assault them and steal and damage their property, as is documented, at length, in these pages. They also, of course, frequently indulge in vile acts of animal abuse, often contrary to law. Which is precisely why there is, much to Mr. Bonner's chagrin, such a large, strong and vibrant anti-bloodsports community.
'2 foxes pushed out of van for Zetland FH to hunt' claim villagers
16-3-17 POWA has been privately informed that, towards the end of February, two older residents of a village near Darlington claim to have seen two 'young-looking' foxes being pushed out of the back of a van, apparently to be chased by the Zetland FH who were in the immediate area. We gather that both residents say they are 'sick to death' of the Hunt who seem to be out in their locality, creating disturbance and apparently hunting, 'every bloody weekend.'
POWAperson comments - The Zetland's country covers parts of North Yorkshire and south Co.Durham, an area very rarely visited by sabs or monitors, so we've no real record of that particular Hunt's behaviour in recent times, other than this third-hand account. That, however, would not be out of line with the observed - and often filmed - activities of many other packs, who seem to behave as though the Hunting Act does not exist. POWA would welcome any comment from the Zetland FH regarding the above.
Terrierman almost falls off speeding quad trying to hit sab
Berwickshire FH thwarted in attempts to kill foxes
14-3-17 Facebook - Fife and Central Scotland Hunt Sabs VIDEO On Saturday The Berkwickshire Hunt Terriermen made a pathetic attempt to assault sabs and almost fell off their quad! Sabs stopped them killing a fox illegally so perhaps this was the reason for their stupidity. Join - Sab - Donate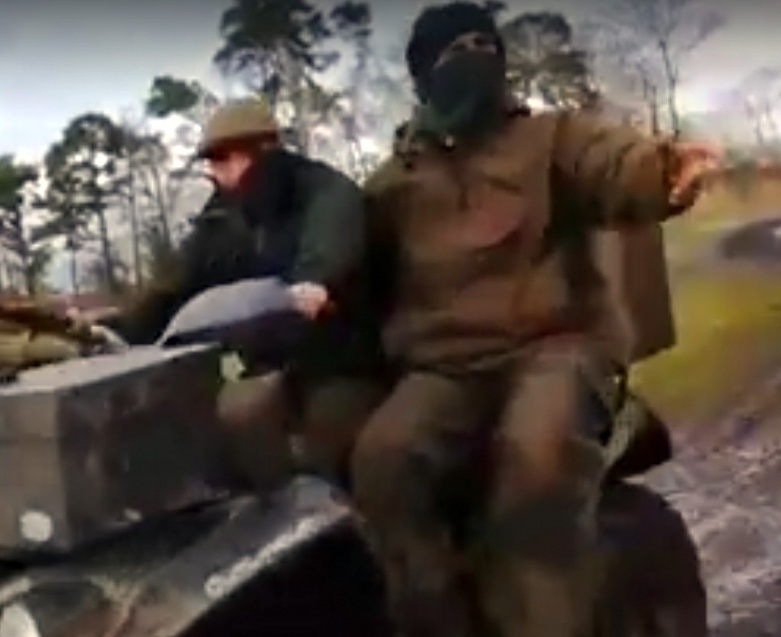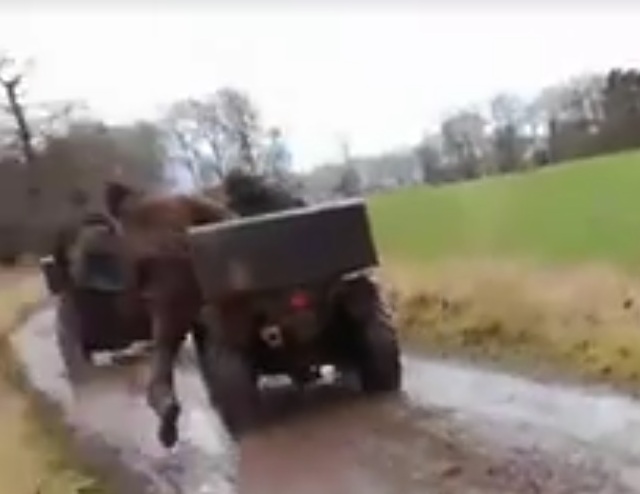 Woodland Pytchley FH Director resigns his Wildlife Trust post
Robert Brudenell's resignation as a Trustee of Beds, Cambs and Northants Wildlife Trust came after a very short social media campaign...
13-3-17 Facebook – Stop the Cull Would you be surprised to hear that a director of a Wildlife Trust was also a director of a fox hunt and runs a shooting estate?
You may think this is a conflict of interest and a contradiction. We certainly do. If you are a member of this Wildlife Trust you may not be too happy to learn about this strong link between wildlife killers & those you trust to protect wildlife for future generations.
We question the ethics of The Wildlife Trust for Bedfordshire, Cambridgeshire & Northamptonshire... The Woodland Pytchley Hunt have a reputation for violence against hunt saboteurs and have at least one conviction against them.
We had a look around the Deene Park estate, (ancestral home to Robert Brudenell) and found several shooting towers, poisoned traps designed for squirrels and alarmingly, the viscera of what we believe to be butchered fallow deer, sadly including an unborn foetus. This is an Estate where people pay to kill partridges and pheasants http://www.deenepark.com/shooting/.
A BCN Wildlife Trust Member posted this in reply to the above -
15-3-17 BCN Wildlife Trust Statement received by Gill Mitchell Following recent criticism on social media, Robert Brudenell, one of 12 Wildlife Trust BCN trustees, has decided to stand down as a trustee with immediate effect, Monday 13 March, to spare the Trust further unwelcome distractions from its valuable work.
The Wildlife Trust Council of Trustees consists of people from a range of backgrounds: practical conservationists and volunteers, ecologists and conservation scientists, business people and landowners, all with a commitment to the aims of the Trust. Trustees are required by law to uphold the interests and the objectives of the charity when making decisions in Council meetings.
Blean Beagles head home as soon as sabs appear
11-3-17 You Tube – E.Kent Sabs THE BEAGLERS "WALK OF SHAME" Yeah - we know that what beaglers do is abhorrent-taking a pack of dogs out to chase and kill hares for "sport"...and we also know that if they were working class lads out coursing, the police would be (quite rightly) chasing them about, giving them heavy fines and destroying their vehicles, rather than turning a blind eye. That's the real "Class War" the Countryside Alliance keeps banging on about. But you have to admit-seeing these guys getting caught red-handed, walking back to the meet in silence with heads hung low whilst dressed as leprechauns...you gotta laugh!
So-we present, for your viewing pleasure-"THE BLEAN BEAGLES WALK OF SHAME"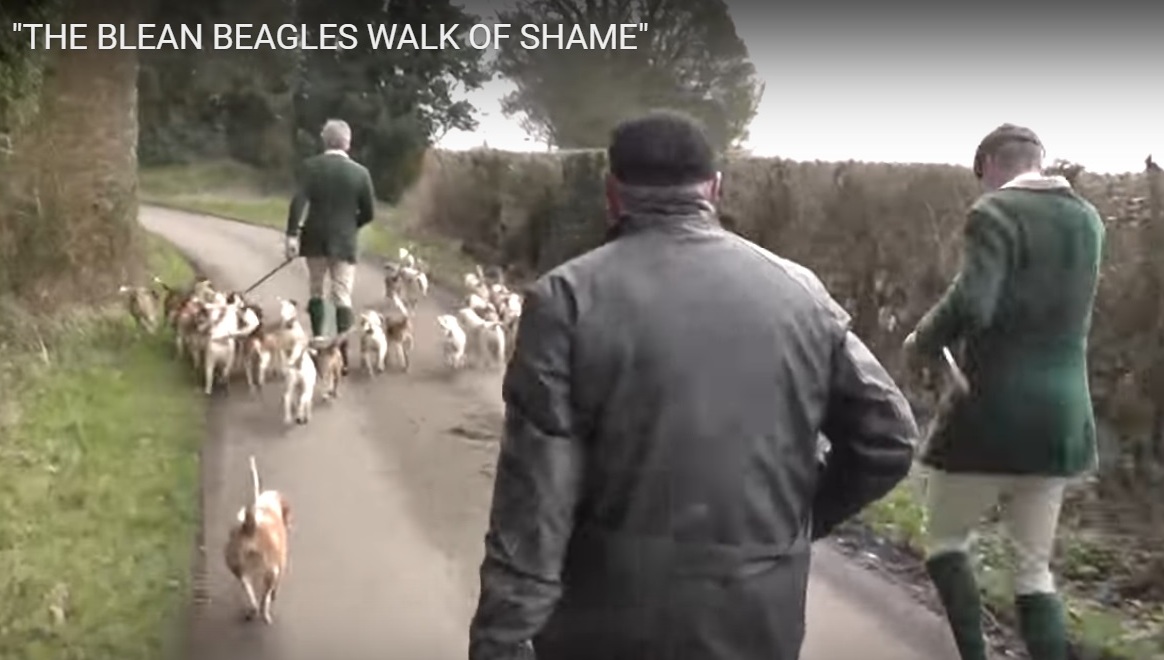 CA contest £60k award after racing pigeons killed by hunting hounds
10-3-17 Belfast Telegraph £60k award for racing pigeons killed by hunt's dogs contested An award of more than £60,000 to a pigeon fancier for the slaughter of his stock by hunt club hounds should be overturned due to issues of credibility, the Court of Appeal has heard. Lawyers for the Countryside Alliance are challenging a ruling that the dogs destroyed 59 of Maurice Weir's racing birds after breaking into his premises in Loughgall, Co Armagh, eight years ago.
Counsel for Mr Weir claimed the huntsmen were negligent in failing to control their dogs. In February last year a High Court judge awarded Mr Weir £59,580 in damages, with a further £2,500 for distress. But in an appeal before three senior judges in Belfast, counsel for the Alliance argued again that the hunt's dogs were never on the premises. David Ringland QC questioned the consistency of the plaintiff's account. The hearing continues.
POWAperson adds - I confess to missing the original stories about this case. A pigeon-fancier called Maurice Weir claimed his pigeons were slaughtered when hounds from the weirdly named Kinnego Grange and Canary Hunt Club invaded his property. For some reason he sued the Countryside Alliance and the court awarded him £60,000, in February last year.
Hunting Surrey Union FH trespass and anger landowner
7-3-17 Facebook - North Downs Hunt Sabs Surrey Union FH, Thorncombe St, Tuesday 7-3-17 Guildford and N.Downs sabs arrived just in time to see a rather poor show of riders for such a lovely day. Two runners deployed on the set off and followed the Hunt from the meet along Thorncombe Street. The landy drove round to the other side and we had all eyes on them on the open ground.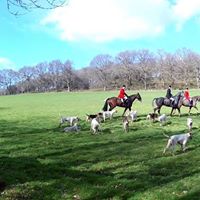 About 40 minutes in, the hounds got onto a scent in thick woodland ( near Langhurst farm ) The heavily pregnant vixen made her escape through someone's garden and possibly went to ground, as the hounds were soon seen sniffing around a fox earth. Sabs used voice and horn calls to gather the hounds and they soon came bounding back. The landowner saw the hounds and informed us he had every intention of reporting their actions to the police. We believe the Hunt witnessed this also.
The Hunt [left], knowing full well we had seen everything, moved on and ventured towards private land near Yewtree Knob, but having witnessed the fox we kept close to the Hunt and had to laugh when they said THEY were going to call the police over trespass, a civil offence. We reminded them of their trespass only 10 minutes ago and their reply " We CAN trespass so long as we are hunting within the law". Their stupidity and arrogance is so laughable sabs may have to invest in heavy duty tena-pants.
Looked like the police had no intention of attending the Sorry Union , and shortly after the redcoats were seen back at the meet and with the support and the riders nowhere to been seen, it seems it was a very early pack up - in light of last week's kill perhaps.
Senior equestrienne dies after fall during drag hunt [a real one]
6-3-17 Daily Mail Leading horsewoman is crushed to death after her mount falls and lands on top of her as they took part in a hunt A leading equestrian was crushed to death when her horse fell during a hunt. Sue Webb, who was vice chairman of the British Show Horse Association, was thrown from her saddle at a jump and her mount landed on top of her. The 64-year-old was riding with the Mid Surrey Farmers Draghounds, of which she was secretary, when tragedy struck at the weekend.
Her devastated mother, Sheila Pipe, told the Mail: 'She fell at the fence and the horse went over and crushed her underneath. I can't believe it. It was the last drag meet of the season and the first fence. She was a very keen horsewoman and very well known in the horsey world, judging and everything. Sue Webb, who was vice chairman of the British Show Horse Association, was riding with the Mid Surrey Farmers Draghounds when she was thrown from her saddle at a jump and her mount landed on top of her over the weekend...
One fox has very lucky escape from the Lamerton FH
5-3-17 Facebook - Devon County Hunt Saboteurs Lamerton Hunt 4.3.2017 Yesterday we paid a visit to the Lamerton Hunt, who met at the Blue Lion pub in Lewdown. Our three foot teams kept them in sight and earshot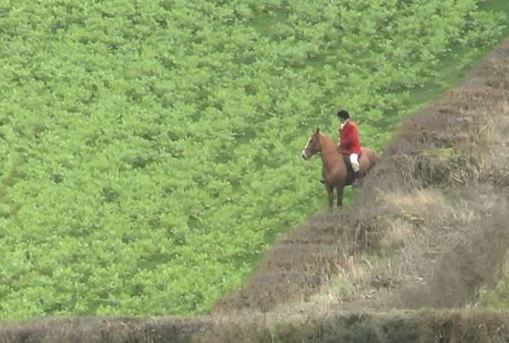 all day but didn't have much cause to intervene, except on one occasion. No 'trail-layer' in sight and plenty of dense coverts being drawn, but a strong westerly wind ensured scent was blown all over the place in the open fields, which made our job a bit easier.
The Hunt drew the valley between Swallow Cottage and Middle Raddon, then south towards West Raddon, Tibridge and Raddon Wood, then straight through Lew Wood and Eastcottdown Plantation, where hounds occasionally spoke on a scent. They drew a small covert north of Galford Down and then turned around and hunted almost the exact same route backwards. Sabs were never far from Lewis and hounds in the woods, although he was oblivious to it most of the time, and hounds rioted on deer as they hunted upwind towards Lew Wood. The Hunt then made their way back to the kennels via Middle Raddon for a nice and early 4pm finish!
Hounds did get dangerously close to one fox yesterday. Various riders were positioned 'on point' [above right] around the edges of a crop field and hounds were entered to draw the field upwind, a risky move. As expected, they put up a fox, but thankfully neither Huntsman nor riders spotted him. Sabs a few fields away began calling hounds towards them, but Lewis was already gathering the pack and heading out of the field. That fox had an extremely close escape!
Pics below - 1/ Leaving the meet 2/ You got a fox in there? 3/ Shall I make a break for it?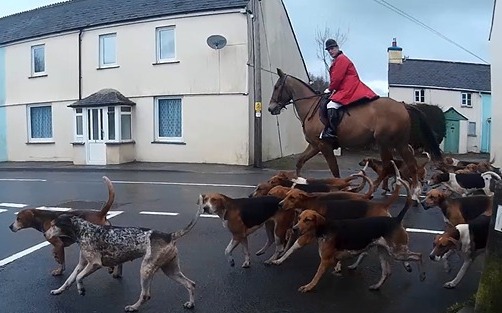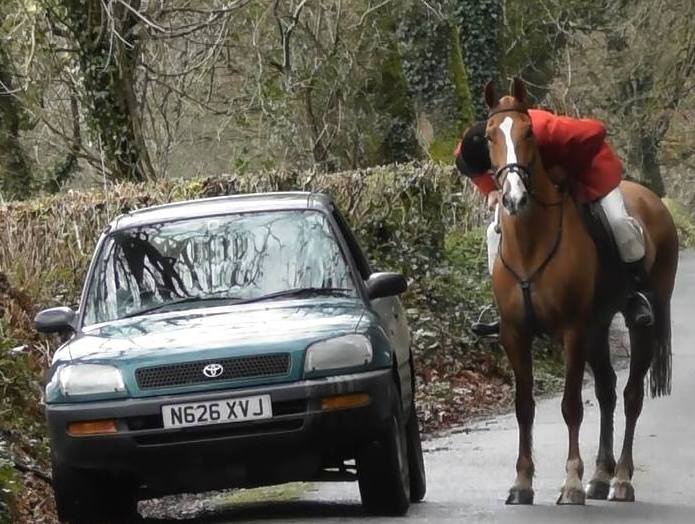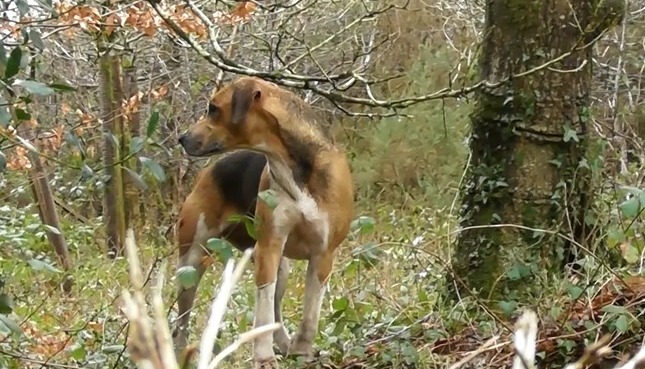 Cheshire Forest FH massed thugs attract police action at final meet
Sabs believe some given dispersal order by the police
5-3-17 Facebook - Cheshire Hunt Saboteurs VIDEO HIT REPORT - 04/03/17 - CHESHIRE FOREST – CROWTON Yesterday we had a small team of sabs and monitors who were very determined to show face at the last meet of the Cheshire Forest after their filthy, outrageous behaviour in Macclesfield where they murdered a fox in a suburban area and terrorised members of the public in their own homes.
We expected the Hunt to be in the Crowton area so decided not to go to the meet location and instead wait around for the Hunt to arrive. From our position we soon seen the Hunt high up on the hillside about a mile to the east. We had eyes and ears everywhere for this meet as there were so many people appalled with the Forest taking to the suburbs to hunt urban foxes. We received information that the Hunt were somewhere down by the banks of the river Weaver, we were about to approach on foot when we were suddenly joined by a gang of quad bike riding hunt thugs, from what we believe were something to do with all the Cheshire Hunts. The usual insults and pathetic name calling ensued from the rabble of hunt scum but sabs stood their ground and within minutes they all rode away into the distance...
The Hunt were nowhere to be seen so we proceeded to move on. Once again, we found ourselves amongst a slightly larger group of terrier scum, with one quad bike rider attempting to mow down a sab who was instantly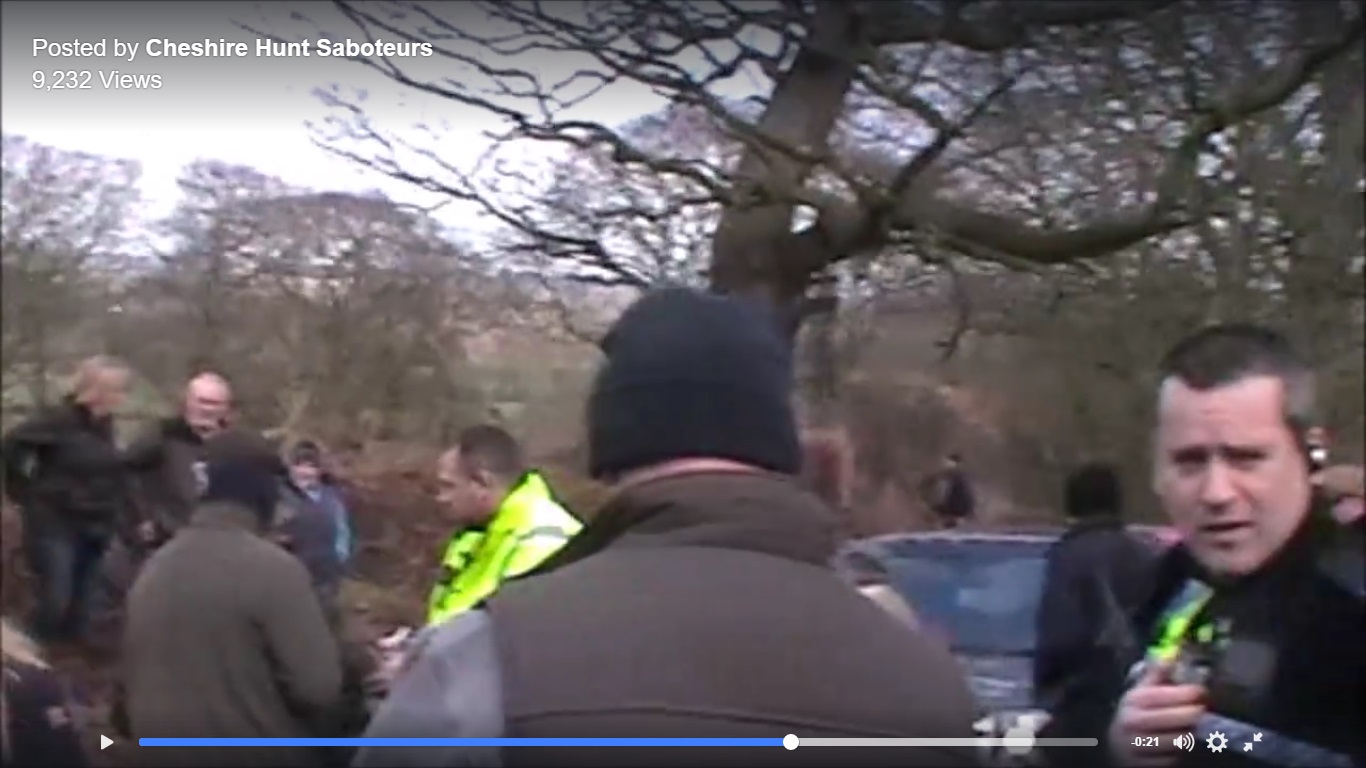 flagged down by a police officer who was on foot and literally chased him down the road to issue him a ticket and give him a stern talking to! Kudos to the police! Whilst they were dealing with these individuals, sabs left the area in pursuit of the Huntmaster and hounds. Upon leaving, sabs passed two riot vans with flashing lights and sirens blaring heading towards the terrier boys. We believe that this element of scum was given a dispersal order!! Further down the road we were once again stopped from following the hounds by an even bigger group of hunt scum. A large proportion of these dirtbags had come all the way from North Wales presumably to cause trouble whilst supporting their own scummy lot from the Flint and Denbigh Hunt who had joined forces with their fox murdering companions here in Cheshire.
It soon became apparent that the pack had been split into two which made sabbing slightly more difficult and we cannot be certain of a kill-free day as we struggled to find the hounds for the majority of it. After much driving around searching for the two packs of hounds, the police informed us at around 3:30 that they were standing down as the Hunt had packed in for the day. We had further confirmation from other sources that the hounds were seen being loaded into the hound van and we decided there now wasn't much point remaining in the area. The majority of police were now leaving with only a small amount of officers remaining to keep the peace should ourselves and the scum come across each other again. We did see some very well known Flint and Denbigh supporters on the drive to a nearby pub but they didn't give us any hassle and left us to enjoy a nice cold pint and the football! The police were very helpful and acted in the impartial way that one should expect from them in instances like this. They know that we are only out here trying to save wildlife!
We finish the season (in Cheshire at least) satisfied with the inroads we have made in to documenting and sabotaging Cheshire's illegal hunting fraternity and we will continue our efforts next season to hopefully ensure the safety of our local wildlife. Thanks to all the sab groups that have helped us along the way, you have shown amazing comradery and solidarity, and we have a lot of love for you all! We also feel it is important to give a massive shout out to the local monitors and also to all of the amazing people we have picked up along the way, you know who you are! Finally we must thank you guys, our supporters, we have been bowled over by your kindness and generosity! You guys rock!
5-3-17 Facebook - Cheshire Monitors Cheshire Forest (Macclesfield fox kill) last meet of the season Yesterday was so uplifting. It just proved how much negativity there is towards fox hunting and how much support we have. So we would like to thank everyone who contributed = Concerned locals who turned up on the day, new monitors who have joined us this season, a local group of bikers and Cheshire and Lancaster Sabs. And of course all our supporters on this page.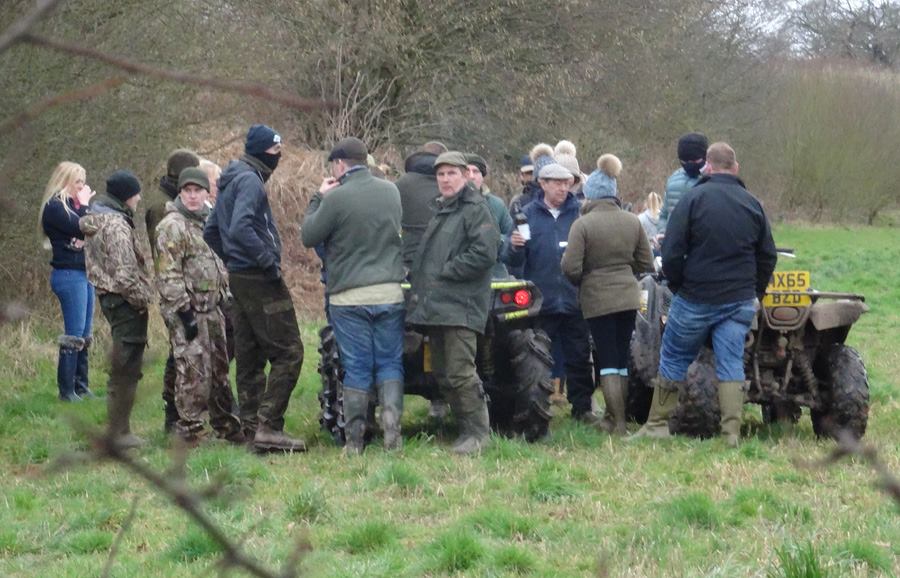 The Hunt had hired in extra thugs from the Flint and Denbigh and the Cheshire Hounds Hunts. In fact, there were more thugs than riders. Just a small trickle of whom left the meet. They were also heard arguing with each other.
We had a long conversation with one of our Wildlife Crime Officers last week about the policing of Hunts and we hope this added to the positive policing on the day. There was a huge police presence, with riot vans, unmarked cars and normal vehicles. They, along with the rest of us, sat on this Hunt all day long.
Hunt thugs tried to slow some of us (particularly some of the Sabs) down by throwing their weight around but were stopped by police. This happened a bit too much to one group of sabs who spent a lot of the day avoiding conflict. Police searched the hired thugs vehicles and handed out a dispersal order to them so that was that for them!
While this was happening some of our monitors found Mr German trying desperately to hunt. His face was a picture when he saw us and he was not happy when we called in the rest of the group to help stop him.
The supporters spent most of the day hanging around on the roads waiting for nothing. Due to their frustration they had to try and incite arguments with us, sad people. One of them even told us he didn't come to follow Andrew German because he was a useless Huntsman!
The day ended with everyone linked to the Hunt wandering back to the meet with their heads down after a really, really bad day for them and a brilliant day for us and the anti hunting campaign.
Equestrian business offering 'fox hunting days' on website
4-3-17 Stoneleigh Park', an equestrian business based in Leamington Spa, is offering 'fox hunting days' with a number of Hunts in England and Wales, including a number whose servants have accrued convictions for illegal hunting or interfering with badger setts, e.g. the Heythop, the Fernie and the Meynell, and others which have been accused frequently of illegal hunting and other nefarious behaviour. It makes no pretence that it is 'trail hunting' that is on offer, calling the ban 'ridiculous' and saying '... the fox-hunting fraternity has shown the ban to be quite unenforceable. While there is never any intention of breaking the law, each pack of hounds has found a way to work within it and still provide good sport for subscribers and visitors alike... '
StoneleighPark.co.uk Fox Hunting For the last thirty seasons, the Hon. Diana Pritchard Jack has organised fox-hunting vacations for individuals and small parties with all the best known packs of hounds in England. Based in the centre of the Country, Diana is ideally placed for reaching over twenty different hunt countries.
With over forty seasons' experience of riding with nearly a hundred different packs of hounds, Diana is well qualified to explain the thrills and hazards of crossing the famous wolds and vales of The Shires. In addition, having grown up in Northamptonshire with a family enmeshed in the sport, she has the necessary credentials and contacts to take guests to even the most exclusive of packs.
During the seasons since the government's ridiculous ban on "hunting wild mammals with dogs" the fox-hunting fraternity has shown the ban to be quite unenforceable. While there is never any intention of breaking the law, each pack of hounds has found a way to work within it and still provide good sport for subscribers and visitors alike and to continue this great tradition of the English countryside.
Diana specializes in providing a complete fox-hunting experience with visits to hunt kennels, dinner parties with Masters of Hounds, Hunt Balls and other hunting related social activities. There is a four-wheel drive vehicle for those who prefer to follow hounds with a different sort of horse power and a driver who knows the countryside as well as any fox, and the pubs somewhat better! Diana, herself, prefers to accompany her mounted guests to provide introductions, local knowledge and help wherever and whenever needed.
Fox hunting can be arranged with any of the following packs of hounds:-
Atherstone, Duke of Beaufort's*, Belvoir (Duke of Rutland's)*, Berkley (Earl of Berkley's), Old Berkshire, Bicester with Whaddon Chase, Cheshire, Cotswold, North Cotswold, Cottesmore*, Croom & West Warwickshire, Fernie, Grafton, Heythrop, Ludlow, Meynall & South Staffordshire, Oakley, Pytchley, Woodland Pytchley, Quorn*, Vale of Aylesbury, Vale of the White Horse, Warwickshire, Wynstay (Sir Watkin Williams-Wynn's). The Farmers' Bloodhounds chase a different sort of quarry on Sundays. *These packs require at least six weeks notice and have a visitor's cap of about £120.
There are often in excess of 180 riders following and the Field Master has to keep the Field well back from the hounds. The smaller packs are usually more enjoyable as it is easier to see hounds at work and the people are very welcoming. These visitors' caps range from £65 to £120 depending upon which day of the week you hunt and with which pack of hounds. Autumn Hunting caps range from £10 - £25 during September and the first three weeks of October.
Hunting with Hawks is also available and provides a thrilling experience even for those who have never previously handled a bird of prey. Pheasant, partridge, rabbits, hares and squirrels are amongst the prey these striking Harris Hawks are after as you walk through the woodland and meadows of Central England's lush countryside.
Enjoy English country hospitality with all the trimmings and ride or watch experienced quality horses over the most famous hunting counties in the world.
Prices for hiring horses for hunting:- Optional pre-hunting "get to know the horses" session:-
£50 Autumn Hunting: September: £125, October: £155, From the Opening Meet onwards:- One horse for fox hunting (to be returned by 2.30p.m.): £195, Two horses per rider (going home with hounds at dusk):- £370, Transport charges vary upon distances and the number of horses carried.
A deposit of 50% is required when reserving horses and cancellation fees are charged at the following rate: 7 - 5 days: 25%, 4 days: 50%, 3 days: 75%, 48 hours or less: 100%.
Costs for accommodation at Waverley and nearby B&Bs or hotels, plus hawking & falconry prices are available upon application. Waverly Equestrian Centre is approximately two hours from Gatwick Airport; one hour, twenty minutes from Heathrow, and only half an hour from Birmingham International Airport. The train from London Euston takes one hour and a quarter to Coventry where guests can be met. Transport from the airports can also be arranged.
FOR FURTHER INFORMATION PLEASE CONTACT DIANA PRITCHARD JACK Email: foxhunting@stoneleighpark.co.uk
Bloodsports lobby attacks anti-hunt Blue Fox again
Tory Chair tells them to stop using party logo
3-3-17 CA Press Release Chairman of the Conservative Party requests that secretive group refrain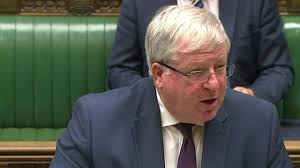 from using Party logo Following months of Countryside Alliance campaigning the Chairman of the Conservative Party, Rt Hon Sir Patrick McLoughlin MP [right], has contacted the Conservative Animal Welfare Foundation (CAWF) requesting that they refrain from using the official Conservative Party logo and limit their operations. Last November former Solicitor General Sir Edward Garnier MP wrote to the Party Chairman on behalf of the CA raising concerns about both CAWF and the Conservatives Against Fox Hunting (CAFH). Both groups are run by Ms Lorraine Platt [left]. Ms Platt is a Trustee of the League Against Cruel Sports (LACS), a group that has twice been censured by the Charity Commission for campaigning against the Conservative Party.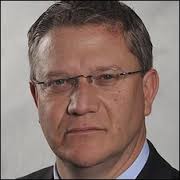 News of Sir Edward's letter was broke by The Times last December... CEO of the Countryside Alliance, Tim Bonner, called for the Party to take action to prevent the misuse of the Party logo. Animal Welfare Consultant at the Countryside Alliance, James Barrington, also raised concerns about the group on the Bright Blue blog: Our man-made countryside requires wildlife management.
Last month Head of Shooting at the Countryside Alliance Liam Stokes raised his concerns with the Shooting Times regarding a report that was published by CAWF calling for the Party to "commit to a review of the industry of shooting live birds for sport shooting"...
A number of Conservative MP's have supported the Countryside Alliance's four month long campaign to ensure that the Conservative Party logo is not misused by a group publishing recommendations that would be detrimental to shooting and the countryside. In addition to securing the support of Sir Edward Garnier MP and Simon Hart MP, the Countryside Alliance also secured the support of former Shadow Animal Welfare Minister Andrew Rosindell MP [right]...
Only a matter of weeks ago, founder and Director of CAWF published a social media post stating that CAWF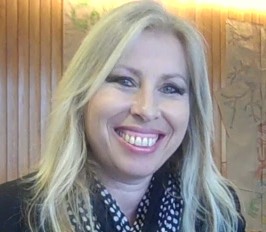 representatives had met with Animal Aid representatives. A number Animal Aid employees have criminal convictions for breaking the law in order to promote their extreme animal rights agenda.
Lorraine Platt refuses to reveal the identity of the mystery "animal welfare charity" that accounts (published on Companies House) show has donated tens of thousands of pounds to her groups. Speculation continues to grow regarding the identity of the charity, with many believing that ex Queen guitarist Brian May is the benefactor. There are a large number of photos of Mr May and Ms Platt together, the relationship appears to be close with Ms Platt often referring to Mr May as "Bri". In 2010 Brian May established an animal welfare charity, Save Me, which is focused on campaigning against fox hunting and the badger cull. In 2015 Mr May stated, "Lorraine Platt speaks up for the good guys in the Conservative Party." Previous to this, he described the Blue Foxes as "His heroes."
Enter content here