South Wold FH's unheralded visit throws horse into panic
Resident furious over this and damage resulting
19-9-18 Facebook - West Sussex Hunt Sabs This happened yesterday. It happens quite a lot and many residents in the countryside have to change their daily routine when the hunt are around. The hounds are not only a danger to wildlife, residents have to move their horses and keep their pets inside. The hunts used to inform residents when they would be hunting close to their properties, now due to so many people informing Hunt sab / Monitor groups, the hunts tend to keep it quiet and don't always inform them. This is another indication that they are not trail hunting, otherwise, what is there to hide. If hunts are trail hunting within the law, and wildlife are not being cruelly and brutally hunted and killed, there will be no need for them to be monitored.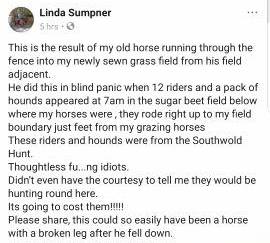 Pic below - Some of the damage done to newly sown grass field by panicked horse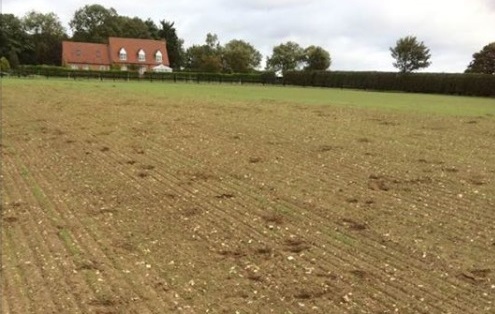 Beaufort FH post men at setts to stop foxes escaping down
Follows Hunt accused of blocking multiple badger homes
17-9-18 Facebook - Cirencester Illegal Hunt Watch VIDEO The Beaufort Hunt Masked Men The Hunt was approaching the area and this is what we found in the woods…

POWAperson adds - The video opens as a monitor is walking into a wood. We are told the Hunt is approaching. We see some masked men standing inside the wood. As the monitor nears the masked men we see they are standing above a badger sett with several entrances. Unusually for these thuggish types, they are at the sett without any blocking or digging paraphernalia.

The Hunt has received negative publicity recently as monitors have both publicised and reported to the police the blocking of multiple setts on multiple occasions, nearly all when the Hunt was in, or due to very soon visit, the vicinity of the setts. The monitors believe the men have been posted at the sett by the Beaufort in order to stop any fox the Hunt is might put up in the wood seeking shelter in the sett. The video then shows the Huntsman riding at walking pace with hounds along the perimeter of the wood. Other riders and followers are on the other side. A separate post carried a photograph of Lord Mancroft, Chairman of the MFHA, with other Beaufort FH riders out that day.

Video shows Brocklesby FH redcoat trying to hit sab
Also screamed in another sab's face
16-9-18 Facebook - West Yorkshire Hunt Saboteurs VIDEO After sabs prevent hounds from killing a fox, a furious member of the Brocklesby Hunt tries to hit a sab with his whip and then screams in another's face.
Warks FH committed many offences in day's cubbing, say sabs
12-9-18 Facebook - West Midlands Hunt Saboteurs Cub hunting - Warwickshire Hunt - Ashorne - Monday 9th September - More hound road chaos - Suspected bagged fox runs wrong way towards Hunt - Badger sett badly blocked Monday saw two of us at the Warwickshire Hunt where we witnessed more blatant cub hunting. The hounds ended up spilling out onto a road, running up and down in front of motorists. Several of the hunts JMs were present but were more concerned with filming us and following us about everywhere rather than the safety of their hounds.
Huntsman Will Goffe then took the hounds into a small wood which the rest of the Hunt surrounded to prevent anything from escaping. We then saw a fox running the wrong way into the wood towards the Hunt and hounds. We strongly suspect that this was a bagged fox that had just been dropped due to it being disorientated and running the wrong way. It ran past several riders who didn't at any point inform the Huntsman that a fox had run into the wood. Instead minutes later the fox was seen running round the outside of the wood. It stopped above a badger sett (which we later found had been blocked to stop it from going to ground) before running back into the wood. This was followed by the hounds in pursuit of the fox.
We reported the blocked badger sett to the Warwickshire Badger Group who found in total 12 holes had been completely blocked, preventing the fox going to ground to escape the hounds but also trapping the badgers below ground.
Other offences committed by the Hunt was an over crowded quad bike driven with no number plates on a public road. Video to follow.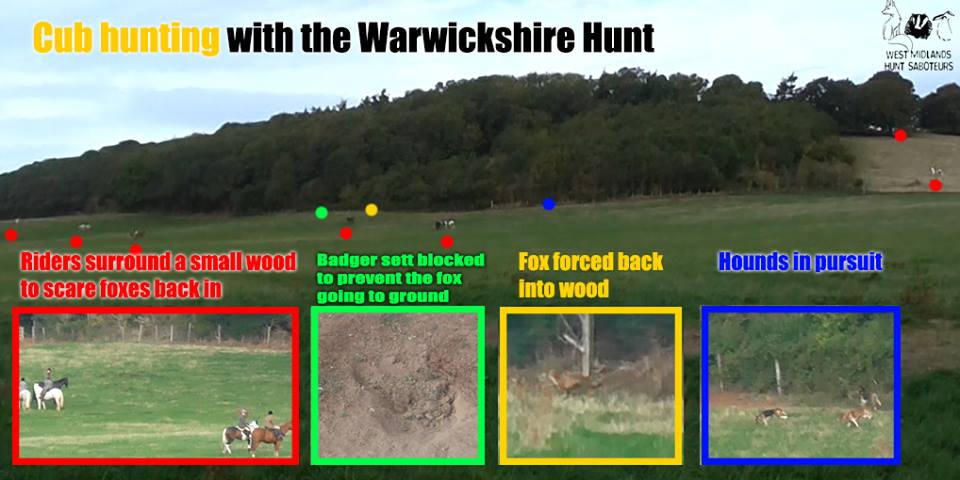 Sabs deter East Kent FH from cub hunting efforts
End up pretending were just 'exercising' hounds
8-9-18 Facebook - East Kent Sabs Saturday 8th September 2018 So, we went out VERY (!) early again to look for the EAST KENT with WEST STREET hunt, who we quickly found at 6am getting ready for a cubbing meet at Westmarsh. The Hunt met alongside an orchard, near the hamlet of Elmstone.
No doubt they intended to hunt the small copse and wooded area near where they unboxed, but the sight of a loaded land rover full of sabs from East and West Kent groups may have changed their minds! Instead they trotted a mile or so to hunt the marsh north of Westmarsh. Maybe they thought they could lose us while we navigated the ditches and reed beds, but they couldn't!
They ended up being escorted around the lanes by our driver until they packed up (gave up) at 7.45, when they vocally pretended to be "hound exercising"… which of course needs quads of terrier men with dogs and digging equipment. Your fooling nobody. Unfortunately it is a different story during the week when hunt sabs are AT WORK, when they hunt till gone 9am, in what can only be described as pre ban cub hunting...
A great morning's work from both our groups and it is good to see we outnumbered the mounted hunt, who could only muster up 10 riders!
We can't end this report without mentioning the very athletic badger, who tried to race us in our land rover for at least half a mile! A great source of amusement for us in the early hours of the morning. If you wish to donate to our group and keep us out in the fields, you can do so here-many thanks. https://www.paypal.me/EASTKENTHSA.Pics.
Pics below - 1/ Frustrated terrier thugs 2/ Athletic badger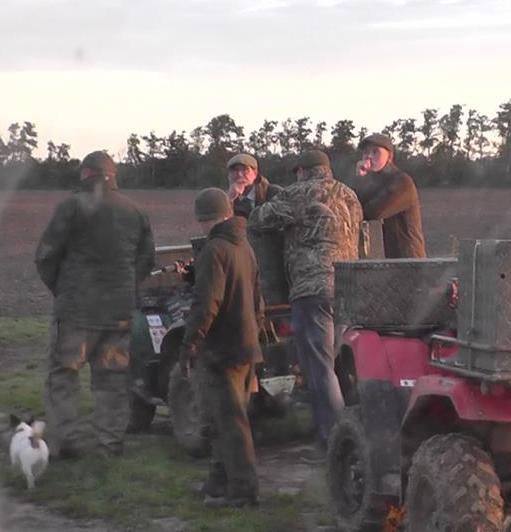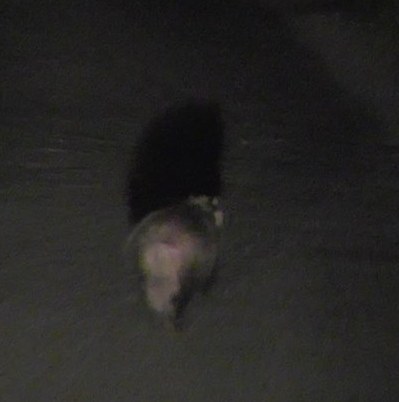 Quantock SH members illegal hunting trial set for November
23-8-18 LACS Press Release Trial date set for Quantock Staghounds members accused of illegal deer hunting Two members of the Quantock Staghounds accused of allegedly illegally hunting a deer with hounds are to face trail at Taunton Deane Magistrates' Court on Monday, November 12th.
Huntsman Richard Down, aged 54, of West Bagborough near Taunton, and whipper-in Martin Watts, aged 55, of Washford, are being prosecuted for alleged illegal hunting with dogs on 22ndJanuary 2018, contrary to Section 1 of the Hunting Act 2004.
The two men made a first appearance in court earlier this week at Taunton Deane Magistrates and pleaded not guilty – the forthcoming trial in November is expected to last two days. The high-profile case is based on evidence provided to Avon & Somerset Police by investigators employed by the League Against Cruel Sports, which is an animal welfare charity.
The case comes 13 years after hunting was banned in England and Wales with the introduction of the Hunting Act 2004, which came into force in February 2005.
D&S SH presented severed stag head as prize at country show
20-8-18 LACS Press Release Severed stag-head presented as country show 'prize' by controversial deer hunting pack The presentation of a severed stag's head by the Devon and Somerset Staghounds as a 'prize' at the Dunster Show on Friday has been slammed as 'macabre' by a leading animal welfare charity.
The stag's head was presented to the winner of the 'Hunters Horse Trial Championship'. However, despite being promoted in the show's programme, the awarding ceremony was performed out of view from ordinary show-goers, in what appears to be an attempt to maintain secrecy around the killing of wildlife still performed by the Devon and Somerset Staghounds.
Chris Luffingham, Director of Campaigns at the League Against Cruel Sports, says:- "Surely we're not the only ones who think that presenting the severed head of a stag as a prize at a country show is, at best, inappropriate, and worst, sick and macabre? In the past week alone, a member of the League's staff has twice witnessed majestic stags being chased across Exmoor to exhaustion, followed by a group of baying huntsmen and their hounds from the Devon and Somerset Staghounds. Sadly, scenes like this are not uncommon, despite overwhelming public opposition to hunting with hounds."
"To think it could have been the head of one of these stags, which almost certainly met their bloody fate at the end of a huntsman's shotgun before being carved up and reduced to a mere 'prize' is chilling. The organisers must ensure this annual, grisly spectacle is never repeated and the invitation for the Devon and Somerset Staghounds to parade around the grounds not re-issued."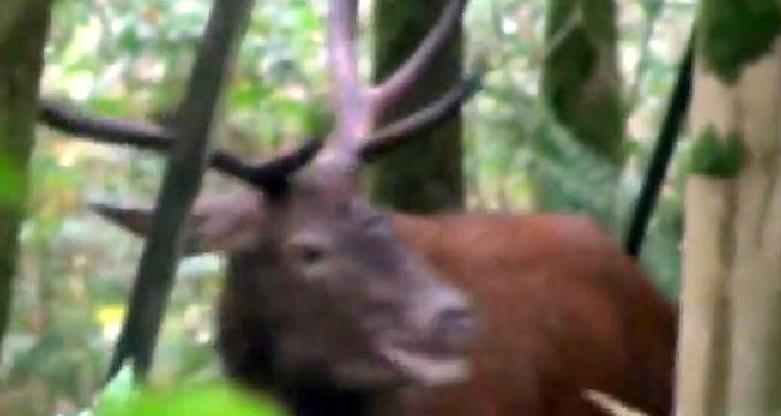 The League Against Cruel Sports, which monitors illegal hunting activity in the region, has called on show organisers for the annual spectacle and accompanying hunt parade to be pulled from all future events.
The Hunt which attends the show every year to present a stag's head 'prize' actively pursues at least 285 red deer to the point of exhaustion with stag hounds, across the Exmoor countryside each season. This seasonally includes exceptionally vulnerable wild animals, such as those which are young or pregnant. Once the lengthy pursuit has come to an end, each of the deer receives a bullet through the head from a shotgun-wielding huntsman, before the animals' limbs and innards are carved up and handed out as trophies.
Whilst such practices would normally be illegal under the Hunting Act 2004, the Devon and Somerset Staghounds exploit a loophole in the legislation to conduct deer hunting under the guise of 'scientific research' – much like the Japanese whalers who receive international condemnation for killing wildlife under the same implausible excuse, the League adds.
Petition - If you want to see an end to the killing of animals by hunts in the UK, please sign the League's petition, stop the killing of animals by hunts, here.
Pic above - Stag hunted by the D&S SH on 24-10-13, about to be killed
NT giving S.Shrops FH favoured access to Long Mynd SSSI
13-8-18 Facebook - National Dis-Trust Long Mynd, a Site of Special Scientific Interest in Shropshire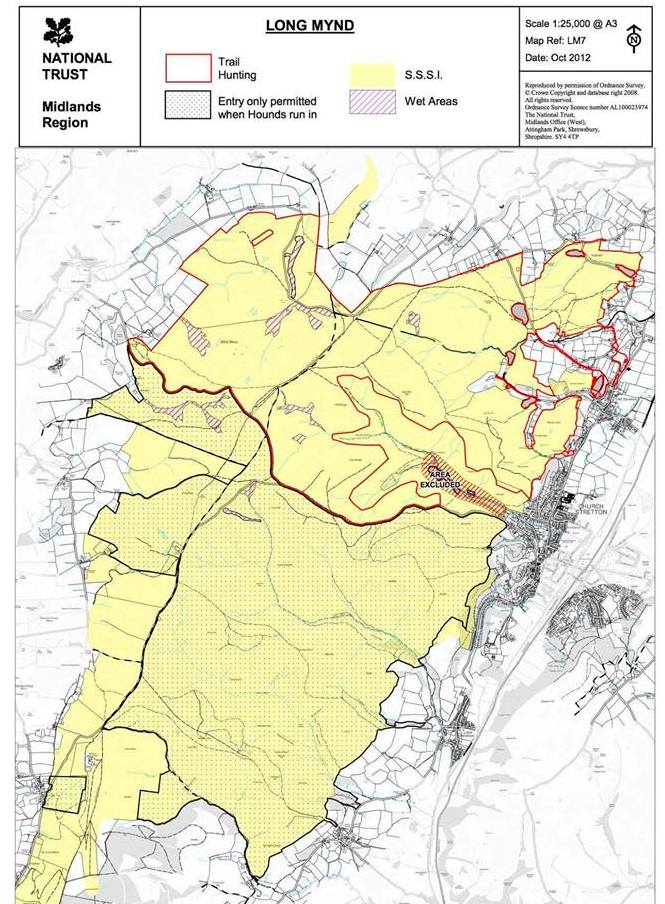 that belongs to the National Trust, asks that visitors keep their dogs under close control on their arrival, something the Trust can enforce with byelaws.
But just look at the map that has accompanied the licence the Trust has granted to the South Shropshire Foxhounds year after year after year. It includes a section (the majority of the site) titled 'entry only permitted when the hounds run in'.
Quite interesting isn't it? Why would this 'allowance' need to be offered to a trail hunt if they are following a pre-laid trail that cannot go through the area in question? Why would the Trust grant a licence to a hunt that it does not believe can control its own hounds when it specifically asks every (non-hunting) visitor to keep dogs under close control to protect wildlife, ponies & sheep?
Why are the South Shropshire Foxhounds the only people in the country offered permission to let their hounds rampage across this sensitive nature reserve contrary to the site's own byelaws, Higher Level Stewardship agreement & SSSI designation? We will pursue answers to these questions as we call for hunting to be fully banned on Long Mynd.
#trailhuntlies #clusterfuck #houndrampage #stopthehunts
Campaign to get Warks FH kicked off Nat. Trust land
5-8-18 Facebook - National Dis-Trust We visited both Upton House and Gardens NT and Countryfile Live, an event co-hosted by the National Trust, to highlight the Warwickshire Hunt & many other so-called 'trail hunts' using Trust land. To see information on the Warwickshire Hunt's licence, see here -> bit.ly/2qVx94r.
West Midlands Hunt Saboteurs have footage of the Warwickshire Hunt pursuing foxes repeatedly throughout the 2017/18 hunting season, see here -> bit.ly/2ESCsdI.
To sign the petition to kick the Warwickshire Hunt off Upton House and Farnborough Hall, see here -> bit.ly/2klChhC. #trailhuntlies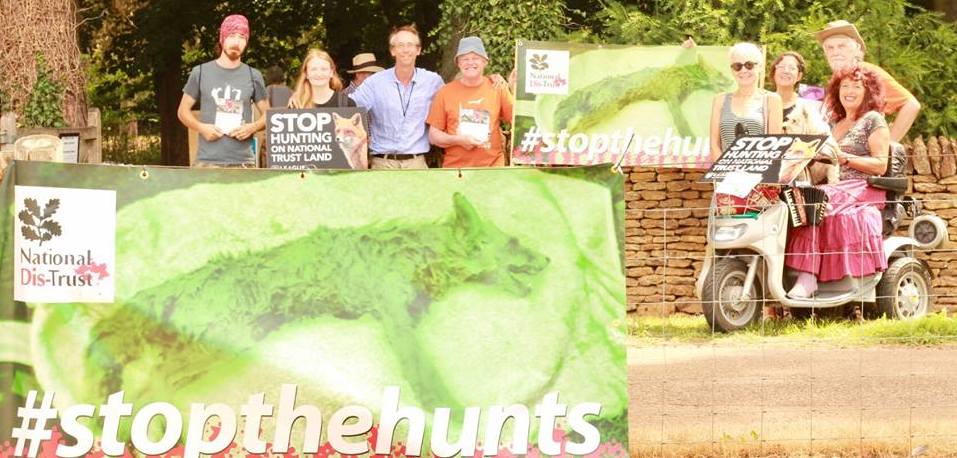 Three Middleton FH members plead NG to affray/assault
31-7-18 Facebook - Tommy Woodward, N. Yorkshire Anti Hunting Group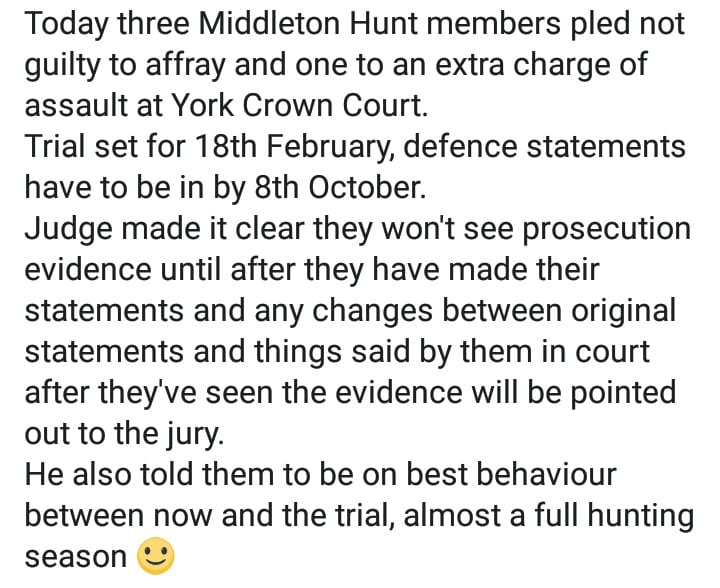 31-7-18 York Free Press Three deny hunt related charges THREE men from Ryedale and East Yorkshire have denied charges brought after a riding of Middleton Hunt.
Robert Howard Robertson Tierney, 56, and Richard Robertson Tierney, 30, both of Cross Lane, Snainton, near Scarborough, and Roger Marley, 50, of Church Lane, Langtoft, between Malton and Bridlington, all pleaded not guilty to affray on their first appearance at York Crown Court. Marley also denied a charge of actual bodily harm. The charges relate to alleged events on March 18, 2017, during a hunt in Thixendale. A trial will be held on February 18 at York Crown Court. The three men were released on unconditional bail.
RSPB is employing a bloodsports fanatic to cruelly kill crows and foxes
Contractor known associate of Barlow FH JM recently caught using illegal badger traps
Larsen traps/night shooting being used when crows/foxes have dependent young
30-7-18 H.I.T. Report VIDEO RSPB employing bloodsports enthusiasts to kill native wildlife Whilst working on our Barlow Hunt Investigation in spring 2018, HIT was contacted by a whistle-blower about the RSPB's Curlew Management Trial Programme. The whistle-blower was highly concerned about the scale of Larsen trapping and employment of a bloodsports enthusiast on the Peak District site of the nationwide programme. They asked HIT to investigate and document this – and to speak out for the wildlife involved.
The RSPB's national Curlew Management Trial Programme uses different measures to try to increase the curlew population – which is in critical decline. Some of the measures are about habitat management, but another approach is predator control: the extermination of foxes and crows which may pose a risk to curlew numbers through predation. The RSPB maintains that predator control is a last resort, undertaken by thoroughly vetted contractors. Our whistle-blower's info called this into question.

HIT was informed that the RSPB were using Larsen traps to capture crows during the springtime breeding season on Big Moor in the Peak District National Park. Larsen traps are a highly controversial form of bird trap, used primarily by gamekeepers who have no concerns about their inherent cruelty. Better is expected of the RSPB. Larsen traps were invented in Denmark, where they have since been banned for being inhumane. Larsen traps inflict intolerable mental and physical suffering on captive birds. Trapping during springtime also means that not only do caught birds die, but their dependent chicks also starve in the nest.
Foxes were also killed on the programme: shot by night in the nature reserve. The RSPB fox shooting season included the sensitive time in which vixens were pregnant, and when the dependent cubs of killed adults would also starve to death. This is simply cruel.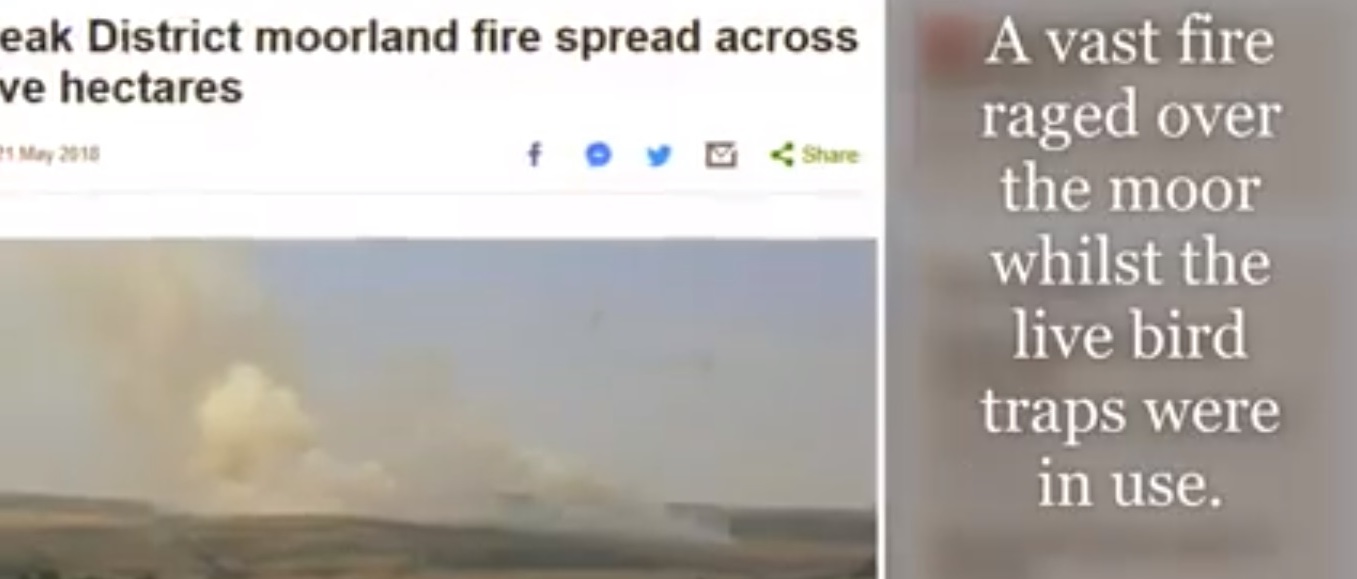 The contractor employed by the RSPB on its Big Moor site is a known member of the local fox hunting and grouse shooting community. His social media profiles contain many pictures from hunting and shooting, and he describes himself as "living for hunting and shooting". RSPB members' donations are being used to employ a bloodsports enthusiast to kill native wildlife...
Yet directly opposite Big Moor, the Barlow Fox Hunt manage their land for hunting and shooting. The area contains numerous artificial fox earths (to stock foxes) and gamebird pens. The Barlow Hunt directly increase the number of local predators for bloodsports, but rather than challenge the bloodsports community's damaging practices at source, the RSPB chose to employ one of its members to kill yet more wildlife. Rather than tackles the root causes, the RSPB has targeted the local wildlife populations.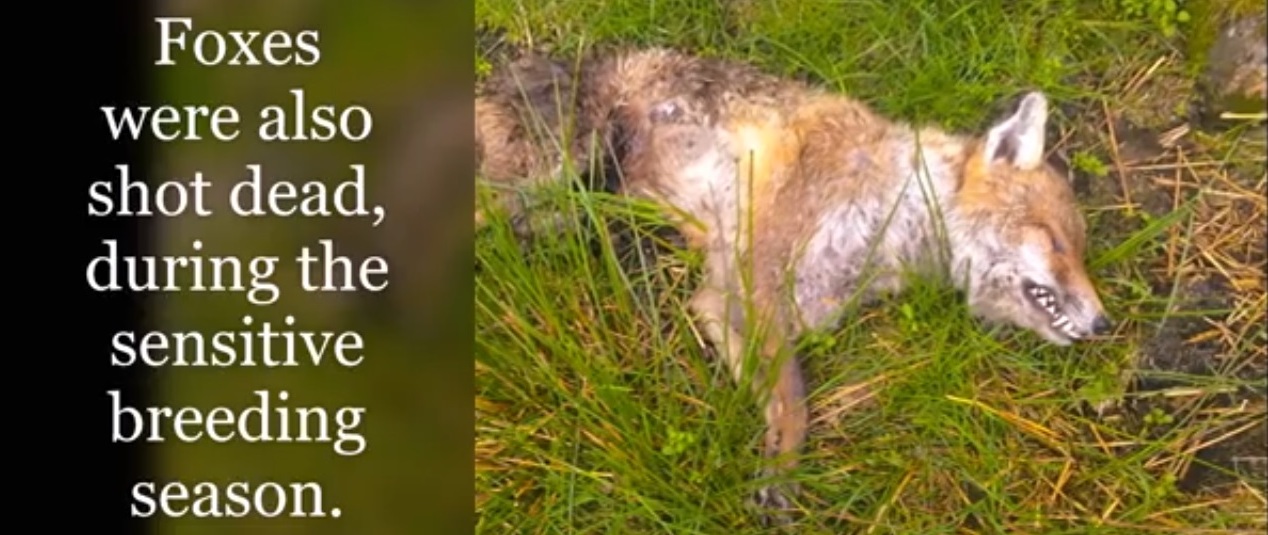 The Barlow Hunt Master was – at the time – under investigation for illegally trapping badgers, on the land opposite the RSPB reserve. The RSPB's contractor was a close associate of the Hunt Master. HIT thought the RSPB might be concerned by their contractor's close involvement with this individual.
HIT approached the RSPB with all our concerns: the inherent cruelty of Larsen traps, the high fire risk to caged birds on the moor, the fate of dependent young crows and foxes, the RSPB's association with bloodsports enthusiasts and use of donations to employ them, and the RSPB's failure to first address the artificially high number of predators locally due to the bloodsports industry.
HIT met with the RSPB in good faith to discuss these issues, to speak up for suffering wildlife and to encourage a new approach. We hoped they would be equally alarmed and keen to make changes. But the RSPB's Head of Conservation could not answer our questions and did not share our concerns. The RSPB's Deputy Head of Conservation admitted she did not know if Larsen traps caused suffering to corvids. The RSPB's Curlew Recovery Programme Manager did not respond at all. The RSPB's indifference was as shocking to HIT as the report itself...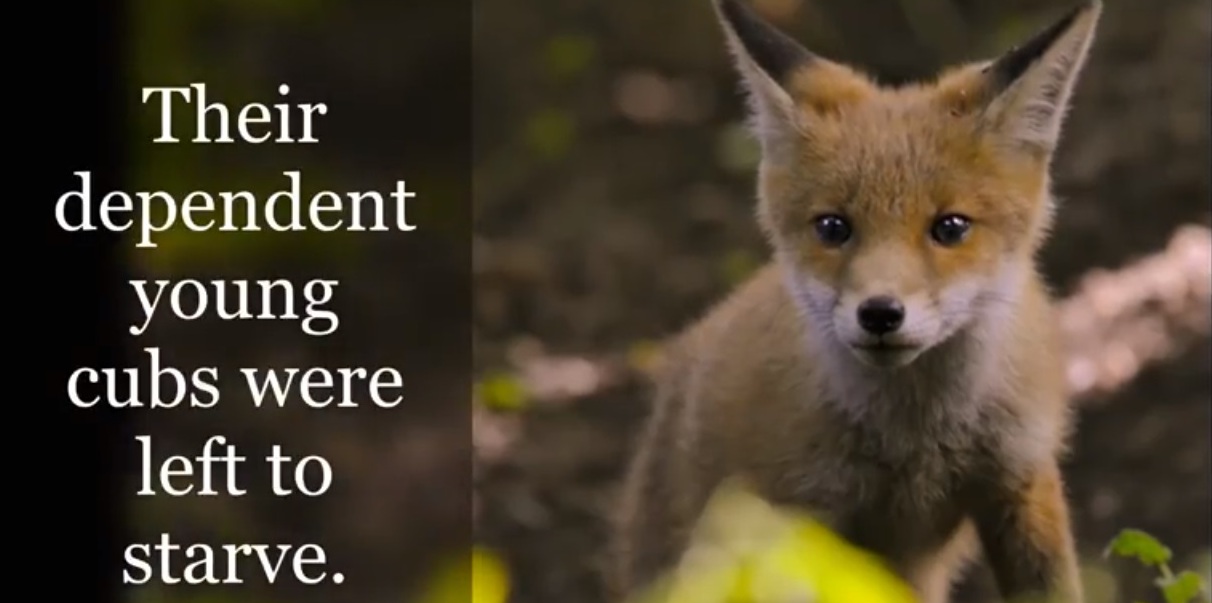 … We will not turn a blind eye to the RSPB's continued use of Larsen traps, which are intolerably cruel even when used legally. We will not turn a blind eye to the RSPB's choice to use well-meant donations to employ bloodsports enthusiasts. The curlew management trial programme will continue for a further 2 years on six sites across the UK...
If you are as horrified by this as we are, please let the RSPB know your concerns. If you are a member, please use your memberships to demand better protection for all birds, and a greater focus on tackling root causes. If you are a donor, please demand that your donations are not used to employ bloodsports enthusiasts to kill native wildlife. We are aware that many RSPB employees are unhappy with the organisation's use of cruel traps and their reluctance to speak out on bloodsports. If you have information you would like to share, please Contact HIT in confidence.
Full report is here. H.I.T.'s Facebook post is here.
You can help the Hunt Investigation Team continue to expose bloodsports scandals be donating here.
HIT finds artificial earths, blocked setts on publicly subsidised land
Found during investigation of Barlow FH JM's badger trapping
2nd trap + dead badger found by artificial earth found on JM's farm
21-7-18 Facebook - Hunt Investigation Team Huge tax payer subsidies were paid to the Horsleygate Estate and White's farm, where HIT's Barlow badger trapping operation was filmed. Many more artificial earths and blocked badger setts on publicly subsidised land were found during HIT's operation. Environmental subsidies are provided to conserve wildlife and biodiversity - not to persecute protected species. Yet more examples of bloodsports corruption.
Main trap site - Environmental Stewardship Agreement.
Second trap site - Countryside Stewardship.
Wood containing dead badger and artifical fox earth - Countryside Stewardship
21-7-18 H.I.T. @FoxHITeam Replying to @broadchurch6 @BathHuntSabs A second trap was found on the Hunt Master's own land, in another wood which receives Countryside Stewardship subsidies. A dead badger was found close to an artificial fox earth in a third publicly subsidised wood on the farm.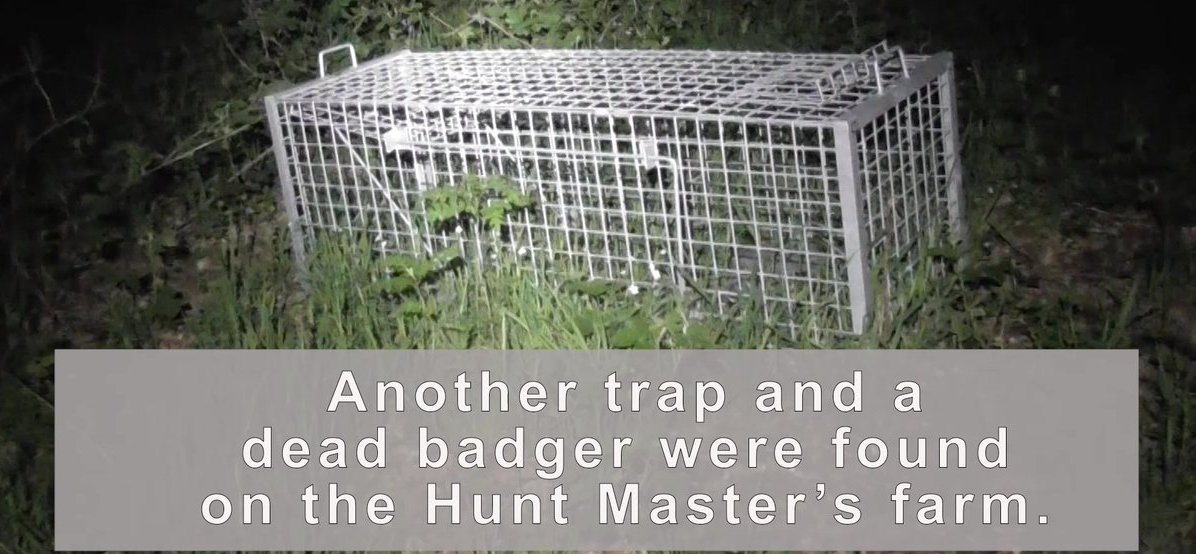 Ledbury FH snapped exercising pack on busy road
21-7-18 Facebook - Severn Vale Hunt Saboteurs Somebody sent us this photo of who we believe to be the Ledbury Hunt this morning, dangerously exercising hounds on a busy road. This isn't an isolated incident as most packs act in this manner. It is a wonder there are not more accidents.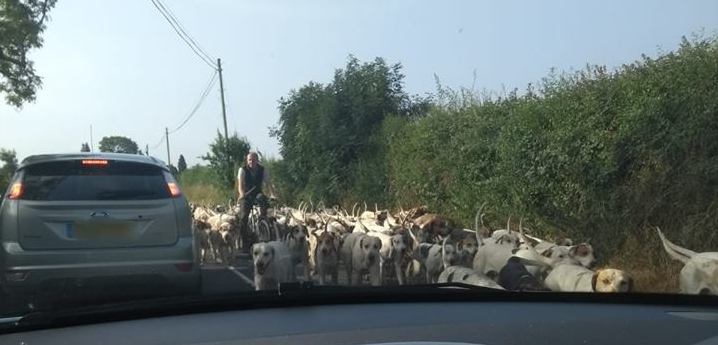 POWAperson adds - At least 13 hounds have been killed on roads while being exercised since the end of last season, in three separate incidents we know of. It is absurd to think that one or two kennel staff can control that number of dogs on busy roads and they should not be allowed to try. They are also a potentially life-threatening danger to other road users. It's bad enough having them careering round roads during the season trying to catch live quarry [against both the Hunting and Road Traffic Acts] without also doing it in the close season.
Quantock SH Huntsman & Whip charged with illegal hunting
Huntsman Richard Down convicted twice, in 2007 & 2010
19-7-18 LACS Press Release Avon and Somerset Police yesterday confirmed that the Quantock Staghounds huntsman Richard Down and whipper-in, Martin Watts are due to appear before Taunton Deane Magistrates Court on 21/08/2018, charged with offences under the Hunting Act 2004.
The alleged offences are said to have occurred on 22/01/2018: evidence obtained by investigators from the League Against Cruel Sports was passed to Avon & Somerset Police and the proceedings have been authorised by the Crown Prosecution Service.
Pic below - Down hunting a stag in February 2006. Resulted in his first conviction.

POWAperson adds - He was fined £500 in 2007 for the first offence and £375 [£125 less] in 2010 for the second. A perfect example of the utter failure of even convictions to deter hunters from continuing to illegally chase and kill wild animals. Even if he's convicted this time the CA will doubtless pay his fine and costs from their bottomless pocket - and will he change his behaviour? Do any convicted hunters?. Only very significant and thorough strengthening of the Hunting Act, including the possibility of prison sentences for breaches [as with other animal welfare Acts] can remedy this situation. Still, well done LACS investigators for getting Down and his sidekick to court.