Ex-cop Atherstone FH supporter found guilty of stabbing sab's car tyre
19-10-17 Facebook - West Midlands Hunt Saboteurs VIDEO Another conviction for the Atherstone Hunt GUILTY - Ex-policeman John Hadfield was yesterday found guilty of slashing a tyre of a lone female hunt sab. He was sentenced to 18 months' conditional discharge and ordered to pay £625 in costs, £64 in compensation to the victim and a £20 victim surcharge. Hadfield claimed he took his penknife out to cut off a broken finger nail. The magistrates didn't believe his version of events. https://www.paypal.me/westmidlandhuntsabs18-10-17
18-10-17 Leicester Mercury VIDEO Supporter slashed protesters' tyres during Atherstone Hunt meeting John Hadfield attacked saboteurs' vehicle during Atherstone Hunt meeting A fox hunting supporter has been found guilty of slashing the tyres of a protester's vehicle. John Hadfield targeted the hunt saboteurs' Mercedes Vito during a meeting of the Atherstone Hunt in rural Leicestershire last year.
Leicestershire Police said the 52-year-old walked toward the parked vehicle and took a pen-knife from his pocket and slashed a tyre. The incident was filmed by hunt saboteurs and circulated widely on social media at the time of the offence. It happened on the A444 Atterton Road, near Fenny Drayton, on November 1. In a statement today, Leicestershire Police said: "He took a multi-tool from his pocket and pierced one of the tyres on the passenger side of the van before walking away.
John Hadfield, of Burton Road, Twycross, appeared at Loughborough Magistrates' Court today, where he was convicted of an offence of criminal damage.
Pics below - 1/ Jon Hadfield approaches sab car, knife in hand 2/ The tyre after he stabbed it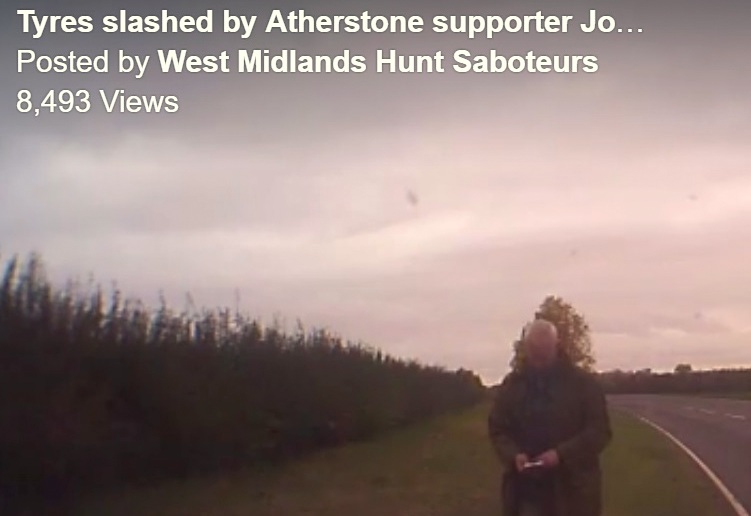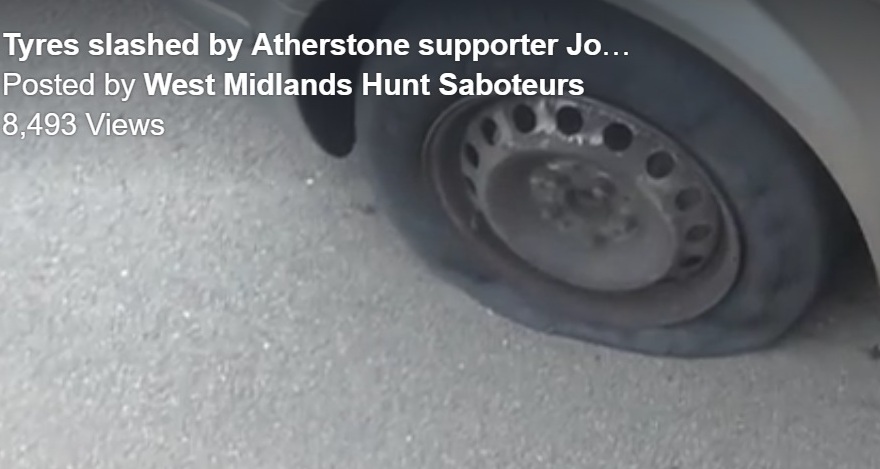 POWAperson adds - Hadfield's conviction brings to 398 the number of persons from organised Hunts in the UK known by me to have been convicted of or cautioned for criminal offences since 1990. This is the 50th conviction for Criminal Damage. 27 of the victims have been sabs, 14 hunt monitors. As always, these figures are just the tip of the iceberg as far as offences actually committed by organised hunters is concerned.