LACS finds National Trust staff resistant to evidence on 'trail hunting'
18-9-17 LACS blog by Phillipa King, Acting CEO [right] Is the message getting through to the National Trust? At a meeting earlier this year between the League Against Cruel Sports and the National Trust, our evidence of illegal hunting taking place on Trust land was dismissed out of hand. So, when the League was invited for its second meeting of the year, there were hopes that the Trust may finally be understanding the scale of the issue. Or perhaps not.
As you are probably already aware, the National Trust sells licences hunts to 'trail hunt' on its estates. Last year, it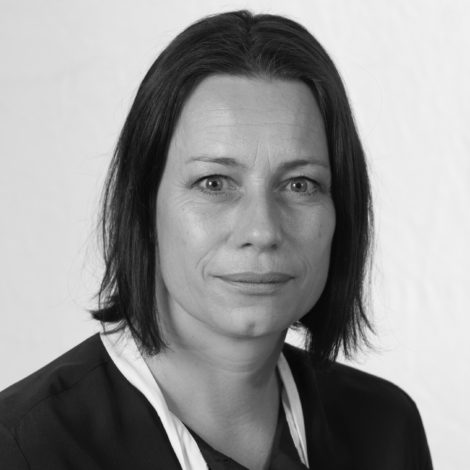 issued 79 licences to 67 hunts. It is the position of the League that 'trail hunting' is nothing but a cover for illegal hunting, and we once again presented this argument to the Trust on Friday 8th September.
So, what's National Trust's latest position on illegal hunting taking place on its land? They say that if it was illegal, there were would be prosecutions, ergo there is no illegal hunting! Shocking. It is certainly true that flaws in the Hunting Act make it notoriously difficult to prosecute illegal hunting, but as we know all too well, that does not mean that it doesn't happen. Besides which, when presented with hard video evidence of fox hunting, I find it hard to believe someone would deny the proof of their own eyes.
Not just fox hunting, but stag hunting too. Stag Hunting has been banned on National Trust land since before the Hunting Act, but when presented with footage of deer being relentlessly pursued by hounds, this footage was once again dismissed. Was it dismissed because the Trust allow 'exemptions' to the Hunting Act to be used? If so, how do they check this is what's actually happening? Or maybe their attitude to our reports explains more…
Reports issues by the League and IFAW, showing exactly how hunts circumvent current legislation, were also ignored by the Trust, merely treated as 'our perception'. This is of-course untrue, but it is curious that a meeting specifically held to hear our view (they have also met with pro-hunt parties), would then dismiss input on the grounds that it is our view? Very odd.
The National Trust prides itself on its conservation work, describing itself as 'Europe's largest conservation charity', so you'll will be as surprised as me to learn that, according to the Trust themselves, impact on conservation does not factor into how they determine what activities can take place on their land, with access to the public taking priority. This is especially concerning given our recent report highlighting the negative impacts hunting with dogs has on conservation.
This is especially worrying given that the Trust has no plans to monitor licenced hunts. They went to great pains to say that hunts may be 'observed', but that is as far as the Trust will go. At our last meeting the League offered training and resources, but no request was made by the Trust at this one. How they can be sure that hunts are staying within the law and the terms of their licence without being monitored is anyone's guess.
It is this worrying lack of evidence-based decision making that makes the upcoming vote to ban hunting from Trust land so vital. They may not pay attention to the evidence given to them, but it would be unwise not to respect the wishes of the members. After all, there are over 4 million of them. If you would like to vote, you can find out how here. [You have to be an N.Trust member]
Leading expert says N.Trust should not licence 'trail hunting' on its land
September 2017 Published scientific paper Professor Stephen Harris [below left] of Bristol University, the eminent zoologist and one of the country's leading experts on wild mammals, particularly foxes, has published a paper entitled "The impact of hunting with dogs on wildlife and conservation - A review with particular reference to the National Trust". The following extracts from Professor Harris's Conclusion tell the tale -
"The Board of Trustees' response to members states that 'conservation and looking after the special places in our care must always be our top priority'. Since the Countryside Alliance and Council of Hunting Associations say that trail hunting has no utilitarian value to farmers and does not contribute towards wildlife management or habitat conservation, it is unclear why the National Trust allows special places to be used for trail hunting and hound exercise/training when there is no shortage of other land available for these activities."
"The absence of any rules and regulations makes it extremely hard to monitor trail hunting and hound exercise/training and decide when hunts are in breach of their licence conditions."

"… should the Hunting Act 2004 be repealed, all the foxhounds alive today will need to be retrained to hunt wild mammals. The same applies to packs of beagles, harriers and mink hounds. Since the key function of trail hunting has now been negated, it is unclear why the National Trust continues to licence this activity."
"Since foxhunters have maintained that artificial scents cannot be used for trail hunting, and no legally procured fox urine was available for much of the period following the implementation of the Hunting Act 2004, the inescapable conclusion is that Hunts have been in breach of the licences issued by the National Trust for most or all of the last twelve years."
"… since hunting organisations and individuals have consistently maintained that trail hunting with artificial scents is not an option for fox hunts, although it appears to be an option for packs of beagles, it is hard to see how the National Trust's in-depth review has considered all the available information or understand how the National Trust has decided that henceforth it will licence fox hunts to trail hunt on their land 45 using artificial scents."
"Contrary to the Board of Trustees' response to members, changing the scents used for trail hunting will not reduce the potential for accidental fox chases, for two reasons. First, since the hunting organisations maintain that it is impossible to trail hunt with artificial scents, it seems inevitable that fox hunts will continue to use animal-based scents when trail hunting everywhere else. If so, there is no basis to believe that fox hunts will not continue to chase foxes and other wildlife on National Trust land. Second, hunting dogs instinctively give chase when they see a small animal running away from them, and it is impossible to prevent this occurring because packs of hounds often operate out of sight of the huntsman for extended periods and sometimes a considerable distance from the huntsman. So changing the scent trail used on National Trust land will, at best, have minimal impact on the effects of packs of hounds on wildlife and conservation."
"While the Board of Trustees' response to members states that 'There is no current evidence from our properties that trail hunts are any more or less damaging to conservation than many other outdoor pursuits that we license', the scientific evidence shows that this is not the case. The mere presence of dogs triggers strong and diverse responses by wildlife and can affect prey in a variety of subtle, deleterious ways."
"Unrestrained dogs, particularly packs of hunting dogs, are particularly threatening because of their unpredictable movements, which promotes sensitisation rather than habituation by wildlife. So the more often that unrestrained packs of dogs operate on National Trust land, the greater the impacts on wildlife. Licensing hunting dogs to operate on their land is incompatible with the charitable objectives of the National Trust."
Since their licence conditions already banned the use of terriers, it is unclear why the National Trust announced on 21 August 2017 that, 'they would Prohibit the presence of terriermen, who have no practical purpose on a trail 'hunt', and 'the use of their vehicles'.... the inescapable conclusion is that this "change" of policy has been necessitated by a failure of the Hunts to comply with their existing licence conditions."
"It is unclear how the proposed changes to the National Trust's licensing conditions will increase compliance levels. Low levels of compliance with restrictions on the use of dogs in conservations areas has been a key factor necessitating a ban on dogs in natural parks and reserves in many parts of the world."
Atherstone FH keep word and just exercise rather than cub hunting
10-9-17 Facebook – W.Midlands Sabs VIDEO Atherstone Hunt, Saturday 09 September 2017 – Corley The Atherstone Hunt recently published their September meets on Facebook and claimed they would be hound exercising throughout the cub hunting period. A welcome move but a big departure from what all other Hunts across the country are doing. Cub hunting is an especially secretive time of the year for fox hunts, with only a select few invited. Now that they have been open and published some of their meets it will look incredibly suspicious if they were to revert back to being secretive or worse if they were caught out at an unpublished meet.
We went along to the first of their published meets on Saturday at Corley, it's obvious that the Hunt are still in a mess as we saw only a handful of regular riders with the rest made up of kids and inexperienced riders. It all looked a bit chaotic and unorganised with several of the local residents talking to us about their displeasure at the Hunt's presence. However all they did was ride around a few fields and roads for a couple hours before packing up.
Cub hunting is extremely brutal and unjustifiable, in fact fox hunters admitted that they killed up to 10,000 fox cubs during cubbing before the ban as part of the Burns Inquiry in 2000. There is no reason to believe it is any different now. The fact that our campaigning has forced the Atherstone Hunt into a situation where they must hound exercise instead of cub hunting means that countless fox cubs could be saved over the next 2 months.
The Atherstone have also set a bar for all other Hunts across the country. If the Atherstone can publish their meets then why can't all other Hunts? We have to assume the reason is because they are illegally hunting. Many Hunts use the excuse that they are just hound exercising during cub hunting, yet the Atherstone have shown exactly what that involves. No terriermen, no hounds in cry at any point, hounds close to huntsman at all times, no one "on point" or stationary around any woods or crop fields. Any deviation from this would point to illegal hunting. #strengthenthehuntingact
The Atherstone Hunt will continue to be monitored throughout the cub hunting period to ensure this is all they do. We'd like to thank Atherstone Hunt Watch monitors group who helped us keep an eye the Atherstone https://www.facebook.com/Atherstone-Hunt-Watch-1737341664…/… We are always grateful for the support we receive especially as our campaigning relies on donations, please consider donating to us to enable us to continue to get results like this. https://www.paypal.me/westmidlandhuntsabs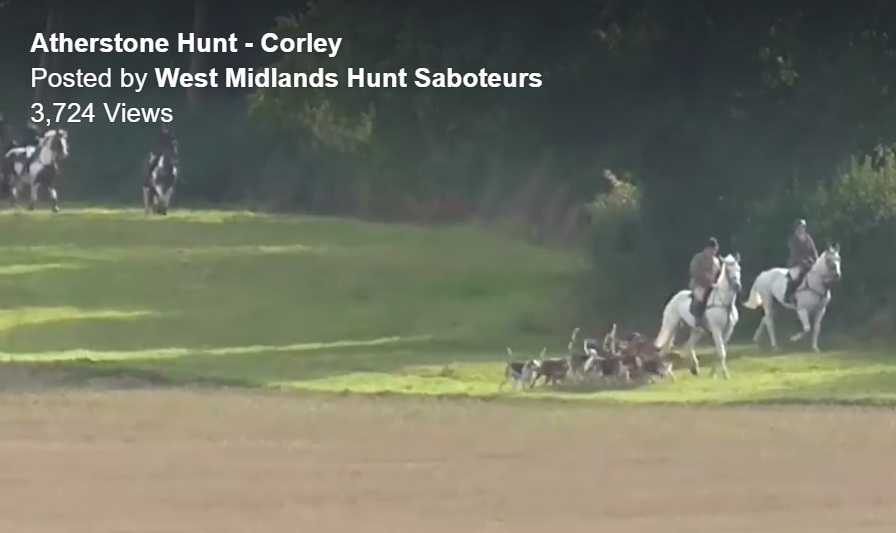 One bloodied, one bitten hound suggest cubbing kill by Beaufort FH
10-9-17 Facebook - Cirencester Illegal Hunt Watch Beaufort Hunt 09.09.2017 It was another early start for us as we set off to catch up with the Duke of Beaufort Hunt at 5.30am. Horse boxes started to pile up in Badminton Park and hounds were heard being made ready at the kennels. They set off a bit later than usual with lots of children out having their first experience of cub hunting unaware of the cruelty that lies ahead for the juvenile foxes. The usual throng of Lords, Ladies and landed gentry that make up a huge Beaufort field, were in attendance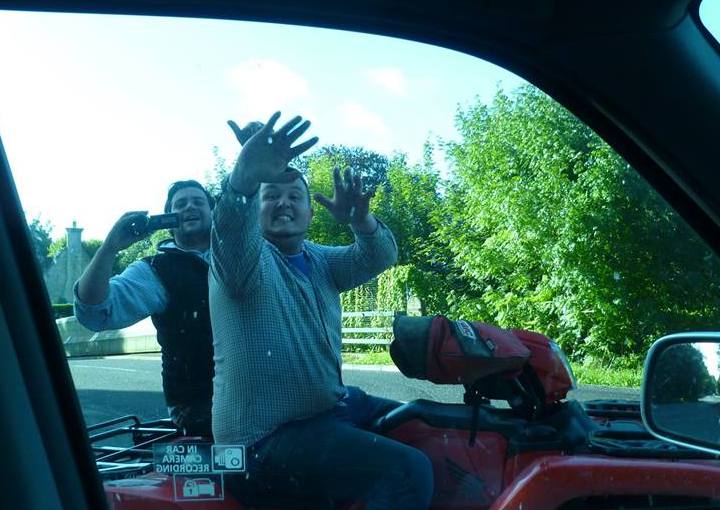 today plus the same old ghouls waiting with baited breath in case they can witness a kill.
Hounds were taken straight into Allen Grove a covert on the eastern edge of Badminton Park. Monitors were at the scene along with their 2 minders James Milsom and friend [right] who thought it was amusing to shout loudly and cavort around us whilst following even when we were on a footpath or public highway. Not the usual Beaufort style – we think standards maybe slipping!
They were in Allen Grove for at least 45 mins where hounds were on and off cry the whole time. Monitors were in the woods but unable to get near enough all the time. We could hear the young hounds clearly excited but not see them. When they finally emerged one hound was spotted with blood on chest - but who knows exactly what went on in there. They moved swiftly on towards Giant's Cave where we kept them on the move – another area we are familiar with. Here we watched closely in case a fox broke cover as they pushed the hounds through a maize field that bordered the lane. Terrier men and minders kept trying to put off by saying we weren't on a footpath - thank goodness for GPS - it doesn't lie!
From here they took the hounds south into Centre Walk Brake where they were stopped again by us and less hard core hunters started to drift off home. Frustrated after this they disappeared into Badminton Park a huge expanse of private woodland belonging to the 12th Duke of Beaufort, the estate inherited after the recent death of his father. At 10am they brought the hounds back to the Badminton Park and we went home to rescue the rest of the day.
Pics below - 1/ Some of the field 2/ Badly bitten hound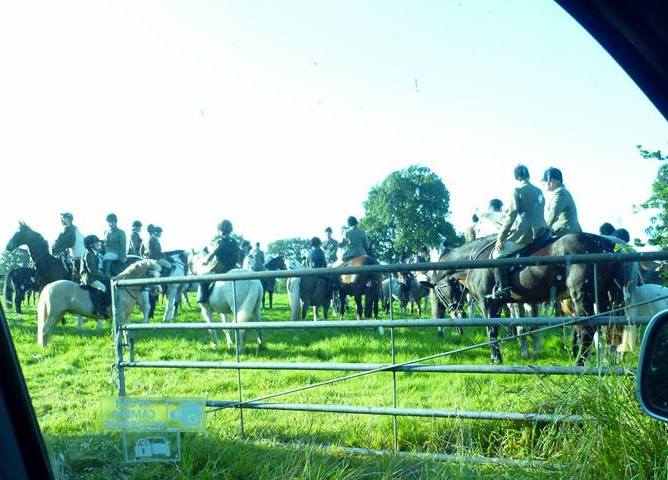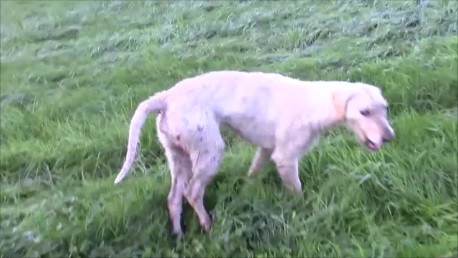 Surrey Union FH 'obstructed' sab guiding paramedic to heart attack monitor
3-9-17 Facebook - Surrey Hunt Monitors THE GRUBBY PASTIME OF CUB HUNTING IN SURREY 2nd September 2017 found the Surrey Hunt Monitors at the Surrey Union, cub hunting at Kilnwood Farm, Faygate at the extremities of their country. This is a particularly secretive meet, however a little bird told us they may be in the Rusper area. The kennels were watched as well as a team in Rusper to see the comings and goings. It was soon confirmed that they were at Faygate, so we were joined by Guildford, North Downs and Croydon Hunt Sabs to pay them a visit.
On finding the Hunt with many cars 'holding up' the entire side of a wood to prevent fox cubs escaping. Hounds and horn calls confirmed the Hunt's presence. Two foxes were seen bolting from the corner of these woods literally as soon as we turned up, bypassing the vehicles and going into the adjacent wood. At the distance, we couldn't tell if they were adult foxes or cubs but it was clear the Hunt was not following a trail, but actively hunting young foxes.
As soon as they realised they were being monitored, they pulled the hounds out of the wood and clearly panicking, loitered around for some time, trying to decide what to do. By this time, we had called the Police to report illegal hunting.
The usual angry 'banter' from the Hunt followed, but we stood our ground as the hunt were clearly not trail hunting. The Hunt demonstrated the antithesis of what they are supposed to represent; as so called prominent members of society, by showing a lack of respect for the democratically agreed laws of the land to suit themselves could be called 'Anarchy'.
The Hunt moved off back to the meet without the foot and vehicle support. The alleged landowner appeared, miraculously producing a piece of rag on a rope which she had been allegedly laying trails with - well we believed that!!
A short time later, one of our monitors fell ill with a suspected heart attack. Quick support was given by sabs who made him comfortable and professionally assessed his condition. The paramedics were called and managed to find their way through the woods to our location. The result was that an air ambulance was called for and took our friend to hospital.
The Hunt displayed an unbelievable contempt for the situation and still actively obstructed a sab entering the field who was transporting a paramedic to the scene in his vehicle. The Police had to move them out of the way. The terrier 'boys' followed the ambulance through the field at speed obviously hoping to gloat, but held back in the end, losing their nerve. A lone monitor who was walking towards the ambulance was given abuse from boys from the safety of their vans but carried on nonetheless. A particularly foul-mouthed girl; who couldn't have been more than 12 or 13 in the terrier boys van, hurled abuse from the van throughout the day. The monitor told the terrier boys that if the situation was reversed, and they had life threatening injuries or illness, we would help them. Even though we are poles apart, we are intelligent human beings; who although we despise their grubby activities, would help a fellow human being. There are plenty of stories of sabs and monitors aiding stricken hunters in the field. We will not stoop to their level!
It must be said that the gamekeeper who saw his exchange was very helpful, and managed to put our differences aside to smooth the way for the ambulances, and for this we thank him. A bittersweet day for us but with a bit of RnR, our good friend will make a speedy recovery. Get well and join us back in the field soon.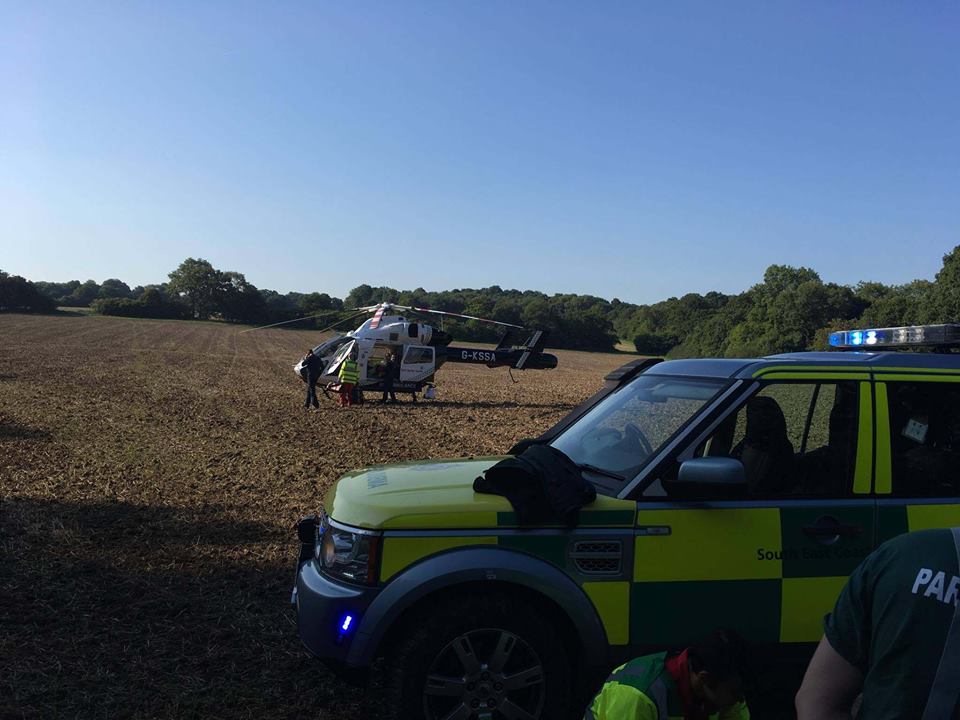 3-9-17 Facebook - Guildford Sabs After receiving information that the Surrey Union Hunt were intending to go cub hunting on Saturday morning, Guildford Sabs and Surrey Hunt Monitors took up positions on roads around the hunt kennels at 5am. Sure enough at 5.30am the hound van was seen leaving the kennels and it's direction of travel ascertained. Some time later one of our vehicles spotted a horsebox heading into Kilnwood Farm near Faygate.
Once the meet was confirmed we contacted North Downs Sabs and Croydon Sabs who were soon on their way. Whilst awaiting their arrival Surrey Hunt Monitors took up positions to covertly monitor the hunts activities. It soon appeared that they were engaged in full on cub hunting with no sign of trail layers and several foxes seen to flee for their lives. With the arrival of North Downs & Croydon the hunt soon knew the game was up and headed back to the meet to pack up.
During this time one of the Surrey Hunt Monitors was taken seriously ill with a suspected heart attack. He was given immediate care by one of the Croydon Sabs and an ambulance called. Due to the remoteness of the location the ambulance crew had to travel some distance on foot, cross country to attend to the stricken monitor, and it was decided the air ambulance would be required to evacuate the patient. Thankfully due to the fantastic response by the local ambulance crews, paramedics and the Kent, Surrey & Sussex Air Ambulance the monitor was soon undergoing surgery in hospital and is expected to make a full recovery.
East Kent FH assemble at 6.30 am for cubbing - then just go for a walk!
Sabs think fact they were observing them just might be the reason
2-9-17 Facebook - East Kent Sabs It was like first day back to school this morning as we did the first kennel watch of the season…! We parked up in the village of Elham to see if the East Kent with West Street hunt were going out cub hunting this morning (this is a training exercise to train new hounds to kill foxes - the puppies replace the old hounds that are too old to hunt properly, they get a shot to the head and it's in the incinerator!!)
As cubbing usually occurs in the early hours of the morning we had to be with them at 4am to allow for travel time, and we had a full landy, unusual for this early part of the seasons and with plenty of jokes and banter we were ready to go…
By 6 am horse boxes started to arrive at the kennels, and at 6.30 the hunt and hounds came out, all dressed in tweed, and headed out along the country lanes. Very strange - this time last year they were actively cubbing, but of course today, they decided to all get up in the middle of the night, get dressed up, and ride down some lanes for 75 minutes… as cub hunting relies on early scenting conditions, this pantomime was rather amusing to watch - i.e no complaints from us, but would they have done this if we were not there with cameras?
We'll never know, but we will be out with them next week to keep an eye on them, just in case. A fine start to the season! If you wish to donate to our group and keep us out saving lives, you can do so here- paypal.me/EASTKENTHSA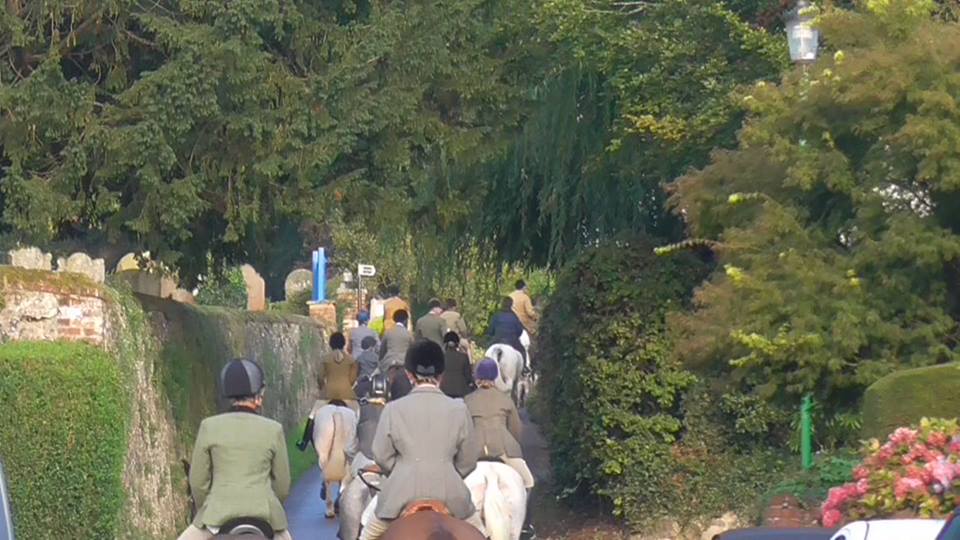 POWAperson adds - As the sabs say, cub hunting, at least in the first few weeks of the season, is always conducted early in the morning or in the evening. This is because strong sun in the full daylight will burn scent off, making the hounds' task much harder. If any hunters really think we'll believe they'll turn up at stupid o'clock just to exercise hounds, let alone to 'trail hunt', they must think we're brain dead. Anyway, again in the first few weeks, cubbing looks very different from full-on fox hunting [which could sometimes be passed off as 'trail hunting'], so it's not hard for anyone who knows what they're about to tell when it's happening.
Enter content here