Sabs prevent Northants MH hunting again


24-6-17 Facebook - Beds & Bucks Hunt Sabs
After our recent success against the Northants Mink/Otter Hounds which was largely down to vigilant members of the public we thought we'd be a little more proactive this week and visit some areas where we've know them to hunt in the past. So we gathered a team of lovely people from North Cambs Hunt Sabs, Northants Hunt Sabs and Nottingham Hunt Sabs and sett off to look for them.With Notts & Northants in one vehicle and 2 others with a combo of B&B and North Cambs we scoured likely looking areas and surprise surprise, we recognised some vehicles heading to a known area.
This was close to where they hunted a few weeks ago and on the same bit of river - Claydon Brook.With eyes on them they lead us to a farm near the big equestrian centre at Addington Manor. So with some proper military planning we moved in with a classic pincer action. Notts & Northants going in from the South on foot while the B&B/North Cambs teams in vehicles watched their only route out.By now they hunters knew they had been rumbled and did what they always do and called the police. Once again some officers arrived from Thames Valley but we had a cordial chat with them in the sunshine and discussed the Wildlife & Countryside Act and the Hunting Act. The police also told us there were some very pissed off people at the hunt meet! Perhaps they should find a less blood thirsty and acceptable pass time.With the hound van leaving to return to the kennels and the hounds not even getting out we enjoyed the sunshine while making sure they didn't try to pull a fast one.
Tory pledge to repeal HA is missing from Queen's speech [presumed dead]


21-6-17 LACS PR No mention of hunting in Queen's speech Reacting to the Queen's speech today, Eduardo Gonçalves, CEO of the League Against Cruel Sports said: -
"We are pleased to see that there is no mention of hunting in the Queen's Speech. We hope that, following the outcry during the election campaign, Theresa May has now abandoned the manifesto pledge for a free vote on repeal of the Hunting Act. The reality is that the ban has overwhelming support from the British public. We have no doubt that a vocal minority will continue in their attempts to weaken or repeal the ban – either openly or via the back door. We therefore remain vigilant and there should be no doubt that we will continue to be the voice speaking up for animals, vigorously opposing any effort to weaken their protection. The Government should be clear that what the British people want from them is to get on with the job of improving animal protection, not undermining it."POWAperson adds - Whilst all of the above is true, the fact is that the Hunting Act remains of very limited utility against organised Hunts and all antis need to press hard for it to not just be retained and enforced but substantially strengthened.
POWAperson adds - It's great that the threat of repeal of the Hunting Act has gone, though almost certainly it would not have got through the new House. However, this does not get us anywhere nearer the strengthening that is essential to restrain organised Hunts from continuing to hunt and kill live quarry.


CPS won't prosecute Cheshire Forest FH over 2 hunting incidents


1-6-17
Facebook - Cheshire Monitors
VIDEO This
film
is a shortened version of the evidence gathered by Cheshire Monitors of what we believe is the Cheshire Forest Hunt breaking the law ON 2-1-17. Cheshire Police did their utmost to get this Hunt into court, sending both this film and the Macclesfield kill evidence [28th Jan] to the Crown Prosecution Service. Sadly the CPS have decided to drop both cases.This incident was filmed on 2nd January 2017, just after this Hunt was caught with a policewoman seeming to act as private security for them and before the same Hunt killed a fox (very publicly) in Macclesfield.
Here
is a reminder of the incident with the police woman.
Here
is a reminder of the fox kill in Macclesfield.
What you can do... We've been asked by several people how to complain to the CPS. You can do so on
this address
, quoting case number 07/EZ/01745/17. *Please note* this for the case shown in the video only, and not the Macclesfield case.
Pics below - 1/ Cheshire Forest FH chasing fox 2-1-17 2/ Same pack hunting in Macclesfield 27-1-17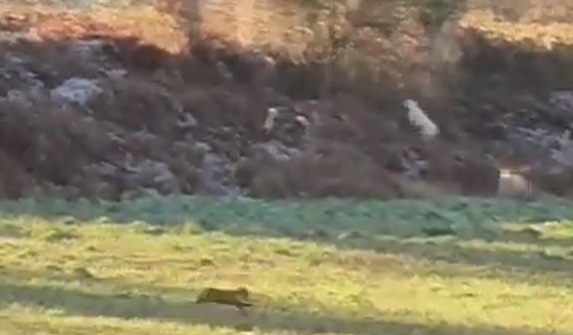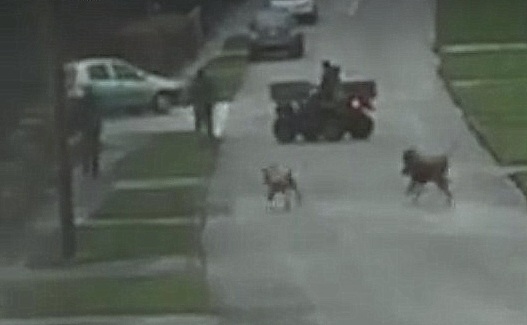 Enter content here