OCTOBER 2018
….. 19th October - Four Burrow FH cubbing attempts fail to excite the hounds
….. 18th October - Fitzwilliam FH attempt to get injunction to keep sabs away
….. 18th October - Antis pack up Eton College Beagles caught chasing a hare
….. 18th October - Antis to protest re. 'trail hunting' outside N.T.'s AGM
….. 18th October - DEFRA ignore wildlife crime in public forests
….. 17th October - Ashford V. FH chase fox into village - road chaos & hounds in gardens
….. 17th October - Monitors urge Cheshire fox Hunts to switch to drag/clean boot hunting
….. 16th October - Convicted dairy farmers supply dead calves to S&W. Wilts FH
….. 16th October - Warwickshire FH hunt fox along canal and through garden
….. 16th October - Derwent FH caught cubbing in same woods as taken to court for
….. 16th October - Snarling Ashford Valley FH supporter assaults sab
….. 15th October - Sabs ensure no fox kills at Lanarkshire FH Newcomers meet
….. 15th October - Ex-Huntsman tries to provoke sab into 'intimidating' him !
….. 15th October - League's Chief Investigator comments on attacks on LACS
….. 14th October - Hunting, coursing, shooting continue as hares face Myxy plague
….. 13th October - N. Warkwickshire Beagles packed up by sabs - in 3 minutes !
….. 13th October - Sabs make Berkeley FH Huntsman give up cubbing attempts 3 times
….. 13th October - Sab presence causes E. Sussex FH to actually lay a trail !
….. 13th October - Portman FH openly hunting foxes - again
….. 13th October - Nat. Trust appoints 'Trail-hunting Manager' to administer licences
….. 12th October - Sabs scupper Oakley FH cubbing meet just by turning up
….. 12th October - IoW FH - 'violent bunch of sadists' - licenced by Nat. Trust
….. 11th October - Melbreak FH flee as sabs find them hunting on FC land w/o license
….. 11th October - Cheshire FH staff caught blocking sett in SSSI woodland
….. 11th October - King stag of Exmoor escapes D&S SH on to LACS sanctuary
….. 11th October - Cheshire police have used drone to monitor fox hunt
….. 10th October - Trial of two Buccleuch FH servants adjourned for two months
….. 10th October - Sabs save 3 hares from Easton Harriers as locals outraged by hunting
….. 10th October - N. Shropshire FH Huntsman is a convicted criminal
….. 9th October - Buccleuch FH trial shown covert video of hounds chasing fox
….. 9th October - Quantock SH quad biker alleged to have run over policeman
….. 9th October - Monitor tells of the bloody reality of Quantock FH stag hunt
….. 9th October - Monitors cover trail of fox fleeing Zetland FH
….. 9th October - Hunt hound found in Cheshire advertised on Facebook
….. 8th October - Warks FH block sabs in on road they allowed on & Hunt not
….. 8th October - Assault case against E. Sussex FH woman rider referred to DPP
….. 8th October - Beaufort FH hunt fox in village of Rodmarton
….. 8th October - Two Buccleuch FH members deny illegal hunting charges
….. 8th October - Mendip Farmers FH cub hunt, riot on deer, ride thru cattle fields
….. 7th October - Four injured hounds found on road in South Wales
….. 7th October - Sabs pull Cheshire Forest FH hounds off suspected bagged fox
….. 7th October - Portman FH hounds chase pet cat in wood - sabs aid escape
….. 6th October - Beaufort FH take hounds through middle of sheep flock
….. 6th October - Middleton FH cub hunt openly - hounds rated off one young fox
….. 6th October - Sabs stick to Quorn FH like glue, stopping them hunting
….. 6th October - Sabs cover trail of only fox Avon Vale FH were able to put up
….. 6th October - Sabs save fox from Fife FH who hunt around active sett
….. 6th October - Sabs pull N. Bucks Beagles off hare while hunters fields away
….. 6th October - VWH FH support block monitor car - then claim she 'breaking law' !
….. 6th October - Sab presence leads East Kent FH to early pack up
….. 6th October - E. Sussex woman rider pleads NG to 2 charges assault sabs
….. 5th October - Filming sab causes Warks FH to let nearly caught fox go free
….. 5th October - LACS bites back over 'false' allegations in Times newspaper
….. 5th October - Wynnstay FH riders use horses as weapons against sabs
….. 5th October - League accused of wanting to hack CA CEO's email account
….. 5th October - Coniston FH admit trespass on NT land 4 times last season
….. 3rd October - Hunt supporter steps down as Shropshire Wildlife Trust trustee
….. 3rd October - Wildlife Sanctuary bemoans Staitondale FH cubbing right by them
….. 3rd October - Woman sab driven at and injured at Essex & Suffolk FH meet
….. 3rd October - Warks FH ride through bTb farm as sabs keep them moving
….. 3rd October - Broken Atherstone FH hack around a while then go home
….. 2nd October - S. Durham FH twice pull hounds off fox as monitors/police there
….. 2nd October - Muntjac scared on to road by Suffolk FH, injured by car
….. 2nd October - N. Cotswold FH hounds riot on deer - saved by sab
….. 1st October - Sabs pull Surrey Union FH hounds off two foxes
….. 1st October - Foxes shot & displayed in internal Lake District Hunt feud
….. 1st October - Flint & Denbigh FH openly cub hunt but sabs avert kills
Fitzwilliam FH attempt to get injunction to keep sabs away
Hunt has recent convictions for illegal hunting, assaults and C.Damage
The Fitzwilliam is owned by someone on the Sunday Times Rich List
18-10-18 Morethanjustbadgers.net Fighting the Fitz Injunctions [by Accidental Activist] - Injunction Statement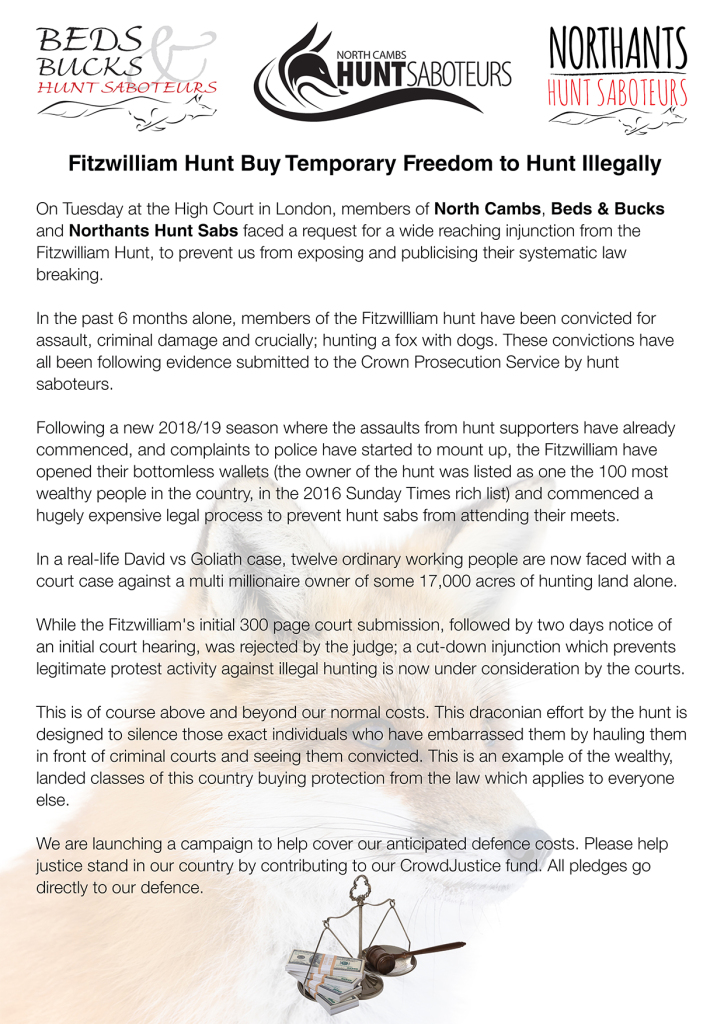 Our Crowd Justice Funding page can be found here: https://www.crowdjustice.com/case/fighting-the-fitz-injunction/.
POWAperson adds - This is probably just the first attempt by Hunts to buy injunctions in an attempt to prevent exposure of their illegal activities, as hinted at by Bonner in his recent letter to CA members. They seem, however, to have forgotten about the attempt by the Crawley & Horsham FH to do the same thing a few years ago, which flopped disastrously and very expensively. And it strange that it is a Hunt with recent convictions, plus further video evidence of assaults on sabs, that is choosing to lead the way. But it cannot be allowed to succeed and the sabs will need all the help they can get to stop it.
Antis pack up Eton College Beagles caught chasing a hare
18-10-18 Facebook - Weymouth Animal Rights Hit Report 18/10/2018 Eton Beagles : Meet : Abbotsbury Gardens, Beach Car Park We came, we saw, and we sent them running back to Eton! After a great tip off a few of us headed for Abbotsbury to look for the Hooray Henry brigade known as the Eton Beagles, Mastered today by the Park Beagle huntsman of Abbotsbury.
Joined today by Dorset Hunt Sabs we caught up with them running away from Sabs after being caught with hounds in cry after a hare was seen running for it's life! Sabs were hot on the scene and with the use of a gizmo and voice calls successfully called the hounds off the scent, another life saved ! This was enough for the Huntsman to call it a day and take the walk of shame and head back to boxing up the beagles.
There was some lingering around for sometime maybe the Eton crowd was hoping we would just suddenly disappear and they could just carry on with a days killing, but no, we stayed till the end to watch them saunter off with their tails between their legs!
Yet again bloodsports on Charlotte Townshend's land, no wonder people no longer wish to come to West Dorset for their holidays, shame, shame, shame on you Lady T for letting an already failing economy slump even further into decline due to your barbaric destruction of our wildlife!
If you wish to complain at how one of Dorset's favourite tourist attractions is being used to facilitate barbaric bloodsports then please air your views here. If you would like to join us please either message this page or email weymouthanimalrights@protonmail.com and we will get back to you as soon as we can. Donate to our fuel and equipment fund here.
Pics below - 1/ Hunter showing how much he loves his hound 2/ Packing up after 'walk of shame'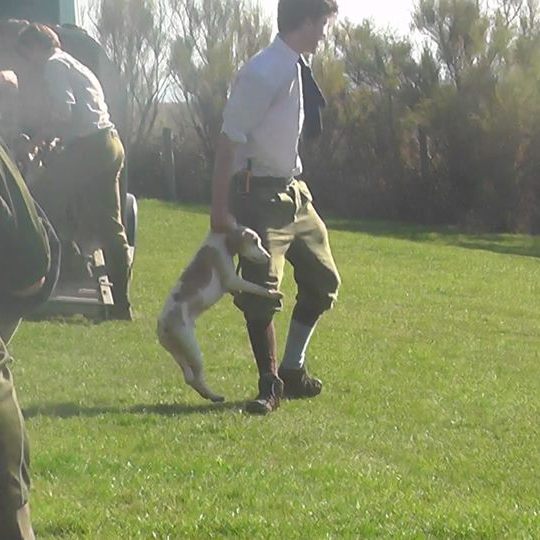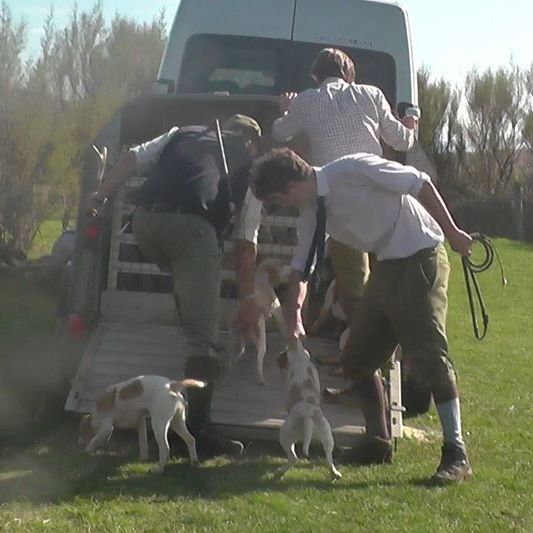 League's Chief Investigator responds to attacks on LACS
Daryl Cunnington had neck broken in attack by Belvoir FH supporters
15-10-18 LACS website A matter of trust? Personally I'm getting sick to the back teeth of people going after the League. It's one thing when the Countryside Alliance and BASC have a pop at us, that's expected. But when it keeps coming from people who claim to support us, it's really frustrating. And it takes a great deal of my time to respond, time which would be better spent on investigations.
A couple of discontented people are saying they need to save the League. Save us from what? From where I'm sitting, we're stronger and more effective than we've been for a long time. We are far better resourced, we have prosecution cases being prepared for the police and we have even brought in a contract investigator to increase our coverage. We've had plenty of reports of cub hunting coming in over the last couple of months, and some of those hunts are going to get a nasty shock. We've got a new hunt season about to start, and we're getting ready for that. The amount of intelligence we're getting from the public is going up exponentially. Trust me when I say we know exactly what the hunts are doing, and where they are doing it. We know they're getting worried too, more than they've been for a long time.
The team I work with has changed a bit over the last few months – we've got Martin Sims as our Director of Investigations. He used to be Head of the police National Wildlife Crime Unit. There aren't many around who know more about catching and prosecuting wildlife criminals than him, and his experience is going to be invaluable. We've also got an intelligence team who are ex-police and frighteningly good. These are the guys who analyse any reports we get into Crimewatch so we can identify who to go after. If I was a hunter, I'd be very worried.
From my point of view, we're in a really strong position. And I'm at the sharp end of what we do. I'd be lying if I said life at the League is always rosy – it's not, but it never is, wherever you work. During the tenure of the previous CEO and board members like Chris Williamson, me and my team faced possible redundancy, and the support shown to us by our supporters was touching; we cannot do what we do without your support and trust.
There have been changes here, and on the board. But the most beneficial change has been the recruitment of Andy Knott, our CEO, who has been leading us for nearly a year. Some are saying he's an 'infiltrator' because he used to be in the army. I can't swear in this article, but trust me, that's rubbish. The man is the most experienced manager I've seen in my time at the League, and he's doing what needs to be done. And he is demonstrably 100% behind League staff, in the office and also out in the field taking part in investigations with us. That's a first for a CEO in my time.
We needed to make changes. There's been too much going on behind the scenes which has got in the way of us doing what we need to do. What I see happening now is someone not afraid to sweep away all the rubbish that's been going on so we can get back to focussing on what we all want to be doing; protecting the animals, strengthening the laws that protect them and going after those who abuse them.
My job depends on our supporters, and it's the responsibility of our management to make sure they spend your money wisely. I see someone in charge doing exactly that. We are well aware that it is our supporters' hard-earned money that enables us to carry on.
To stop the hunters, shooters and other animal abusers, we need to keep adapting. We need to catch them in the act, and we need the people who can bring about changes in the law to know about it. That includes police and politicians of all political persuasions. We need them to trust that we are acting legally and that the information we give them is factual. When it comes to achieving what we want, we need to work with all the right people. That's what we're doing. I'm a thirty-years' service ex-cop and have a vast amount of experience as to how the system works.
I guess some people don't like change. Some of our supporters maybe don't like the fact that we've got an ex-army officer as CEO. But that's just prejudice, it's not based on fact. Trust me, if Andy was trying to weaken the League in any way, I wouldn't be writing this. And if I had any concerns that he was, I would be letting people know.
All I'm saying is, think carefully before believing people on the outside who claim to know what the League wants. Some of these people probably have their own reasons for what they are doing - which have nothing to do with trying to stop animals from being hurt and killed.
All I want to do is stop the people who take part in cruel sports. I work for a charity which is 100% committed to doing that. We've got some of the best of the best working here. What we've achieved even in the last year shows that any suggestion we 'need saving' is complete rubbish.
I've had my neck broken by hunters, but they won't stop me and they won't stop my colleagues. Please don't let a few people who either have their own agenda or don't like progress stop you from supporting us.
At the end of the day, who are you going to trust? The ridiculous headlines that have been proven time and again to be false? Or people like me and my colleagues who will not stop until we have ended the abuse and killing of animals in the name of sport?
Darryl Cunnington - Head of Field Operations
Hunting, coursing, shooting continue as hares face Myxy plague
14-10-18 Independent Brown hares could face extinction after mysterious deaths identified as myxomatosis - Experts fear deadly infection has jumped from rabbits to their threatened cousins Brown hare numbers have already declined by more than 80 per cent across the country due to farming intensification and hunting Britain's brown hares could be wiped out after a deadly infection spread from rabbits threatens this already vulnerable species, experts have warned.
Over the past month, scientists have been inundated with reports of dead or dying hares, particularly i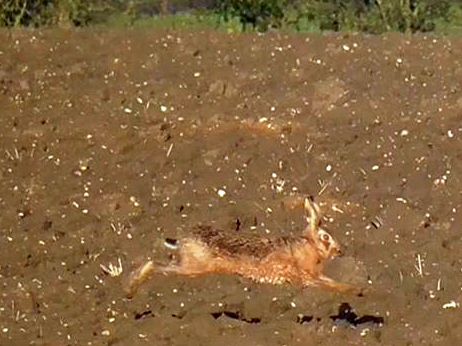 n the east of England, prompting them to launch an investigation. Early examinations suggest the animals are victims of myxomatosis, a virus introduced to the UK in the 1950s to control rabbits, which killed 99 per cent of the population.
University of East Anglia experts issued an appeal with local wildlife trusts last week to get to the bottom of the cause of the mysterious deaths. "The death of any animal is obviously distressing but we're asking people to try and photograph these hares to help us understand what is happening," said university biologist Dr Diana Bell. "Getting good images of the bodies of these hares, along with their exact location, is crucial for us to rule out or identify possible diseases."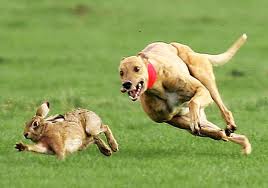 Since issuing their public plea, the team has received an "overwhelming" number of responses and have concluded that myxomatosis is the likely cause. Dr Bell told BBC Radio 4's Today programme that the disease has the potential to wipe out the hare population, and that the hundreds of cases she was aware of were likely "the tip of the iceberg". "From the photographs that have been sent in to me we've definitely got a jump of myxomatosis to hares," she said.
East Anglia is considered a vital location for the brown hare, which has declined by more than 80 per cent across the country over the past century and has nearly vanished entirely from the southwest. Intensification of agriculture and hunting have both been implicated in the decline of this iconic mammal, which now numbers around 700,000 across the country.
Myxomatosis, which is spread via bloodsucking insects, has been recorded in these animals only on rare occasions, and the experts are concerned about the additional pressure it will place on remaining hares. "The reports of hare deaths are obviously of great concern, especially considering the importance of the populations in this region," said Ben McFarland, head of conservation at Suffolk Wildlife Trust. While they continue to monitor hare populations, the experts urged the public to continue sending their images of sick or dead hares to Dr Bell.
British mammals in general are thought to be facing unprecedented losses, with many popular species such as hedgehogs and water voles declining by up to two-thirds over the past two decades. Populations of brown hares' alpine cousins, mountain hares, have plummeted by 99 per cent in parts of the Scottish Highlands since the 1950s. These trends are part of a general trend identified by conservationists as land change, pesticide use and climate change have pushed around 15 per cent of UK wildlife to the verge of extinction.
Pics above - Right, Hare fleeing from Dunston Harriers 2016 Left, Hare coursing. The Hunting Act's greatest success was in stopping hare coursing events such as the disgusting Waterloo Cup, but illicit coursing is still widespread.
Cheshire police have used drone to monitor fox hunt
11-10-18 Facebook - Cheshire Monitors Cheshire Monitors have had it confirmed that these drones (only 3 for the whole of Cheshire at the moment) have already been deployed on a hunt. They will continue to use drones on hunts if they deem it necessary. This can only be good news!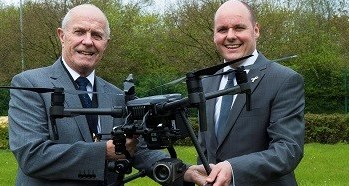 Sabs pull N. Bucks Beagles off hare while hunters fields away
They'd also spoiled the Fitzwilliam FH's fun earlier in the day
6-10-18 Facebook - Beds & Bucks Hunt Sabs VIDEO (N.Cambs Sabs) Double Whammy of a day! As is usual this time of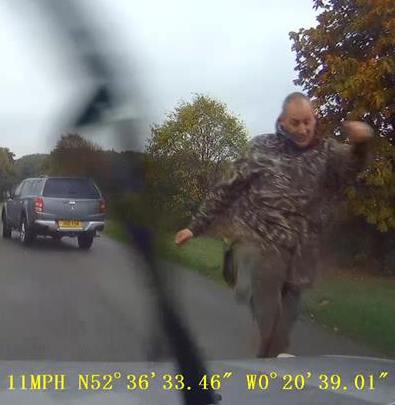 year our sabs were up before daybreak and heading out once again with our regular comrades North Cambs Hunt Sabs to scupper the plans of the convicted criminals that are the Fitzwilliam Hunt, who were out hunting near the village of Marholm, Cambs.
They were blatantly holding up on our arrival but sabs were deployed and they soon moved on. The weather was a bit of a stinker to be honest but that didn't deter us and with two teams we made sure we have their every move covered. This of course wasn't hugely appreciated by the Hunt and the usual goons were soon following us around and being a little annoying, one nutter chasing our vehicle down a lane on foot and trying to kick it [right]. Being made to took like a bit of an idiot he tried to find a brick to throw at the vehicle but could only manage a small stone!
With the weather deteriorating the riders were soon heading back to the meet looking dejected, just in time for several police vehicles to arrive after we called them about their supports behaviour. But our job was done and we headed off shortly after 10am.
But that was not all, oh no. We had also been given a little bit of intelligence that the North Bucks Beagles would be hunting hares at Clifton Reynes, an area we know well as it is Oakley territory and sure enough we discovered them hunting the fields along the river Great Ouse shortly after 1pm. As we arrived the hounds were in full cry and on the line of a hare with the hunt staff still several fields away and in no position to control the hounds.

Hounds start to respond to sabs
So we did what sabs do best and used both horn and voice to distract them long enough for the hare to escape. Finally the hunt staff arrived and gathered the hounds, the assorted group of sad looking support (including the now famous Uncle Albert) following a short time later, many looking like they should be supping hot cocoa in their slippers rather than being out in a cold wet day watching innocent animals being abused.
Hounds getting sab love
The WCO from Thames Valley Police arrived after we reported illegal hunting and was happy for us to continue with our work despite the ludicrous claims from the hunt, however while we were engaging with the police the cheeky buggers decided to try and escape out the back of the meet and hunt again but our eagle eyed driver, perched on a high point had them in view and quickly alerted us to their trickery so once again we set off and dragged them back to the meet.

Sabs escort Hunt back to the meet
We held on and kept them in sight while they drank tea and ate soggy sandwiches in the rain. The hound van leaving some time around 3:30pm. Only thing left to do was celebrate in the pub with a beer and crisps.
Lots of miles covered today and fuel used, you can help by buying us a Kofi> https://ko-fi.com/bedsbuckshuntsabs
E. Sussex FH woman rider pleads NG to 2 charges of assault sabs
Jane Goring accused of riding into woman, whipping man
Sabs raised funds for private prosecution as CPs refused case
Today's meet found and sabbed - no kills
6-10-18 Facebook - South Coast Hunt Sabs Hit report 06/10/2018 We managed to locate the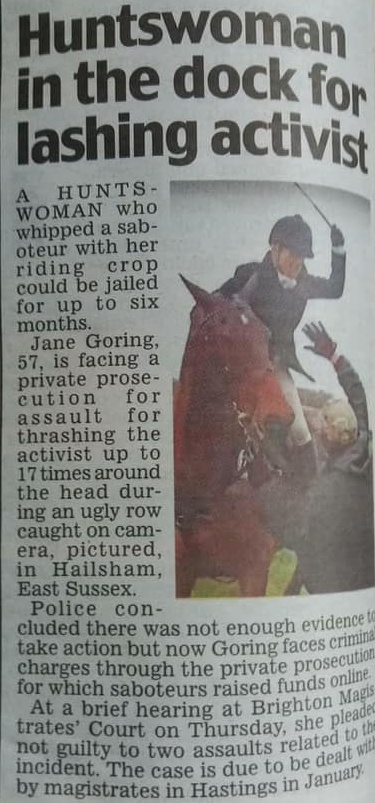 secretive East Sussex and Romney Marsh FH [below] today. They have been either kennelling away or leaving very, very early. Either way thanks to our supporters keeping an eye out we located them at the Woolpack Inn, Herstmonceux.
As always, not happy to see us the Hunt floundering around trying to lose us, and when that failed could not pick up a scent. No false trail in evidence at all. Either by incompetence or our presence no foxes were killed and the hunt when home.
In others news, Jane Goring one this Hunt's riders, who last season allegedly assaulted one of our sabs, was in court. She has pleaded not guilty to two counts of ABH and will be in court in January.
Any donations to enable us to stay out protecting our wildlife gratefully accepted:- paypal.me/SouthCoastHuntSabs.
7-10-18 Facebook - Brighton Hunt Saboteurs A huntswoman is in the dock after she whipped a saboteur last season in this shocking footage. South Coast Hunt Sabs have had to bring a private prosecution with funds raised by our supporters after the police refused to prosecute.
POWAperson adds - The charges against Jane Goring relate to a heavily publicised incident. Sab version is here, Mail article here. Most media outlets who included the sab video included only the part where the male sab was holding the horse's reins and being whipped, making it look as though he'd been trying to attack her. But the portion of video before that, shown by few, shows the rider aggressively riding her horse into his female colleague. This, the sab maintained, was why he grabbed the reins - to protect her from further attack and, perhaps, serious injury. Riding into sabs is a common hunter tactic.

Sabs pull Surrey Union FH hounds off two foxes
One group of sabs driven at by hunt support
1-10-18 Facebook - North Downs Hunt Sabs Mission 23 Surrey Union Holmbury St Mary 29-9-18 Good day for North Downs and Guildford Sabs who joined by some Berkshire Sabs and sabbed the afternoon newcomers meet of the Surrey Union Fox Hunt at Gallops Field, Holmbury St Mary.
Some of our sabs had already done the early morning cub hunt of the old Surrey and Burstow and carried on to this meet. We had a lot of new people out with us and we started by pre-spraying a few woods before the Hunt got to them, which pissed them off when they spotted one team and seemed to cause them to change route.
They started by heading up the bridleway towards Joldwynds and Holmbury Hill... The other Landrover of sabs were waiting for the Hunt as they got onto the first fox of the day and managed to get them off it.
Our group waited on top of the viewpoint at Holmbury Hill and were amused by the sight of the two "trailayers" not laying a trail and nowhere near the Hunt. After a while the Hunt appeared missing a few hounds already they then tried to lose us by riding off at speed but we soon picked them up again at Coverwood.
We anticipated their next move and were in the right place when they got after another fox at Gulls Isle Wood at Ewhurst. A combination of voice calls and spraying citronella everywhere got them off this fox and the hunt support vented their anger by driving at the other group of sabs.
This seemed to finish off the Hunt for the day and they packed up shortly afterwards, and the happy sabs (20 of us) retired to the pub for beer and chips. Please help keep our two land-rovers on the road by donating to https://www.justgiving.com/crowdf…/guildford-northdowns-sabs.
E. Kent FH Huntsman makes absurd claim of sab hitting him
30-9-18 Facebook - West Kent Hunt Sabs VIDEO HUNTSMEN ACCUSES SAB OF HITTING HIM FROM 10 FEET AWAY! WHO'S HARASSING WHO? Here is a video of Steve, Huntsman of the East Kent with West Street Hunt accusing one of our sabs of hitting him when quite clearly they aren't, before riding his horse at them making a right fool of himself!
We're actually starting to feel sorry for this Huntsman now.... he's clearly losing the plot and will try anything to stop us stopping him from killing our wildlife!

Anti-Bax protest at KWT AGM prompts media coverage
30-9-18 Facebook - East Kent Sabs DEMONSTRATION AT KENT WILDLIFE TRUST AGM 29th September 2018 Thanks to EVERYONE who managed to get to this yesterday - we know how many people wanted to come along but couldn't, but your support has been overwhelming. And thanks to the press who after two years are finally picking up properly on the story, with journalists from the Independent, the BBC and KM group all present.

Also thanks to the amazing Joe Hashman of Hounds Off for his amazing speech - shame the rep from KWT who came out to tell us that a lot of the published links about Mike Bax and his connections to hunting and game shooting were "lies" or "mistakes" didn't stick around to listen... but some people do find the truth uncomfortable. (you can read a transcript of Joe's speech in the item below.
Also thanks to the speaker from the League Against Cruel Sports, who also gave a speech. This is not over.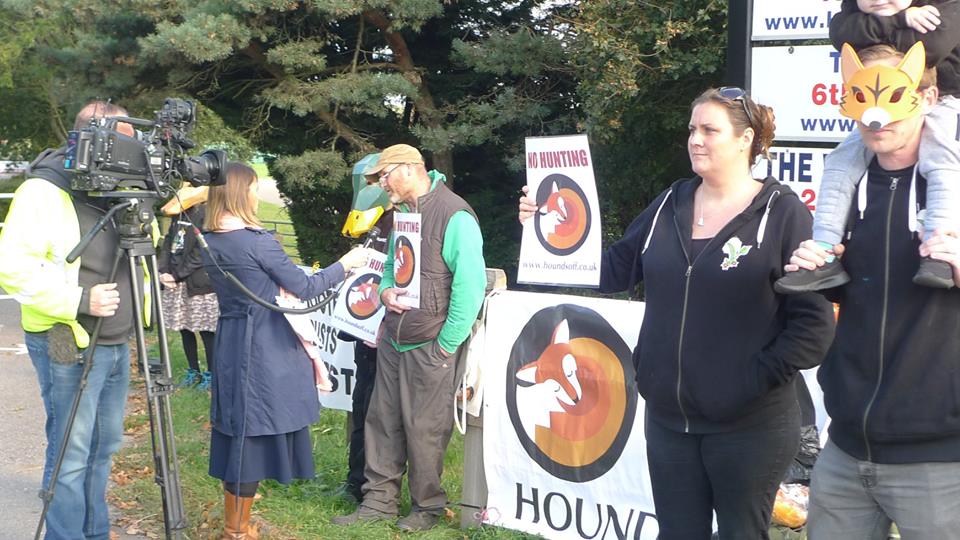 If you wish to donate to our group and keep us out in the fields, you can do so here-many thanks. https://www.paypal.me/EASTKENTHSA.30-9-18
30-9-18 Facebook - League Against Cruel Sports Yesterday, we joined East Kent Sabs, Hounds Off and Kent Wildlife Trust AGM to protest their pro-hunt, pro-shoot chair Micheal Bax. It's such a shame that an otherwise fantastic organisation would have someone who stands against what they stand for as a figurehead. TV coverage here.
Surrey Union supporter tries to run over sab - no kills
29-9-18 Facebook - Guildford Hunt Saboteurs Today with North Downs and Berkshire Hunt Sabs we sabbed the newcomers meet of the Surrey Union Hunt. With one group at the meet awaiting to give a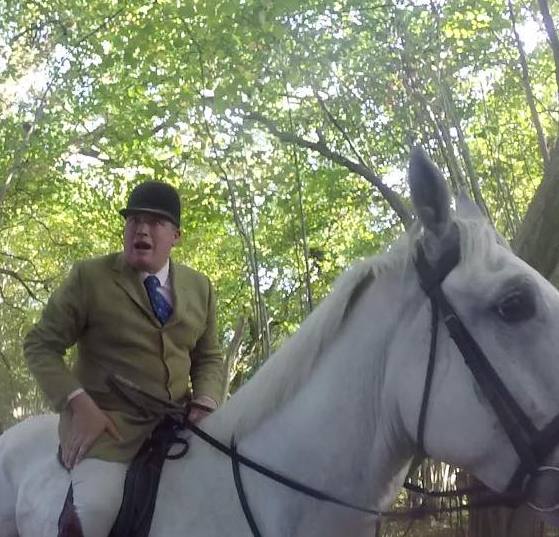 direction we placed ourselves further up. As soon as the Hunt came towards us hounds were in cry after a fox at holmbury hill. Despite extremely difficult terrain sabs managed to stay with the hounds masking the scent of the fox and using voice calls to call them off. Andrew Hazeltine then spent ages trying to gather them up again, with some laughable horn blows he finally managed.
With a clearly pissed off Hunt the support focused their aggression on sabs attempting to run one of our sabs over (with a child in the back!) drunk behind the wheel or just annoyed you didn't get your bloodlust fix?
The Hunt soon moved over to gulls isle where they have killed before and again the hounds were in cry all over the place. We managed to stay with the hounds and ensured they didn't get anything! Once again after loosing hounds (even they don't like you!) they spent a while trying to gather up and soon packed up which meant pub time for sabs!
To help keep us out in the field please consider donating or message us to get involved! Want to grass up your local hunt? Give us an anonymous message.
Pic above right - The lesser throated screamer on a bored horse who has heard his rants so many times before.
More pressure on Bax, KWT Chair/hare hunter to quit/be sacked
29-9-18 Independent Wildlife Trust chief faces calls to quit over hunting and shooting sponsorships - Critics say role as chairman of conservation charity conflicts with support for 'bloodsports' The head of a conservation charity is facing increasing pressure to step down because of his firm's sponsorship of Hunts and game bird shoots. Critics say Michael Bax's position as chairman of the Kent Wildlife Trust is at odds with his support for activities that involve loss of wildlife.
More than 200,000 people have signed a petition calling for the Trust to sever its links with Mr Bax [below right], who served as Huntsman and Joint Master for a hare-hunting group, supports other hunts and allows pheasant shooting on his farm. Wildlife lovers are also planning to protest at Saturday's [today's]annual general meeting of Kent Wildlife Trust to demand his removal.
"The wildlife trust's mission and decisions are based on science, but his experience of animals isn't science-based, it's about a love of hunting," said Tom Fitton, who launched the petition. All evidence suggests the brown hare has suffered a massive decline, and his experience doesn't give any confidence in his suitability to run the Trust."
But the Trust says Mr Bax is pivotal to maintaining good relations with landowners and farmers. Mr Bax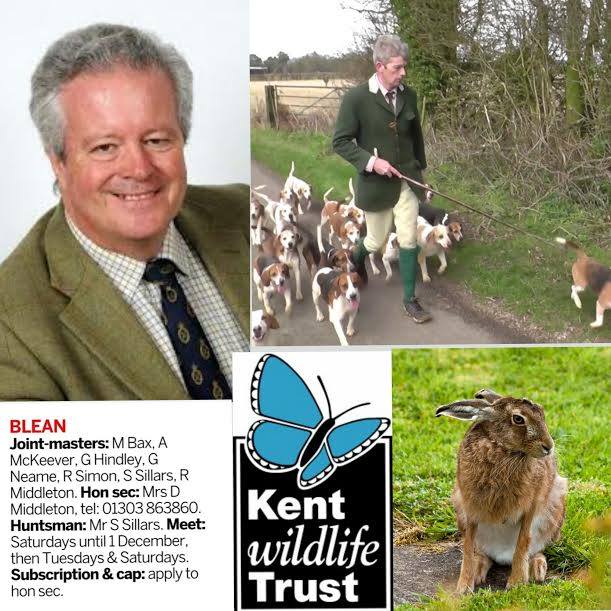 became chairman of hare-hunting group the Blean Beagles [snapped March '18, below left] in 1971, and took over the reins at Kent Wildlife Trust in April 2014. The Trust says he left the Blean Beagles in 2005, but Baily's Hunt Directory, the "hunting bible", reported him leaving in 2016 – two years after he took the trust top job. He is also director and senior partner of BTF Partnership, a land and property agent.
In July 2014, three months after he became Kent Wildlife Trust chairman, BTF sponsored a Game and Wildlife Conservation Trust event, advertised as a "game bird challenge shoot and sporting auction" with three 100-bird sporting flushes per team and an auction of sporting lots. Participants had to send applications to join BTF. As well as pheasant and pigeon shooting, the lots included a "tide flight" on Greenborough Marshes, an environmentally sensitive area in Kent. A tide flight is a bird shoot around the time of high tides on marshland, when birds and ducks are at their most active.
Last year BTF sponsored the pony club of Southdown and Eridge Hunt, a hunt that in 2015 was accused by the deputy mayor of Lewes during a council meeting of having a 10-year "history of violent acts". The pony club fundraises for the Hunt. Also last year the Ashford Valley Tickham Hunt thanked BTF among others for sponsorship.
In May this year police dropped an investigation into an alleged illegal hunt by the Ashford Valley after detectives said they did not have enough evidence. Saboteurs captured footage of a fox being chased by hounds and its corpse later being carried away by a terrier man. Police deemed the death an accident. At the time, Ashford Valley Tickham Hunt declined to comment.
Mr Fitton's petition says: "Many wading birds are included on the 'birds of conservation concern review' and that the chairman of Kent Wildlife Trust would sponsor their slaughter is unthinkable. Bax's shoots will also be polluting the environment with lead. Exposure to lead is not only detrimental to the growth and reproductive rates of animals and plants, but it also has adverse effects on human health. BTF continue to sponsor shoots taking place in Kent in 2018."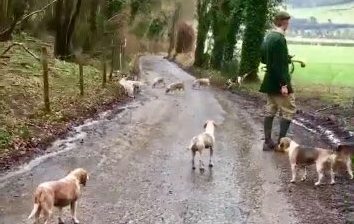 The petition says the brown hare is a priority species on both Kent's and the UK's biodiversity action plan because of a dramatic decline in numbers caused by agricultural practices and hunting. "According to the Hare Preservation Trust, the UK's brown hare population has declined by 80 per cent since 1880; numbers are low in Kent. Bax does not represent the views of Kent Wildlife Trust's membership who pay their fees to protect wildlife, not to slaughter it for pleasure."
One of Bax's business partners, Stuart Sillars, was listed by Baily's as joint master of the Blean Beagles in 2006, and by Horse & Hound in 2014-15, and is thought to still be linked with the group.
Kent Wildlife Trust has a statement on its website, attributed to John Bennett, the chief executive, saying: "We recognise the level of concern reflected in the scale of the response to this petition. In order to work with the widest possible community, we remain neutral on the personal positions of our 30,000 members, 1,056 volunteers and trustees with regards to hunting, fishing and field sports. We don't allow hunting on our nature reserves where we have control of the shooting rights. Wildlife Trusts like ourselves do raise concerns and challenge aspects of field sports and hunting where they have a damaging impact on the conservation of the county's populations of wild animals and plants.
For the trust to achieve our objective of protecting wildlife and wild habitats we must work closely with landowners, farmers and the wider rural community, many of whom participate in field sports as well as being active conservationists. Mike Bax's commitment to the trust over 30 years has proved invaluable in helping us to nurture these relations, which over the last five years has seen us manage and advise on nearly 31,000 acres of land across Kent for the benefit of wildlife and the public."
KWT's site adds: "Claims and images have been used on social media to imply that Mike Bax runs a pheasant shoot on his farm. Mike Bax purchased Street End Wood, next to his farm, in 2007 at which time the local shoot was already in place on this land. The shoot has continued with Mike Bax's permission, but he plays no part in its management, nor does he receive income from the shoot. Mike Bax makes land available to the shoot along with five neighbouring landowners."
Mr Bax, who was High Sheriff of Kent in 2012-13, was also chairman of Kent Police's Crime Rural Advisory Group.
A spokesman added: "Nature is in trouble and wildlife is under ever-increasing pressure. Kent Wildlife Trust wants to achieve the greatest conservation impact possible over the biggest area it can. Kent Wildlife Trust aims to work across Kent with people who hold a variety of views, uniting them under the common cause of restoring nature."
The petition adds: "The chairman of Kent Wildlife Trust should be a role model. If Bax continues to inspire and endorse bloodsports, our environment weakens. Any good that he does not give him any special right to go against the trust's mission statement."
Mr Bax did not respond to a request to comment.