Support grows to ban 'trail hunting' on Mendips NT land
17-1-19 Facebook - National Dis-Trust Proper good stuff from locals campaigning against the blatant fox hunts that the National Trust licences for its land. Sign & share Maria Burt's petition here: tinyurl.com/y9yql58r.
Please also support Locals Against the Weston and Banwell Harriers! #trailhuntlies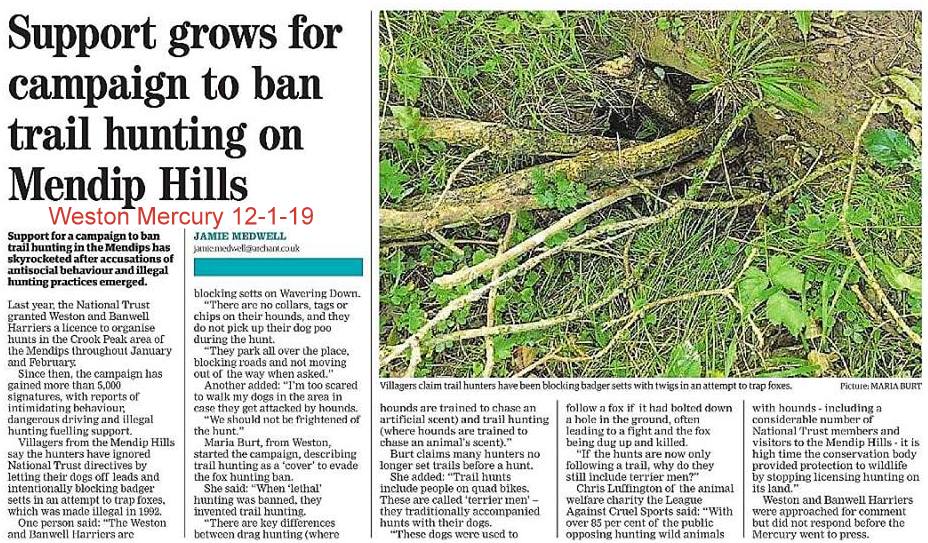 Blackmore FH mark to ground - sab there to ensure no dig-out
Sab [female] abused & shoved by field master & terrierman
16-1-19 Facebook - Dorset Hunt Sabs VIDEO HIT REPORT : Saturday 12th Jan 2019, Blackmore & Sparkford Vale FH MEET : Four Foot Farm, Hornblotton Today's meet backs onto Park wood where it is known foxes frequent and unsurprisingly the Hunt headed straight there. Mark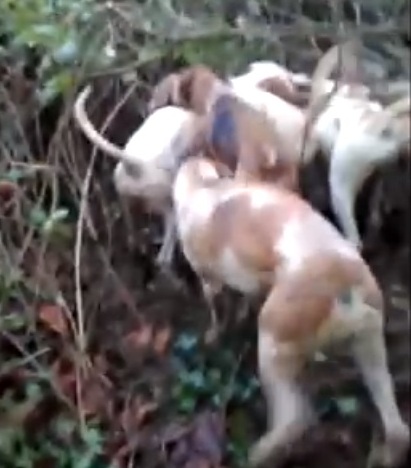 "Lugz" Doggrell began casting the hounds through here desperately trying to pick up on that elusive trail of theirs, and before long the hounds went into cry. The hounds crossed the A30 and went into Fosse Wood beside the A30. This is a very dangerous and fast moving road and Sabs were once again left wondering why lay a trail would be laid in such a dangerous place.
We drove along the road leading to Hornblotton Green and it was absolute chaos, so many people out desperate to see a fox ripped apart !
The terrier thugs were parked down the track leading to Orchard Park Farm whilst the hounds were searching a copse by Mendip Farm. The hounds crossed the road as the headed east towards Home Covert with the terrier thugs in hot pursuit. The hounds went into cry in Home Covert so two teams went in on foot keeping them in a classic pincer movement. One team went in at the church. A fox was seen away to safety through the church grounds. The other foot team went in by the old Rectory - Ben Harris decided to follow the 2 female Sabs who went in at the old Rectory and film them at close proximity. As per usual the claims of "your not on a footpath" soon ensued - Ben really needs to consult an OS map !! Both foot Sab teams soon made the surrounding areas safer for the foxes.
… A foot team got out at Easton Trow Bridge and headed south to meet them at the farm where they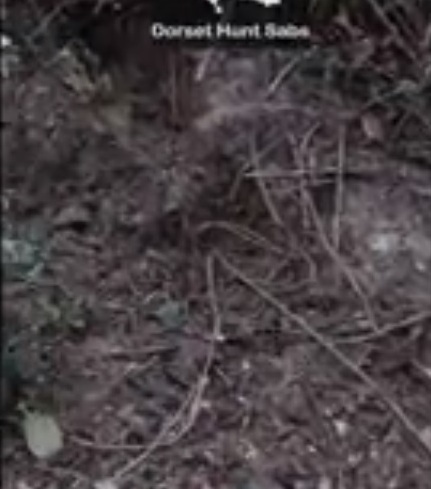 were drawing hedgerows. The Sabs were on a footpath but terrier thug John Penfold was obstructing the gate - which clearly had a footpath sign on it. A sab asked him to excuse her and he said "f@ck off", after asking 3 times and no reasonable reply one sab attempted to climb over the gate. Once on the gate, John Penfold opened the gate and began shaking the gate violently to try and shake her off. Once safely through the gate these two sabs were then cantered at by the field and yet again accused of not being on a footpath.
… The hounds ping ponged from Pincushion to a couple of fields in the Kilkenny Lane direction several times before picking up on the line of a fox at Way Close Path. This fox took them back to Pincushion in full cry. Sabs believed a fox had been marked to ground in a tiny copse and the arrival of two terrier thugs fuelled that suspicion. They tried to get a better vantage point but as they tried to get through the gate the field closed all the horses in around the gate to prevent entry. Sabs squeezed past and could see terrier men at the edge of the copse with the Huntsman.
The field began getting aggressive blocking the view with horses and telling sabs they were not on the footpath. Sabs went back through the gate to the other side and hearing the hounds still marked to ground and no clear view into the copse one sab jumped the barbed wire into the copse and ran in direction of hounds. The hounds were seen trying to enter a very dense thicket sab filmed and set about calling off the hounds who were digging desperately trying to gain entry to the thicket. Mark Doggrell, seeing the sab present and witnessing began also calling the hounds off. One of the terrier thugs entered the copse along with one of the field masters wearing a red coat and began shouting abuse at the sab and pushing and shoving her...
After this incident the Hunt headed back to the meet and packed up ! It is becoming ever more apparent that the field are aware when the hounds are onto a fox which with the BSV is every time they go into cry. The BSV make no attempt to lay a trail nor even look like they are trail hunting - Dorset police need to take notice of this, the BSV are breaking the law four times week and the police are doing nothing about it !!
As ever thank you for your support, it is in fact you who keeps us out in the field and we really appreciate you all. We are faced with another big Landy repair bill so if you can spare a few quid please do. If you want to join us please send us a PM or email to dorsethuntsabs@riseup.net.
Pics above - Left, excited hounds marking fox to ground Right, Some of the damage done by hounds frantic digging at hole
Quorn/S. Notts FHs attack sab when prevented from killing a fox
Large field tried to push sab into dish, whip them & steal camera
15-1-19 Facebook - Nottingham Hunt Saboteurs Once again teaming up with Lincoln Hunt Saboteurs we headed east to their turf where the Belvoir were due to be meeting at Humby Hall, Lincolnshire. They weren't there, and the area was quiet, so we quickly loaded up and headed back West as we had another juicy target to look at.
This was a meet of the Quorn who were hosting the South Notts at Poultney farm, Ulverscroft. It was a hilly area with lots of large woods so we knew we'd have our work cut out trying to find them. We quickly located a large number of slack jawed vehicle support staring vacantly into a large wood (quite why they're willing to pay money for the pleasure is beyond us) so knew we were warm and one group of foot sabs headed in to have a look.
We spoke to an elderly hunt supporter up in the fields who confirmed the Hunt were in Benscliffe Wood. He told us it had been a quiet day so far but that the Quorn had "found" (killed) in these woods a few weeks ago. The Hunt then came out of the wood and the field followed, and followed, and followed. Close to a hundred riders in total, many it appeared from the South Notts who were clearly keen to seize the opportunity to hobnob with their more illustrious Southern neighbours.
South Notts huntsman Stuart Barton then headed into Nowell Spring Wood where hounds quickly put a fox up and chased it south, fortunately straight to where some of our sabs were waiting and able to mask it's scent. The large field took offence at this and tried to push a sab into a ditch and whip them as well as trying to steal a camera. Clearly the two Hunts showing off to each other...
The Hunt then headed North at speed and the field had a gallop over some open countryside before the Huntsman, clearly stuck for any ideas what to do boxed up at 1.45.
A short but pretty hectic day where we used lots of fuel. If you can support us please do: https://ko-fi.com/nottshuntsabs.
LACS Chief Investigator snapped attending Hunt Club point-to-points
Accused of hypocrisy by antis, attending events that fund Hunts
Martin Sims says he attended to support daughter, a would-be jockey
Revealed that Sims & wife were assaulted at one event - police dealing
Also revealed that daughter's horse registered with notorious Tiverton Staghounds
Turmoil in LACS has already led to formal advice from Charity Commission
12-1-19 Daily Telegraph League Against Cruel Sports investigator accused of 'hypocrisy' after attending hunt fundraiser The League Against Cruel Sports has become embroiled in accusations of hypocrisy after one its most senior officials attended hunt fundraising events. Martin Sims, the charity's Director of Investigations, has been seen attending a number of point-to-point meets, which raise money for and have to promote the "furtherance" of hunting. The retired police officer, whose investigative team carry out covert surveillance on countryside sports, has publicly condemned fox hunting as a "barbaric throwback to crueller times" and a "dark and menacing blight on the countryside".
Both hunt supporters and saboteurs have described his attendance at the events as "hypocrisy". It comes amid turmoil at the charity, which has ousted a number of high-profile trustee and faced public criticism of its tactics. The "serious and damaging dispute" between members of the organisation has resulted in the Charity Commission offering "formal regulatory advice", a spokesman for the regulator confirmed.
Yesterday the Telegraph revealed that local saboteurs groups have branded the league a "parasitic organisation" and some had refused to co-operate with it. It has now emerged that Mr Sims was recognised at the Cornwall Hunt Club point-to-point in Wadebridge on December 9, in which his 22-year-old daughter was competing.
After he was spotted pro-hunting activists began investigating his links to the sport and found a number of images of him including at a Dart Vale and Haldon Harriers event in Buckfastleigh in March, the Shooting Times reported. Point-to-point rules state when a meet is organised by a hunt it "must include the furtherance of the interests of that particular Hunt or Hunts in general".
One saboteur, who did not wish to be named for fear of reprisals, said: "It is hypocritical, point-to-points prop up the Hunt, you're essentially putting money in the pocket of the Hunt. To go himself and to get photographed there is foolish if nothing else."
The animal rights campaigner said that there would be a question of a conflict of interest if the League were aware of his attendance in advance. Another activist, who claims to have been ousted from the league by the current leadership after 25 years campaigning, added: "Point to Point is inextricably linked to hunting. Due diligence is about preventing this in the first place for Leagues sake."
Mr Sims' daughter, who is pursuing a career as a jockey, rides a gelding which is owned by her mother.
For a horse to compete in a point-to-point a horse the owner has to pay a subscription to a Hunt and the Sims' horse is registered with the Tiverton Staghounds, records show. Tiverton is one of only three packs of staghounds in the country, and the practice has received particular attention from the League.
In November, after a prosecution of the Quantock Staghounds based on video evidence obtained by the League was dropped, Mr Sims described it as a "national disgrace" that deer were being pursued for "cruel sports".
Mr Sims spent 31 years in the police, working his way up to Chief Inspector of Sussex Police before taking over as the head of Britain's National Wildlife Crime Unit. The 56-year-old became the Director of Investigations after retiring from the police.
A League spokesman said: ""Martin has attended point to point races where his daughter has ridden. She is pursuing a career as a jockey, and given the dangers, he wanted to be there for her. At a recent event, following Martin's high-profile condemnation of stag hunting on national TV, Martin and his wife were assaulted, with this matter now in the hands of the police. Martin is one of the most experienced wildlife crime experts in the country. During his one year in post the number of prosecutions brought to court under his leadership has more than trebled. The Hunts know he is a threat to their existence, which is why they are attacking him, both verbally and physically."
S. Dorset FH rider charges sabs trying to call hounds off fox
12-1-19 Facebook - Weymouth Animal Rights VIDEO This is how the South Dorset Hunt react when sabs save a fox and spoil their 'sport' ! Hit report to follow.
POWAperson adds - Sabs on road rate hounds running past them in pursuit of fox. Woman rider repeatedly charges her horse into sabs. For full report on the day, which featured repeated attempts to chase foxes and harassment and attempted theft by supporters, see here.

Fox fleeing from the Hunt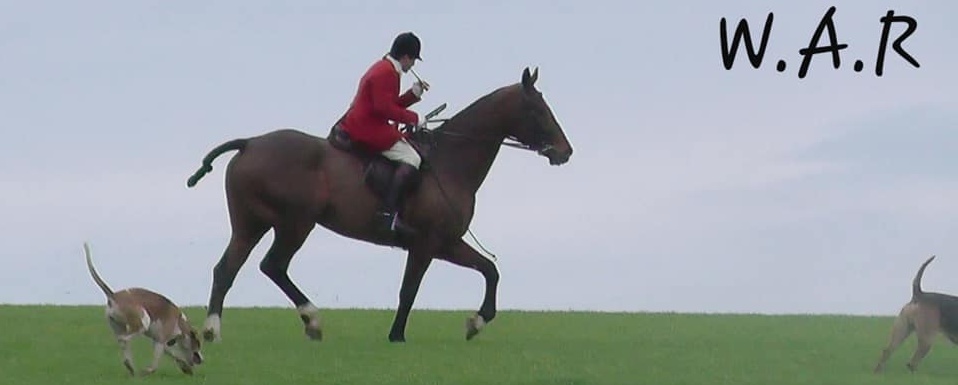 Huntsman encouraging hounds to hunt on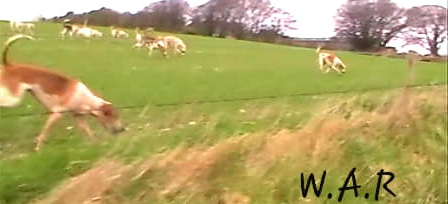 Hounds in cry after fox being rated by sabs on road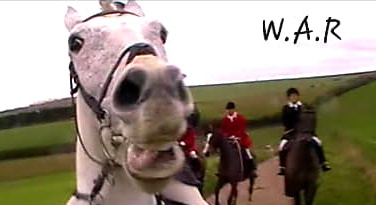 Woman rider repeatedly rode this horse at and into sabs rating hounds
Easton Harriers chase hare & deer as riders attack sabs with horses
Police on duty were less than helpful to assaulted antis
11-1-19 Facebook - Norfolk/Suffolk Hunt Saboteurs VIDEO Easton Harriers – 5th January 2019 Rendham Court, Rendham, Suffolk After an uneventful Boxing Day and a 35 minute dog walk on New Year's Day, the Easton Harriers changed gear somewhat on Saturday 5th January. Within a matter of minutes of leaving the meet, three female riders at the back of the ride started to use their horses as live battering rams. For some reason they were keen for sabs not to observe their "trail hunting". What did they have to hide? We think our previous Facebook posts and our photographic evidence of previous kills shows what the Eastons have to hide.
We felt really sorry for the horses, as they are sentient beings, and they do not want to ride into humans. To have a human on your back kicking and goading you until you bash repeatedly into the metal of a sab's body camera cannot have been nice and to our mind is a form of animal abuse. One female rider decided that using her horse to ride into sabs was not sufficient and she proceeded to whip one of our sabs (see photo). We attempted to obtain Police assistance but sadly once again, PC 1577 Stollery seemed more interested in removing sabs from the land and just told us to hand our footage in at a later date. How the Police would be able to identify the perpetrators at a later date may prove challenging as we certainly did not see them stopping any members of the hunt to ask for their details and at no point were we asked to provide information regarding the perpetrators of the assaults. Apparently such matters are dealt with in "slow time".

Woman rider about to whip sab - police refused to act
And so, the tone for the day was set. Gary spent his time moving at a fast pace and seemed keen to keep out of our way. However, when the hounds picked up a hare and made chase, sabs were on hand to intervene. Luckily, the camera does not lie. Clearly aware that the illegal hunting had been filmed, a female rider once again lost her temper and repeatedly goaded her horse into the two sabs.
Not long after the hounds chased the hare, they were also spotted chasing a large fallow deer. Once again sabs attempted to intervene. This was the second lot of illegal hunting that we witnessed. Earlier in the day we had attempted to report the illegal hunting to the Police Officers present but they were only interested in stopping us and asking us for our details. Sergeant 1774 Murray seemed to have a particular problem with us recording any interaction with him and told one sab "Would you be able to stop filming as otherwise I'm going to seize that camera … there is no need to record me".
The actions of some of the Suffolk Police Officers present on Saturday 5th January were deeply disappointing to say the least. Hunting is illegal but it appears that some Officers failed to read the memo in this regard. We attend hunts to save animals and to make sure the Hunting Act (i.e. the law of this land) is not broken. The simple fact is that every single time we are out with the Easton Harriers we see them chasing hares. If we cannot rely on the Police to uphold the law, then we will be there to gather evidence and, more importantly, to save lives.
We always welcome donations to cover our fuel and other costs.
Locals blame Weston FH for blocked setts & AEs they found
Finds have been reported to N. Trust who licence Hunt
11-1-19 Facebook - Locals Against the Weston and Banwell Harriers Sett blocking and Artificial Earth blocking on Wavering Down! Not exactly keeping in with the trial hunt licence !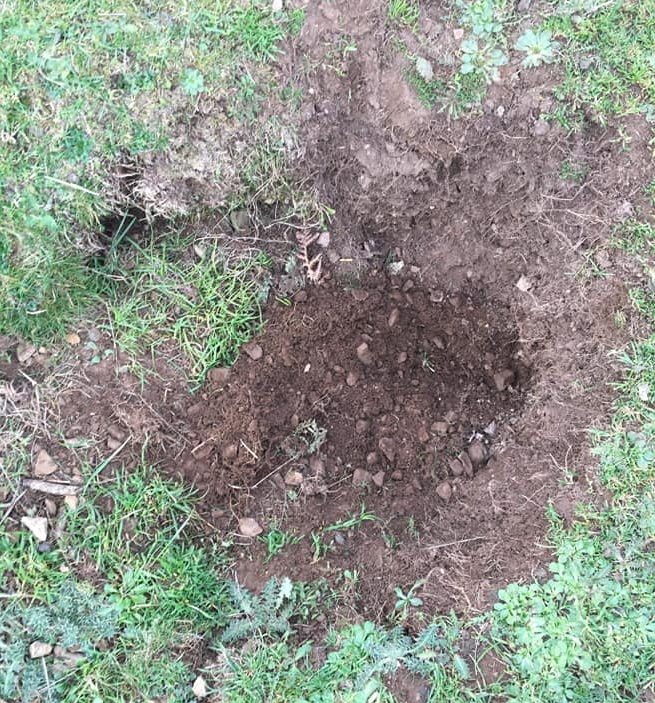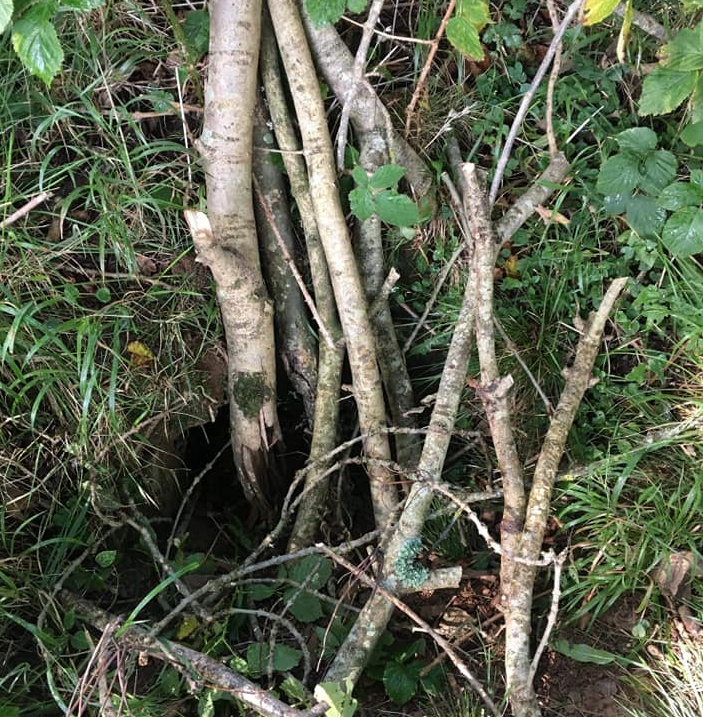 Cottesmore FH hunt foxes but sabs ensure no kills - blocked sett
6-1-19 Facebook - Hertfordshire Hunt Saboteurs 05/01/2019, Cottesmore Hunt - Meet: Preston Hall, Preston, Leicestershire With Northants and Lincoln Hunt Saboteurs + WildAct The hound van was parked in Ridlington Road and eyes were on as the Cottesmore Hunt gathered at Preston Hall. One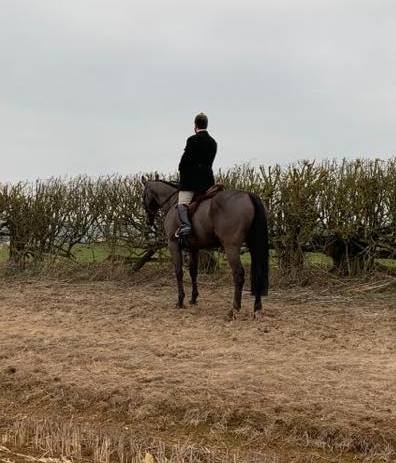 team was dropped in to strategic areas to pre-spray.
The Hunt finally left the meet and it seemed like they were straight onto a fox as they headed west from the meet parallel to Ridlington Road with hounds going into cry. Sab teams were already in the field to rate the hounds and keep them in close sight. The Hunt turned north with hounds briefly in cry at the next covert before moving off at speed. A beautiful hare fled the area to safety. Sabs followed as they headed towards another covert scaring a field of sheep as they encircled it. After milling around for a short while with hounds briefly speaking the Hunt turned towards Brooke Road. A couple of muntjac also fled the area.
The Cottesmore Hunt headed south to hunt the country between Ridlington and the A47 centred on Park Farm and Quaker Spinney. Teams of sabs spread out to cover as large an area as possible. A rider was spotted on point close to Park Farm before hounds went into prolonged cry as they chased at speed in the direction of Belton-in-Rutland followed by the main field. The BOP wagon went in towards a small covert after the hounds had left the area and sabs feared a clean-up operation but BOP drove past. Another point rider was spotted.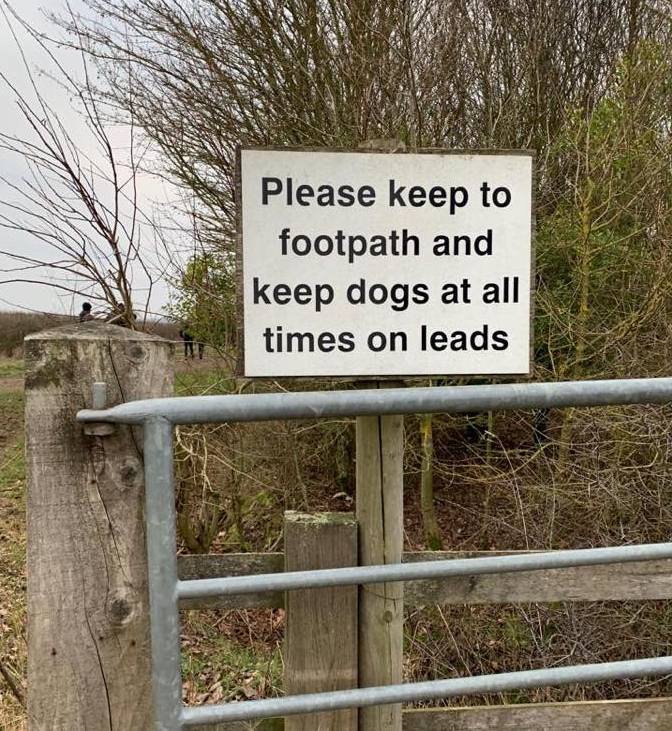 The Hunt carried on north moving fast and direct contact was lost for a while. Vehicles were searching the area as much as possible with the lack of roads and spotted hunt support around Launde Park Wood.
The usual pathetic bunch of hunt support thugs had turned up and tried to block in sab vehicles. Foot sabs headed towards Launde Park Wood and heard the hounds speaking. BOP and another terrierman quad were hanging about on the outside of the wood. As sabs entered the wood hounds were gathered back together and led out by the whip for the long trek back towards Wills Farm.
Unfortunately, foxes are not the only animal persecuted by Hunts. One team had found a large badger sett close to Park Farm that had been recently blocked in with clear spade marks. They set to recording the damage and unblocking the sett to save the badgers from being suffocated. The sett blocking will be reported to police.
Late in the afternoon the BOP wagon was put on a trailer even though the Hunt were still actively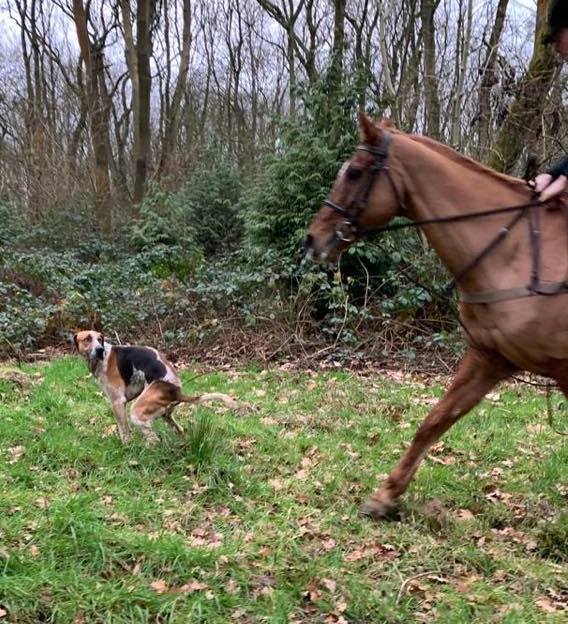 hunting - obviously the Cottesmore have realised the BOP exception is invalid. A team of foot sabs headed back into the field found the Hunt and observed as they headed back to pack up.
The hopelessly ineffective hunt thugs then decided it was time to earn their blood money and descended on the green landy chasing it along a public byway before blocking them in. The usual motley crew surrounded the vehicle with their permanently attached cameras focused on the windows. Police were called and as units were already in the area luckily arrived within a few minutes. The thugs were told to withdraw and statements given to police meaning another late finish to the day.
This was a tough day for sabs with limited vehicle access meaning foot sabs covered large distances over undulating country to keep in contact with a fast moving hunt. All sab teams worked effectively to prevent the blood junkies having any success. We are pretty confident of a no kill day and a badger sett has been unblocked undoubtedly saving more lives.
if you can help us financially please do every single penny goes towards saving lives. https://ko-fi.com/hhsabs.
Pics above - 1/ Rider on point. This makes no sense on a 'trail hunt' - but then a lot of what they do whilst pretending doesn't either [holloas, presence of terriermen, charging around on roads, railways etc.] 2/ Scrupulously observed by the Hunt - not. 3/ Is the hound sensing a message to the rider. More seriously, hounds crapping all over pasture land is a concern. They can spread various nasties like hydatidosis, neospora [causes cattle to abort, etc.]
Sabs stick like glue to Oakley FH, despite Masters riding at them
Very small field for joint meet with Woodland Pytchley FH
5-1-19 Facebook - Beds & Bucks Hunt Sabs Well it has to be said I'm completely knackered and I'll be downing the first of several beers very soon but enough of that and on with the events of the day.
Now the Oakley think they've been out-smarting us recently as we've not been sabbing them but we simply had other options, however it was their turn again today and they tried another little trick of going out early with a 9am meet close to their Melchbourne home But as is usually the case with these affairs a little birdy mentioned this to us so we managed to get some sabs out nice and early and met them just a short time after leaving the meet.
As a nice bonus it appeared they were having a joint meet with the Woodland Pytchley - 2 hunts for the price of one! It must have been a bit of an embarrassment for the home side when we turned up and young Tom Henson's face (whipper In) was something to behold when he first saw us arrive, then promptly got on the phone to deliver the bad news [below].

With 2 vehicles and several small foot teams we stayed with them all day, they were never out of our sight for more than 5 minutes and also had the indignation of having our own Horatio Hornblower buggering off with the hounds. Well, they prefer us anyway.
Early on sabs noticed a fox hiding in scrub, a rider also noticed it but luckily the hounds didn't pick up on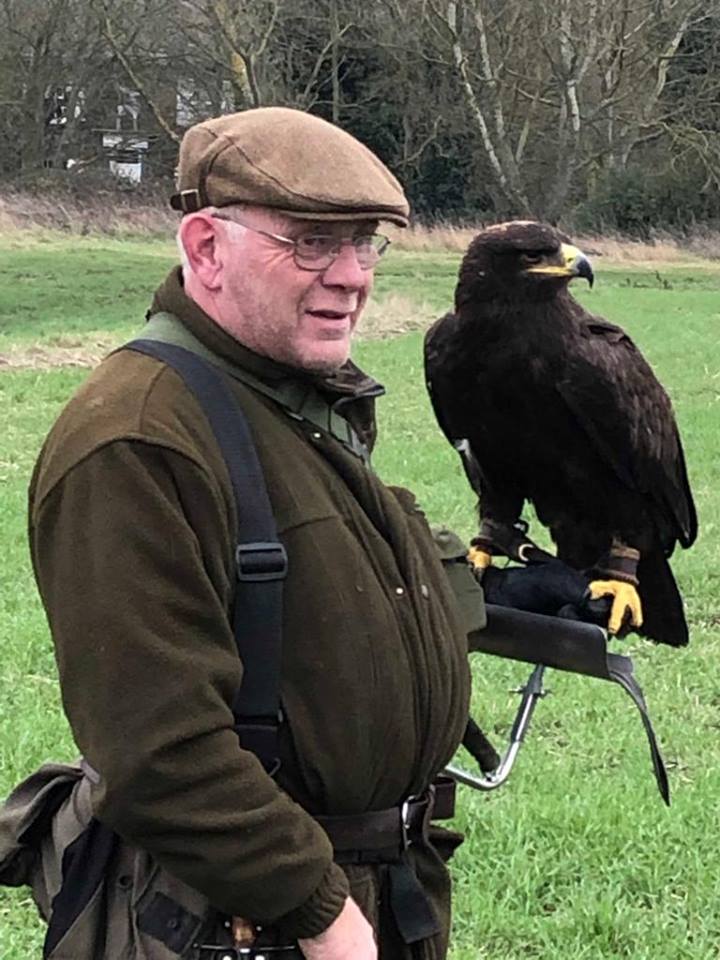 it's scent and sabs made sure it was safe.
The WP also seemed to have bought their bird of prey with them [right] as some sort of excuse for hunting. Perhaps they should ask the Fitzwilliam how it worked out for them. The law is pretty clear on this and poncing about with an eagle does not mean your hunting is legal. Ask George Adams.
It was clear they we were having an effect as riders soon started to ride at sabs aggressively and used their horses as weapon, the main instigator in this was the WP Master. It amused us to see Oakley riders and in particular Master Simon Paynter all of a sudden grow a pair to show off in front of their guests.
But no matter how hard they tried or the distance they covered they always ran into sabs and those foot sabs covered some serious distances today and our drivers doing an equally great job in ferrying sabs and staying in touch. All in all a very tough but hugely rewarding day and no kills.
Quick mention to Welly Boot man (the happiest bumpkin you'll ever meet) and his twin, you'll get a new name in due course but we need to think of something suitable, the Jacamo Brothers doesn't seem quite right.
Lots of fuel used today so any help hugely appreciated. https://ko-fi.com/bedsbuckshuntsabs.

The field - pitiful for a joint Saturday meet

Apparently, they own all the roads
'Hunting Scent' - support threatens sabs, damage vehicles
5-1-19 Facebook - Liverpool Hunt Sabs Today with Sheffield and West Yorkshire Hunt Saboteurs we sabbed the North Staffordshire Hunt who met at Phynson Hayes Farm north of Woore, Cheshire.
The Huntsman spent the entire day legging it from sabs. When there running there not hunting as effectively. Leaving his field behind, often going in the opposite direction to them. No kills to report, despite a fox being seen... Thankfully.
Quote of the day; To the Huntsman - 'What scent do you use for the 'trail' ?' Awkward looks and silence was followed by.... 'Hunting scent'. Which isn't even a thing, showing he knows so little about trail hunting he couldn't even lie.
We have had some aggression, threats and damaged vehicles from the hunt support... nothing new there then. Videos to follow.
If you can help us with fuel costs here is the link to our kofi page. https://ko-fi.com/liverpoolhuntsabs. Thank you.
Ledbury FH hounds invade garden after fox, owner rates them off
Later, sabs have to pull hounds out of small hole fox went down
4-1-19 Facebook - Three Counties Hunt Saboteurs VIDEO Blocked badger setts in a cull zone where the cull continues Hounds hunting a fox through gardens - fox hunted into small hole, sabs pull hounds out Ledbury Hunt, Friday 4th January 2019, Murrell's End, Hartpury First Port of call was a blocked sett which was dealt with and reported. The hounds were up Limbury Hill and then found a fox at Blackwell's End farm and a holloa was heard from a hunt follower on the road as sabs from up the hill used voice calls lifting their heads.
After second horsing at Tweenhills, they crossed the A417 and hunted a fox through gardens at Broad Street, Hartpury. One quick thinking householder after seeing the fox flee for his life through his garden ran out and rated the pack of hounds away from the hunted animal. Quite a few people not very happy and asking lots of questions!
Then a repeat performance as they approached Ashleworth…. Onwards then to Ashleworth meadows where they hunted a fox towards Haw Bridge. A sab filmed the hunted fox from near the pub but regrettably he ran back the way he had come. He went to ground in a small hole [below] and hounds trying to dig him out again as they marked were pulled out physically by sabs. Wisely the Hunt retreated, not so wisely they then crossed the main road and hunted another fox in the dusk up to Cumberwood Farm and back down to the outskirts of Tirley. In the dark they did stop the pack in the end.

Another blocked badger sett was found at the end of the day, looked recent but not today. This sett had been very active. The cull continues in this area with free shooting but those who hate badgers are not content with a cull that goes on for 7 months. The illegal killing and damage to setts also continues.
Very busy day in which it was ,yet again, really obvious that the Ledbury are hunting foxes. Bearing in mind that they are enjoying the South Herefordshire Hunt country (whilst whatever is left of that hunt join in with them) it does make you wonder what sort of echo chamber the MFHA (Masters of Fox Hounds Association) exist in. No one is buying the trail hunting theatrics, certainly not in this part of the world.
Please continue to support us paypal.me/threecountiessabs.
Pics below - 1/ Fox fleeing from hounds. Soon after, escaped down hole 2/ Hound making clumsy attempt to exit a garden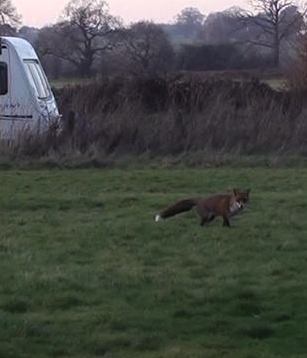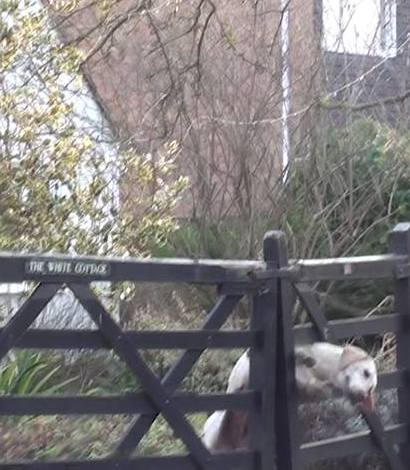 Sab landy rammed, tyre slashed at Cottesmore FH - sabs assaulted
1-1-19 Facebook - Northants Hunt Saboteurs Hit report, 01/01/2019 The Cottesmore Hunt, NYD meet Uppingham protest success at the Cottesmore meet, criminal damage from hunt support, at least one fox seen to safety We firstly want to say happy 2019 to everyone who is against blood sports. And a big thank you to everyone who turned up to our NYD Peaceful Protest In Uppingham market place. We really made our voices heard- illegal hunting has no place in 2019! And we will be back...
We teamed up with Hertfordshire and Lincoln Hunt Saboteurs. Our protest clearly upset a lot of the hunt support today. Interesting to see 3 begging buckets out for the hunt today - hard times for the Hunt!?
Hunt support were out to get us from the start -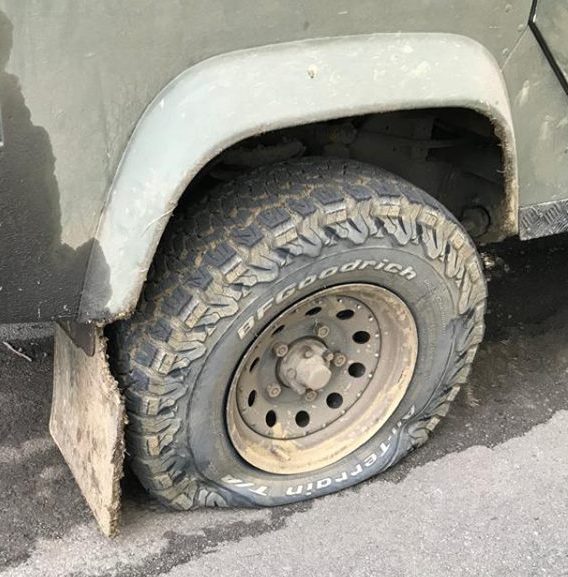 with one of the usual support vehicles mounting the pavement and trying to run a sab down. This set the aggressive tone for the day. We caught up with the hunt and hounds and watched them circle around fields and attempt to flush foxes from wooded areas and hedgerows. At one point they were on cry and were on a fox, but the fox made it safely away. There was no attempt to hunt within the law from the Cottesmore, they just do not care.
We were then informed the usual violent hunt support had blocked, rammed and slashed one of our landy tyres [left], Leaving our vehicle out of action. The police were called and the criminal damage has been reported. We can not stress enough how out of control these hunt criminals are. When will the law catch up with them?
While monitoring the hunt we came across a very angry farmer- who had brought his whole family out to witness him assaulting sabs. If you allow illegal hunting on your land we monitor their criminal activity. Assaults have been reported to the police.
Hunt support , some of whom were clearly drunk, seemed to be in full intimidation mode and baying to see some blood, trying to encourage a fight- which did not happen much to hunt supports disappointment. At one point 8 vehicles left the road to follow foot sabs into Stoke Dry Woods but sabs quickly got away from this strange convoy of hunt misfits.
#Bedsandbuckshuntsaboteours and #northcambshuntsabotouers joined us in the afternoon after sending the Fitzwilliam Hunt packing following another successful protest and sab. We were then able to work together to keep tabs on the hunt until they packed the hounds up early at 3pm.
A challenging day but one we think the Cottesmore will not forget in a hurry, shame we drowned out Andrew Osbourne's dull speech at the start- his only opportunity to show off. Sabs overcame anything the hunt threw our way today - and we will sleep well knowing we were there to save wildlife as much as possible from the cruel Cottesmore Hunt.
To help keep wildlife safe by keeping sabs in the field and on the road you can donate to www.paypal.me/ENABS.
Cheshire Forest FH Huntsman attacks sab with horse and whip
Presides over day of mayhem including everything but a kill
Chased two foxes - first one sabs suspect was bagged
Sab who got attacked had called hounds off single-handed
Other fox was marked to ground - sabs prevented dig out
Hunt deliberately went to entrance to a wildlife hospital
Locals gave them what for and drove Hunt away
Supporter car driven dangerously, imperilling young riders
Then drove at sab forcing him to leap into hedge
At start of day, Whip promised to cut a sab in half
Sab report says it was 'a perfect sabotage'
30-12-18 Facebook - Cheshire Hunt Saboteurs VIDEO [of attack on sab] On Saturday we paid a long overdue visit to old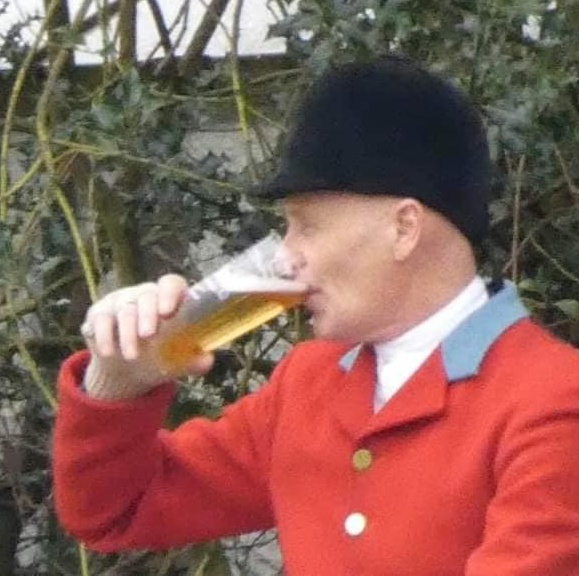 Skeletor (Andrew German) and his ever-dwindling Cheshire Forest Hunt, with our friends from Cheshire Against Blood Sports and North Wales Hunt Saboteurs.
The Hunt began their day in a field adjacent to The Dog Inn and set off from here into Peover Hall grounds. Our sabs kept on them as German hunted some woodland around the outskirts of the estate. It seemed the Whipper In, Andrew Callwood, had one too many before setting off and immediately took to verbally attacking a sab, he can be heard saying "I'm going to cut you in half, that's not a threat it's a promise".
We don't pay too much mind to insults and injury if we are able, and pressed on in pursuit of the hounds. By now, German had been hunting for around 30-40 minutes and his hounds hadn't picked up a thing, only silence was heard from the pack as we ensured their heads stayed up with horn calls and their attention was diverted as they searched. We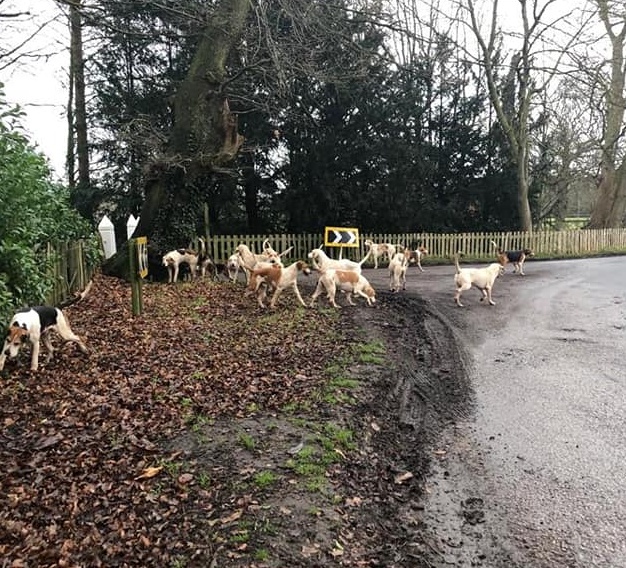 carried on this way for some time with not much action, until the Hunt decided to take a ride to the entrance of Lower Moss Wildlife Hospital.
We jumped in our car and pursued the Hunt down Seven Sisters Lane, passing three 4x4 terrier man vehicles in a field. Our priority was Lower Moss however, and we arrived there as the Hunt rode around the entrance with the hounds scattered everywhere. Some friends where already there and moved the Hunt on. Thankfully their presence avoided a potential disaster. We are disgusted by this blatant show of power and disregard for sick and injured animals by German, the route he was on made Lower Moss an inconvenience for the riders to go past, so he didn't go there out of necessity, further proving his arrogance.
The Hunt had a small break in the yard of Manor Farm, serving sandwiches and alcohol, at this point the field had been reduced to around 20 riders. Manor farm is very near to the field where we previously spotted terriermen up to no good, so we placed sabs at the ready in strategic positions. German has hunted here in the past, so we had some idea of where he would go.
One of our foot sabs was at a field entrance from Manor Farm, as the last of field riders were going through, a silver 4x4 which was travelling in between 2 sab vehicles - suddenly pulled out, cutting up one of the other drivers & narrowly missing the other car. Our foot sab - shouted at him to slow down as there were kids on horses. They stood in front of the entrance to the field so the riders could pass. This vehicle then drove aggressively and directly at the sab, who literally had to run into a hedge to escape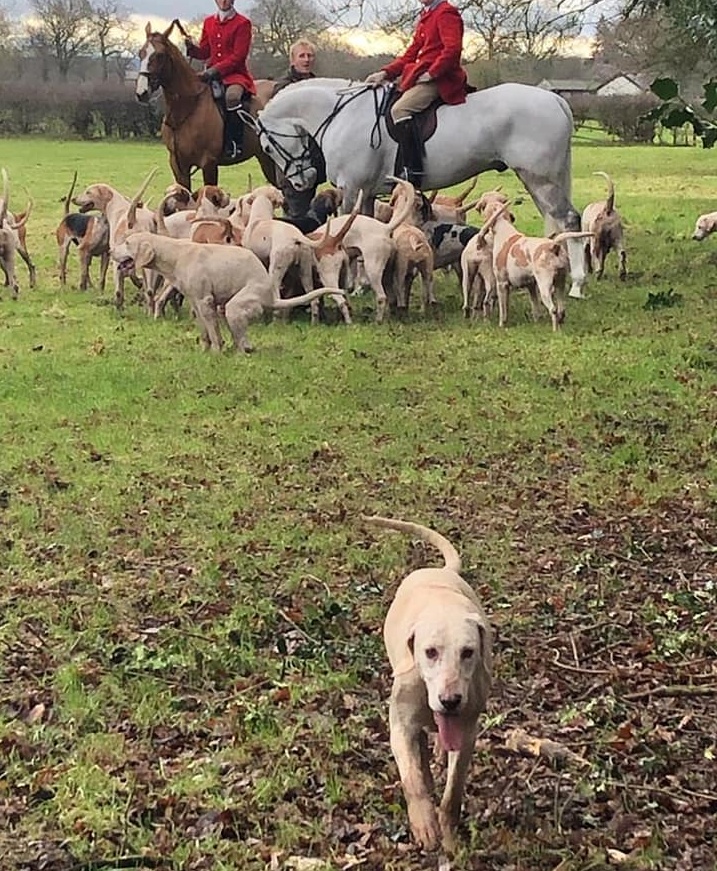 serious injury. The old couple driving only had thoughts of bloodlust to follow an illegal fox hunt - no thought or consideration for young riders or pedestrians.
As we suspected, German crossed the busy Seven Sisters Lane and went into the field where we spotted the terrier men. Hounds immediately went into cry and chased a fox further into the field, our sab lying in wait was able to see the fox past to safety and use voice calls to send the hounds into a different direction. German was furious at this point, pulled out his whip and used it to violently attack a sab (video to follow).
German continued on with just him and his trainee Whipper inn, he took to the other end of the land where one of the terriermen vehicles was parked up again. Once again, the hounds went into cry and chased another fox. We used horn calls and gizmo to take some of the pack while some sabs stayed with German in the woods with the hounds. They watched as the fox went to ground in a sett and the hounds dug their heads into the hole. German did nothing to call them off. We stood over the setts and used voice calls to keep the hounds back until German moved on, another fox saved in the space of 15 minutes. German had now well and truly failed.
Being a creature of habit, the Hunt (now reduced to about 10 riders) went and hunted the same land in Peover Hall and left via the back exit, crossing Stocks Lane and into some nearby fields. We continued our tactics of distracting the hounds from searching and they found nothing, with his head hung low, German returned to Peover Hall and packed up, a failure of a day for the Hunt and a perfect sabotage for us.
Much of what happened has been left out in the hopes that the police will deal with the incidents. Updates will follow.
Pics above - 1/ Top, right Huntsman Andrew German refuelling 2/ Hounds spilling on to road, no huntsman in sight 3/ Duchess, a hound that always prefers sab company
31-12-18 Metro Hunt saboteur 'whipped' by huntsman who 'rode his horse at him' A Huntsman has been filmed by saboteurs apparently striking a fox hunt activist during a ride yesterday. Wearing a red jacket and on the back of a white horse, he can be seen riding towards someone on the ground during the Cheshire Forest Hunt. He then appears to use his whip to hit the animal rights activist.
A spokesman for Cheshire Against Blood Sports told metro.co.uk: 'It was awful and totally unprovoked, other than that we were present and spoiling his "fun". 'It has been reported to the police. Yesterday was a very difficult day for both CABS and sabs with numerous assaults perpetrated by hunt members.
He added: 'The clips show a Cheshire Forest huntsman deliberately ride into a sab and then attack them with his whip end. This level of violence is faced by hunt monitors and sabs at hunt meets across the country, week after week, when will the forces of justice be used to stop this outrageous behaviour by the Hunts?'
Cheshire Hunt Saboteurs added : 'We called off the hounds yesterday with Cheshire Against Blood Sports as they were in full cry and in pursuit of a suspected bagged fox. We saw the fox to safety and a Huntsman of the Cheshire Forest Hunt, couldn't contain his anger and violently attacked our sab with his horse and his whip. This is the reality of what we have to deal with when we spoil the bloodlust of these violent individuals, thankfully we caught him on camera on this occasion, yet despite us making three 999 calls on this day, the police did not respond to one of them.'
The Cheshire Forest Hunt was established in 1947 and they ride across country between Chester and Macclesfield. Fox hunting was banned in 2005 following the passing of the Hunting Act 2004. The law bans the hunting of wild mammals including foxes, deer, hares and mink with dogs in England and Wales. Scotland had previously banned the practice in 2002. Hunting with hounds is still allowed if they are following an artificial scent laid down on the land.
Also in Independent
Sanctuary owner's car burnt after clash with Mendip Farmers FH
Sanctuary was invaded 22nd Dec & farmer had attended demo against Hunt
28-12-18 Somerset Live 'I'm ashamed to be a farmer' - fire victim's fears over hunting 'civil war' - Police have appealed for information "A civil war is about to kick off - this has got to stop." These are the words of a local farmer in Pilton, Paul Chant, who has warned of rising aggravation between farmers over hunting. Police are asking for information about a "public order incident" after he complained of people on his land without permission. They are also probing a fire on his farm a few days later.
Mr Chant is an animal lover; he owns and runs an animal sanctuary and is a campaigner for the anti-hunting community. In the space of a week, he says he has had hunters on his land and had one of his cars burnt out. He said the first incident took place the day after an anti-hunt demonstration.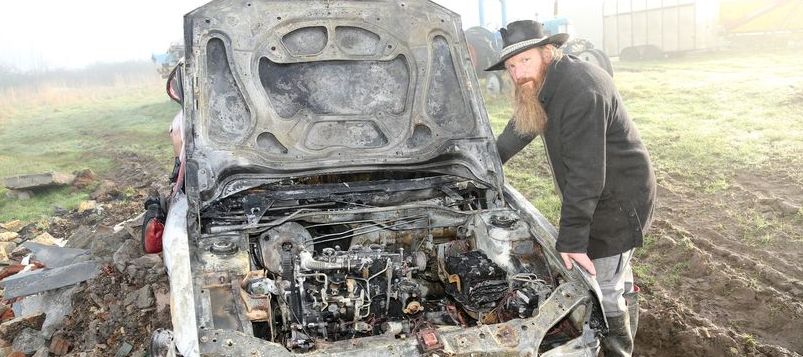 "I'm ashamed to be a farmer, I don't feel like a farmer anymore," he said. "These farmers think they're above the law, they think they can come here and arson on me just because I stand up against the local hunt. My heart is in Somerset, my heart is in the animals; it's not farming anymore. It's not the farming I know. We've got a fox shortage now, soon we'll have no animals left, what the hell are these arrogant stupid farmers doing? Give the funding to farmers who are organic. They're breaking up the laws and I'm done with it. How dare they try and kill the sanctuary? The real, sustainable farming is not going on; all these farmers are doing is saying 'look at my big tractor, look at my big Range Rover'."
"It's all about the money to them. They're hunting all the animals into extinction with their sprays and with their guns. We don't need chemical sprays, everything we need is natural. Again, it's about money, all they want is money. They're unsustainable farmers, we all need to pull our weight to survive for the generations that follow us. The powers have gone crazy. I've handed all my guns in to the police as I'm scared that they could be stolen and used against me. You can come and kill me I don't care - I won't stop fighting for what I believe in. We want common law back - it must return. The cowards won't show their faces. Alright I'm mouthy and I swear, rather than violence I spit out what I think - I'm Somerset and that's what I am - I communicate." According to Mr Chant, hunters came onto his land on Saturday December 22nd. He alleges that he was pushed and he found someone interfering with a car.
A police spokesman said: "We received a call relating to people allegedly hunting on the farmer's land without his permission. This was on 22nd December shortly before midday. The landowner challenged them and was verbally abused. We are treating the matter as a public order incident. Anyone with information to help our enquiries is asked to call us, quoting 5218282149."
Mr Chant said: "It started when the legal tenant for the land phoned me and said that there's dogs all over the land. I went down in my Landy (Land Rover), confronted one of them on horseback and told them to leave as they and they said they weren't hunting on his land. I phoned the police and went down. I saw the tenant getting pushed around, I reversed my Landy back and left my keys in to prevent him getting pushed around, and someone started messing with the keys in my car. They then pushed me and threw my hat off.
Five days later and the day after he had been to demonstrate against a Hunt in Somerset, Mr Chant found his shed and car on fire. Police were called to the incident and arrived at 8am on Thursday (December 27) morning. He said: "I went up to Priddy to peacefully demonstrate and give my views. The very next morning the car was set on fire. I had to go to hospital for smoke inhalation after putting it out. It was in my tractor shed, where I've got loads of antiques. I've handed in my fire arms; I'm worried they'll be stolen and used against me. The police officer said it was 'wise and courageous' to do so as I can't have that threat when they're being stored. I've started to protect myself - I've got new CCTV, I'm sick of people putting their lives in danger to support me. We have to share this world and we need to start working on it."