Sabs assaulted by mounted host & hired thugs at Middleton FH
3-12-17 Facebook - West Yorkshire Hunt Saboteurs VIDEO HIT REPORT: MIDDLETON HUNT,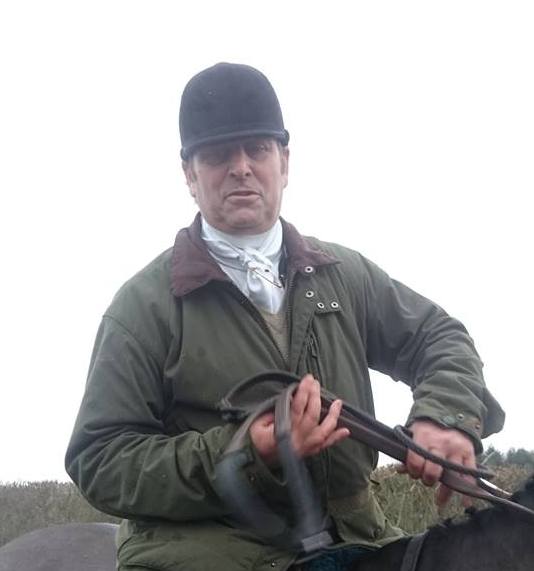 SATURDAY DECEMBER 2ND, ALDBY PARK NR. RYEDALE, NORTH YORKS West Yorks and Sheffield Hunt Sabs had a rather trying day sabbing the Middleton Hunt yesterday. The Middleton received lots of negative publicity last season due to the number of scandals they were involved in: the death of multiple hounds on a busy road, being tried for illegal hunting, and the lewd, degrading comments made by Charles Carter, huntsman and former Tory Councillor MP, towards a member of the public.
The Middleton started off the day in close range of the meet, at The Leys wood. Having been successfully sabbed earlier in the season they were on the defensive and we were hassled from the start by the Hunt's furious host, George Winn-Darley [right], owner of the Spaunton Moor estate and the Moorland Association's representative for the North York Moors, yesterday assaulted several hunt saboteurs at a Middleton Hunt meet near Stamford Bridge in North Yorkshire.
Winn-Darley, who was hosting the Middleton, repeatedly rode his horse into sabs, used his horse as a weapon, and kicked a sab in the stomach [left, sab doubled over]. As we tried to keep up with the hounds, he rode into us and repeatedly screamed at us, which profoundly distressed his horse.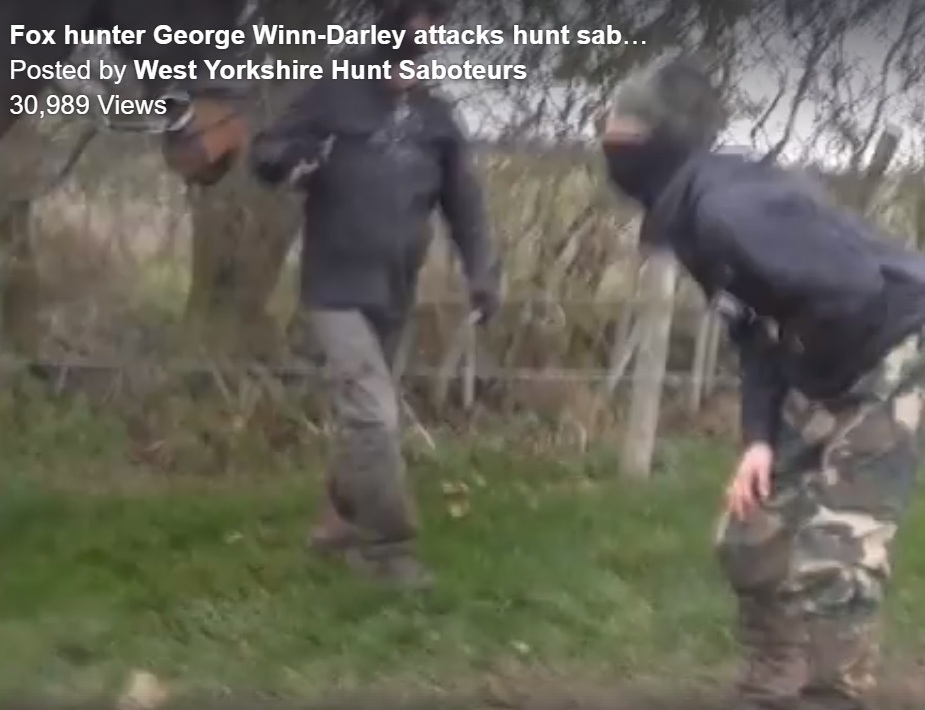 Much of the day was spent wading through sodden fields of mud and ice. At one point we had full view of the hounds in cry pursuing a fox from some distance. With hounds rioting in our direction we rated them using voice calls and whip-cracks (an order to stop giving chase). Though we were held up by dense hedgerows thankfully there was little evidence to suggest they managed to kill the fox.
George Winn-Darley again showed up to prevent us from going to a covert we suspected of being drawn and sabs were assaulted [see video].
Meanwhile, Sheffield sabs, our driver and navigator were accosted by the cack-handed security hired by the Middleton this season. Sabs were thrown in ditches on public rights of way; walking on a public right of way is definitely not trespass and so these security personnel were clearly breaking the law. We think they ought to be very concerned about their door licenses, particularly as we are making every effort to identify them.
We finished the day in the pub and treated ourselves to some festive vegan pasties (seitan, cranberry and stuffing!). Look forward to seeing you again Middleton!
Pics below - 1/ Wynn-Darley menaces sab with horse 2/ Trying to hit sab 3/ Sabs have called hounds out of a covert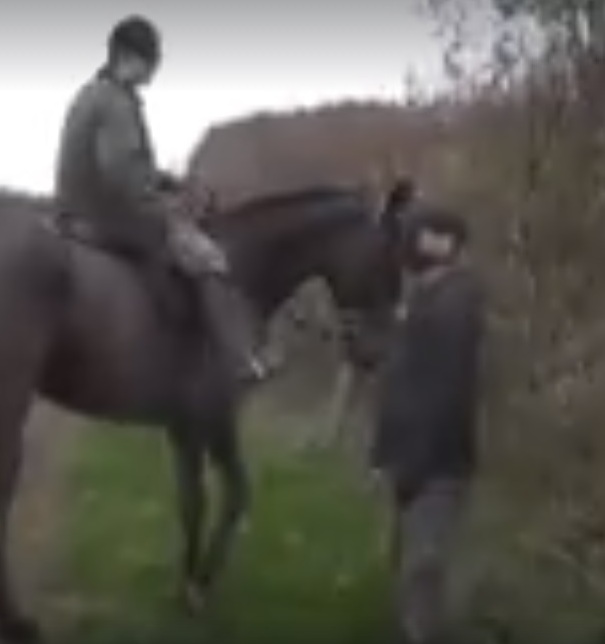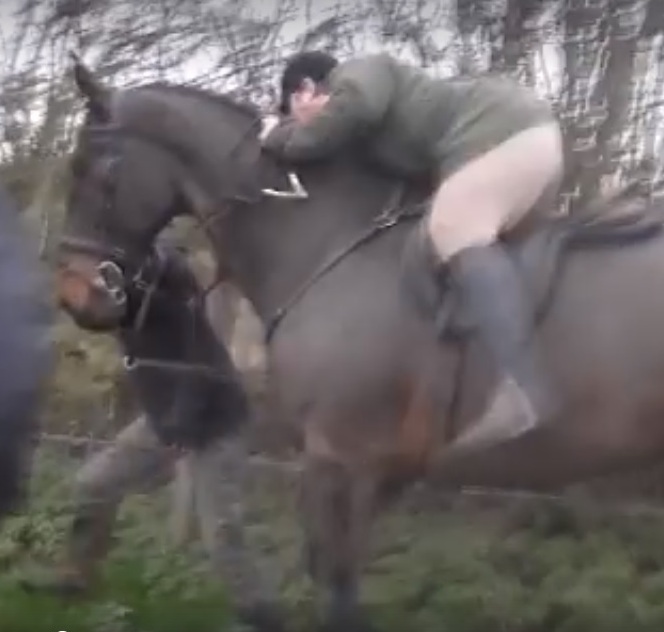 3-12-17 Facebook - Sheffield Hunt Saboteurs ...The second half of our day we left Georgie behind and and ran across fields in some odd kind of convoy with the hounds, followed by us, followed by struggling and out of breath hired security, who began their unprofessional activities of the day by hiding their SIA licenses from us. This was added to when they finally caught up and grabbed one of us, frog-marching them across the field then trying to detain us all on the public road till the police were able to provide clarification on the law. (You can't forcibly detain people on a public highway even if you do have very shiny boots and grab one of them's wrist and refuse to let go).
Later, they added to our legal case against them by blocking the highway with their car, and grabbing the keys off our driver then throwing them to and fro like kids in the school playground. Money well spent Lord Middleton, maybe this is the way to improve your Hunt's reputation after the illegal hunting conviction, employing a sexist huntsman, the 16 fox cubs bred in a barn by the kennels and hounds killed on the road last year.
The day wasn't without it's successes. Hunting was disrupted with horn and voice on a couple of occasions, seeing a fox to safety. Getting out in the fields every week isn't cheap! Please consider donating to our online fund here. https://ko-fi.com/A570FG9.
Pics below - 1/ Terriermen 2/ George Winn-Darley clearly loves his horse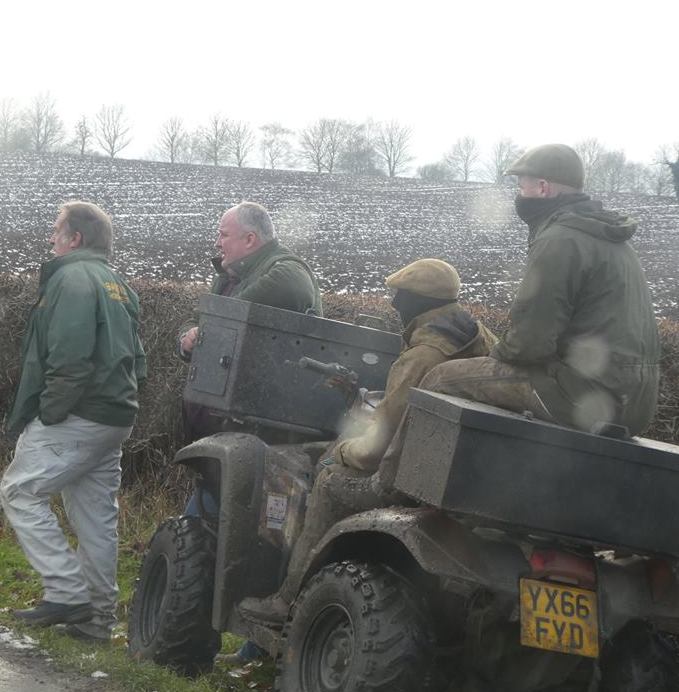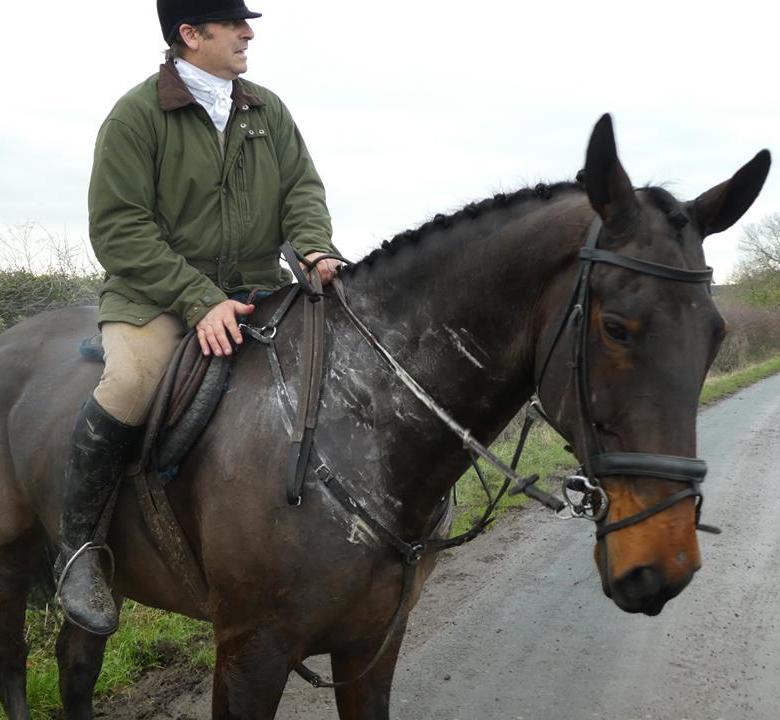 The Metro also ran this story.
Surrey Union FH in cry after fox - on road as darkness fell
2-12-17 Facebook - North Downs Hunt Sabs Mission 36 Surrey Union Fox Hunt Ockley Court 2-12-17 A very different day at the Surrey Union Foxhunt who one of our scouts found at Ockley court , we were joined as usual by Guildford sabs as we rushed to the meet. Another scout had already found some of the Masters, ie the Hutleys, riding near their home at Bramley and it was very noticeable the difference in attitude depending what Masters are in charge.
The Hutleys leave illegal hunting to mid week and try to trail hunt at the weekend, whereas Dunston and
Hazeltine seem desperate for a kill and don't seem to care for their riders crossing the A24 dual carriageway twice and packing up very dangerously in the dark.
The day was very different to the norm. They moved north towards Leith hill (but presumably changed their plans as they don't have a license to hunt the National Trust land there), so did the unusual move of heading to South Holmwood and crossing the A24. The Hunt was evasive and fast moving, but we caught up with them at Newdigate, where they seemed to be losing riders all over the place and starting illegally hunting at Cudworth (they did have their usual trial layer but he was always behind the hounds, so I don't know why they bother with this farce).
They then went to Home Farm for more illegal hunting but sabs kept them moving, this time to Temple Elfande where they hoped to evade us by hunting down a dead end road and seemed very unhappy to have been discovered again... the Hunt was down to 3 redcoats and 2 blackcoats [above right], but they seemed determined to kill something and in failing light we found the hounds in full cry after a fox near Taylor's farm Capel/Rusper. Hopefully we did enough to help the fox get away... as hounds were seen all over the road. At this point it was practically pitch black, and it was criminally dangerous to have black-coated riders making their way back to the meet re-crossing the busy A24.
A long and at times frustrating day for the sabs but once we had got hold of the Hunt they never lost us for long and they seemed very pissed ofF that we had managed to find the meet. Please help us get a second Landrover so we can get all of our sabs in the field by donating to the following link.
Pics below - 1/ Surrey Union hunted round here 2/ And round here...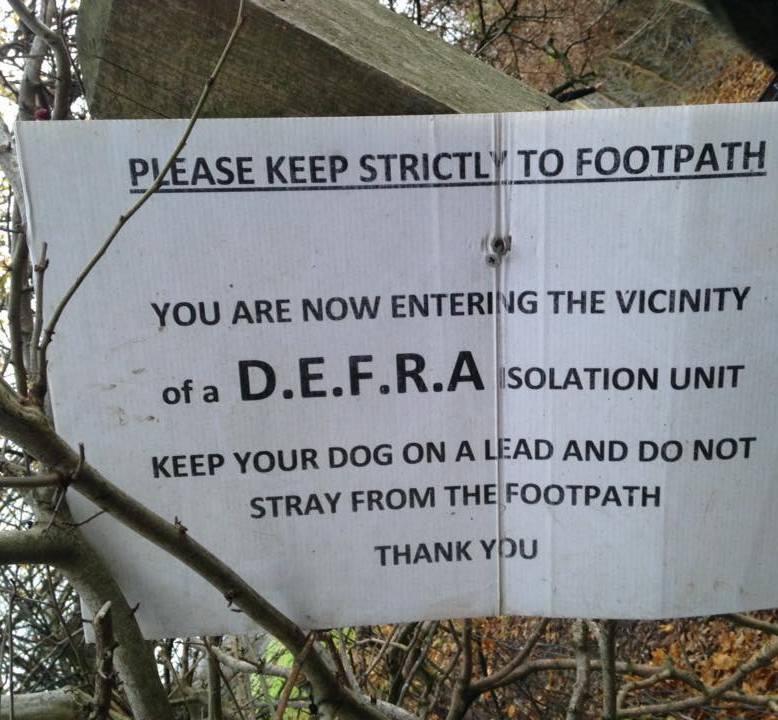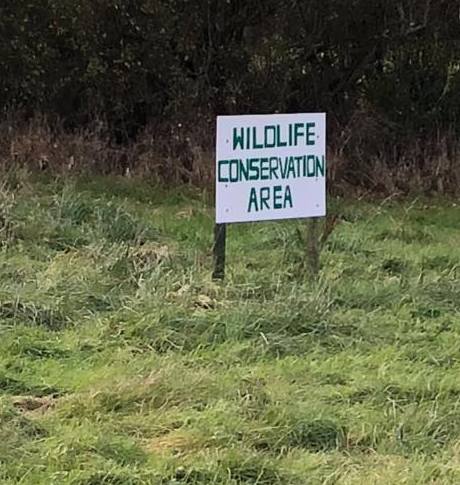 Beaufort FH hunter incriminates them via apology for A46 hound incident
15-11-17 Facebook - Cirencester Illegal Hunt Watch Matt Ramsden of the Beaufort Hunt has written an apology to the driver of the vehicle that struck a hound as the pack burst out onto the A46, in which he mentions that sporting dogs have exemption from the requirement to keep dogs on leads on main roads... This is the Road Traffic Act exemption referred to in the 'apology': "to have been at the material time in use under proper control for sporting purposes". It seems to us that the Hunt can choose from one of the following:-
- The hounds were under proper control and following a trail which was laid close to or on the A46 at best irresponsible, probably illegal.
- The hounds were under proper control and pursuing a fox – illegal.
- The hounds were following a trail then 'accidentally' started pursuing a fox. If the Hunt could stop the hounds but didn't – illegal. If the Hunt couldn't stop the hounds, then they were out of control on the A46 – illegal.
In other words, the Road Traffic Act exemption establishes the Hunt's guilt, not its innocence.
Pics below - 1/ Driver of car that hit hound 6-11-17 2/ Other hounds on A46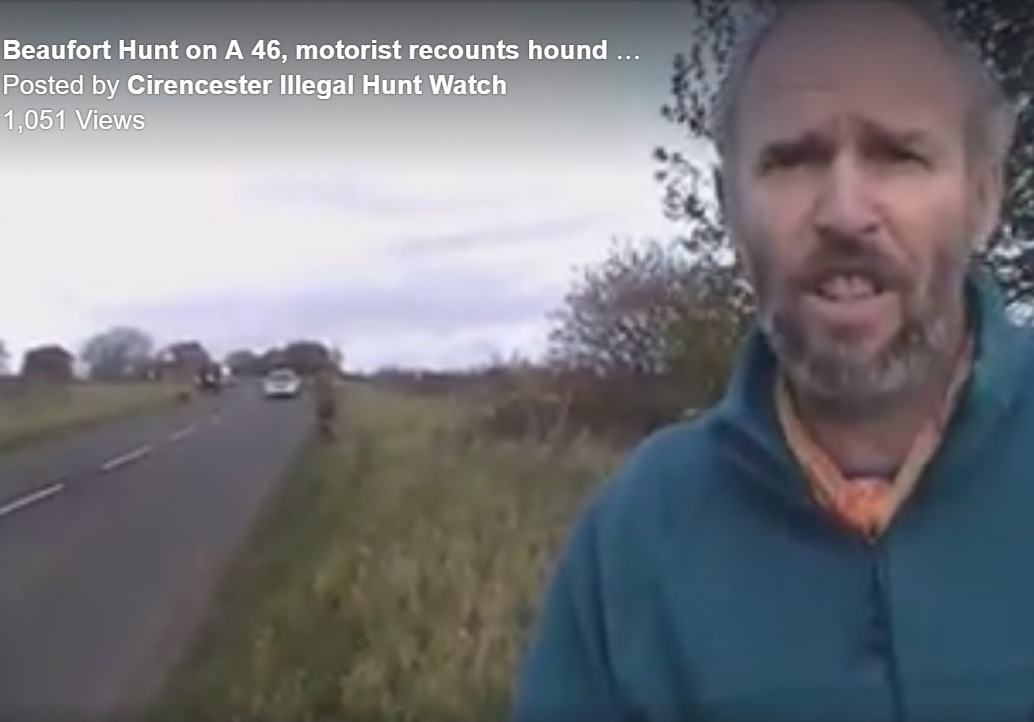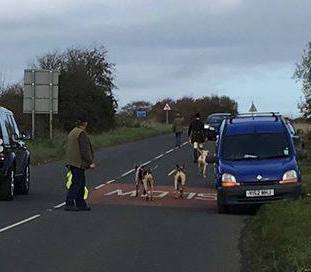 National Trust backs away from publishing 'trail hunt' routes
4-11-17 Observer National Trust accused of backtracking over trail hunting on its land - Trust says it overturned its decision to publish hunt routes to avoid confrontation between followers and protesters The National Trust has been accused of backtracking on a promise to publish the routes used in controversial trail hunts held on its lands after the charity said it did not want to encourage a climate of confrontation between followers and protesters.A motion to prohibit trust land from being used for trail hunting was narrowly defeated at the charity's AGM last month. Trail hunts involve hounds and riders follow a pre-laid scent path but many regard it as a means of circumventing the 2004 Hunting Act.
The motion had been opposed by the Trust's board and in the run-up to the conference it had pledged to publish the routes taken in future. "We will ask for all specified routes and dates of trail hunts in advance and these will be published on a new page on our website," an AGM booklet read.
There was anger, however, when the trust said on Facebook that it would not be publishing routes or meeting points following discussions with the police and others. Helen Beynon, the NT member who tabled the AGM motion accused the trust of lying to its members. It had originally bowed to pressure from members and agreed there was a need to review the oversight of hunting on its lands, she said. Question remained about what the hunts usedto create the trails and whether any scent was being used at all, she said.
"Given all this you have absolutely misled your members before and during the debate," she said. "Please explain how giving simply a map of an area to anyone interested, gives them any idea where the Hunt might be at anyone time. Clearly this has been done so hunts can avoid scrutiny."
A spokesperson for the Trust said that, as part of new terms, it would provide details of dates and maps of the licensed hunting areas on its website "providing the level of transparency our visitors need to make an informed decision over whether or not they want to avoid a Hunt in that area on certain days of the year. However, we do not want to encourage or create a climate of confrontation between trail hunt followers or protesters. Following advice from the police in September, we took the decision not to publish details of specific routes after concerns were raised over public safety and the potential for disorder."
POWAperson comments - The wording used by the Trust above indicates that either they just don't understand what Hunts are really like and what they've been getting up to all this time or they are being deliberately obtuse. It is highly unlikely that Hunts will stick to 'specific routes' they've told the Trust about in advance, because 'trail hunting' is essentially a fiction, custom designed to disguise live quarry hunting. Since the Trust have said they're not intending to monitor the routes, they won't know whether Hunts stick to them or not. Sabs and monitors will still know where the Hunts are meeting, but they won't be able to tell whether or not they've followed the stated routes, since the NT will be keeping this secret. Despite the NT fixing the vote so 'trail hunting' wasn't banned, their new rules should considerably constrain Hunts - but only if the Trust either change policy and monitor hunts themselves or they respond appropriately to evidence of licence breaches sabs/monitors will provide.
Villagers let Blackmore FH know they're not wanted - hunted fox escapes
2-11-17 Facebook - Hounds Off Foxhunters were unwelcome in Stoke Trister and Cucklington today, on the Dorset/Somerset borders. The hunted fox got away.
POWAperson adds – Hounds Off personnel, villagers and a pair of highly experienced monitors made sure the Blackmore & Sparkford Vale FH, believed responsible for invading an animal shelter last week and known for their unwanted incursions, were shown they were not wanted in two villages. Video from Hounds Off to follow.
Pics below - 1/ Not wanted in churchyard 2/ Not wanted on farmland 3/ Hunt skulking on a bend 4/ Hunted fox fleeing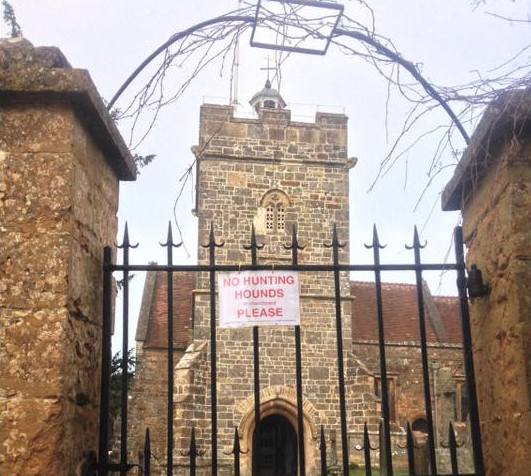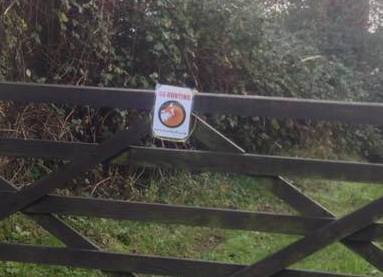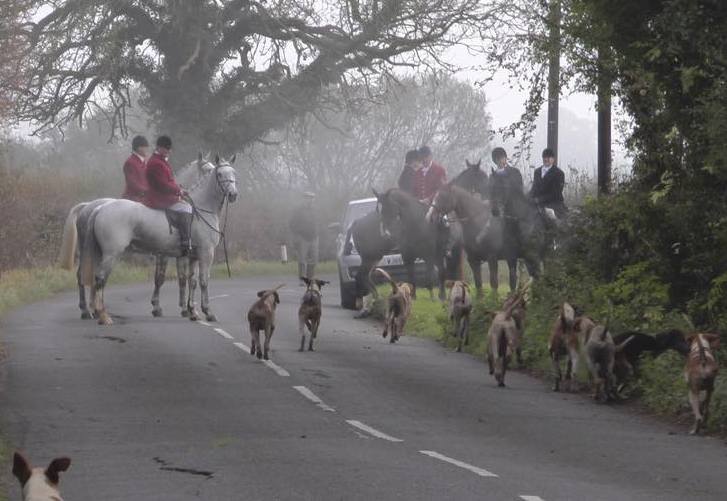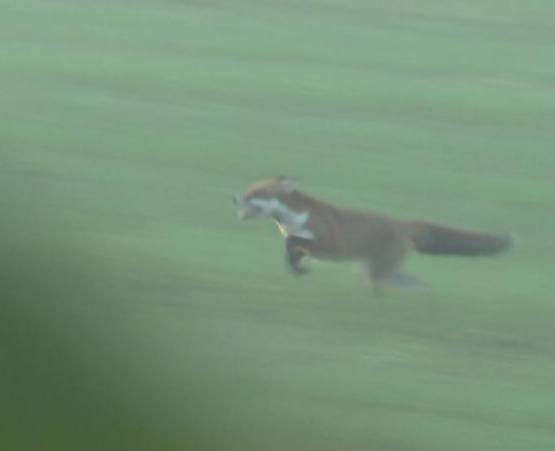 Enter content here