S. Herefordshire FH Huntsman & kennel maid convicted of cruelty to fox cubs
A terrierman & a woman already pled guilty to cruelty in transporting cubs
4 given suspended sentences as subject to long vilification on social media
Antis outraged by very weak sentences, esp. failure to disqualify from keeping animals
Hunt terrierman cleared, claiming thought cubs would be released
10-6-19 Guardian VIDEO Huntsman found guilty of animal cruelty after activists' secret filming - Footage shows then master of hounds Paul Oliver [Huntsman] taking fox cubs into kennels A senior Huntsman has been found guilty of animal cruelty after activists secretly filmed him apparently preparing to throw fox cubs to a pack of baying hounds.
Animal rights campaigners claim the conviction is significant because it shows a master of hounds "blooding" the animals – training them to kill foxes – 15 years after the ban on hunting with dogs was introduced.
The footage was obtained by members of a group called HIT (the Hunt Investigation Team), who say they include ex-services personnel and that they have had training in covert investigative methods.
They obtained evidence for the prosecution by fixing a tracking device to the vehicle of a man they believed to have connections to the South Herefordshire Hunt and mapping his movements out into the wilds, where they suspected he was catching fox cubs. The activists also set up cameras at the Hunt's kennels and obtained footage that showed the then master of hounds, Paul Oliver, taking fox cubs into the kennels.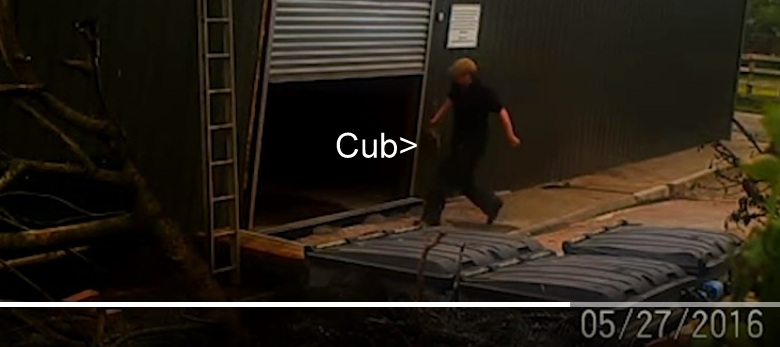 Huntsman carrying cub, about to throw it to hounds [Credit Dave Evitts / SWNS.com]
Though the footage does not show what happened inside the kennels complex, the prosecution at Birmingham magistrates court claimed he was blooding the hounds.
Oliver [below right, credit Mark Cooper/PA wire], 40, and kennel maid Hannah Rose [below left, Credit SWNS], 30, both of Spalding, Lincolnshire, were found guilty of causing unnecessary suffering to fox cubs. Joanna Dickens, the district judge, convicted Oliver of four counts of animal cruelty and Rose of three counts of the same charge. The pair and two others who pleaded guilty were due to be sentenced later on Monday.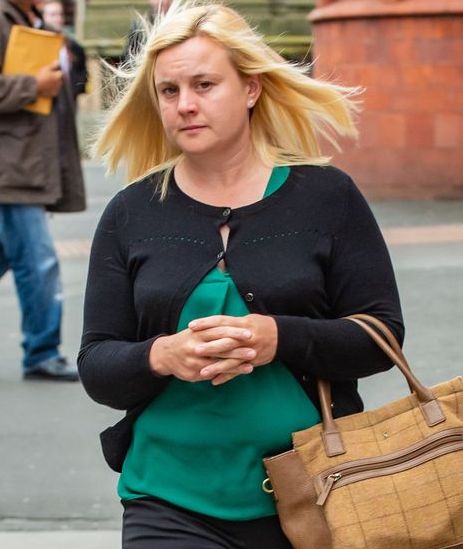 The Masters of Foxhounds Association suspended the South Herefordshire Hunt after the footage emerged and it has disbanded.
A spokesperson for the association said Oliver's actions were "completely disgraceful" and had no place in hunting. "It is incumbent on everybody involved in hunting to see that this sort of behaviour never happens again." It insisted that it was an isolated incident.
HIT said it began investigating after a tip-off. In March 2016, activists put a tracking device on to the Land Rover of man said to be connected to the hunt and followed his movements. The group said it believed it was permissible in law to put a tracking device on a vehicle it suspected of involvement.
The activists claim it became evident the man was catching cubs and then heading straight to the hunt kennels in Wormelow, near Hereford. The evidence obtained through the use of the device was admitted in court.
The investigators took legal advice from lawyers and animal welfare organisations to work out their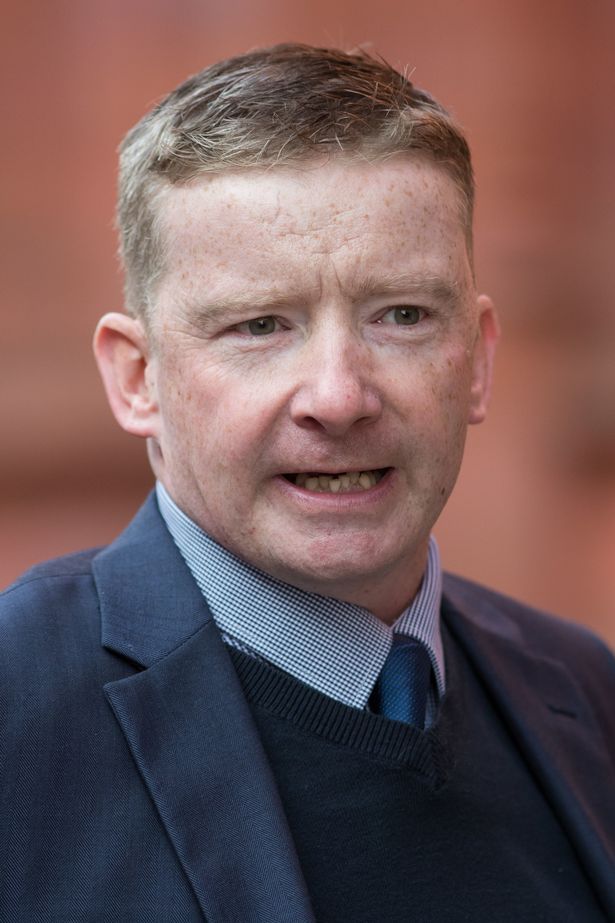 next step. The advice they received was that they could not try to recover any cubs as this would amount to theft. They said they did not turn the case over to the police because they did not believe officers would have the resources to follow it up.
Instead they trespassed – a civil rather than criminal offence – on to the land where the hunt kennels were based and set up hidden cameras. They argued it was the only way to expose what was happening and compare it to undercover journalism.
A team of four or five were involved in setting up and monitoring the cameras and in May 2016 they found what they claim was evidence that fox cubs were being taken from their mothers and thrown live into the hounds' kennels.
The prosecution alleged the footage showed Oliver preparing to throw fox cubs in with the hounds. It was claimed that Rose, like Oliver a hunt employee, stood by as he did so.
Oliver denied feeding cubs to the dogs. He claimed the dogs did not hunt foxes but only followed aniseed-based scents. Rose said she knew nothing about cubs being fed to the hounds.
The prosecution claimed it was the vehicle of a man called Nathan Parry that the HIT activists tracked. The court was told he was not employed by a Hunt but was a terrier man. Traditionally terrier men work with Hunts. Parry was found not guilty of causing suffering to four foxes after the judge accepted that he believed the animals would be relocated in the wild.
One of the activists involved in the operation, who asked not to be named, said HIT had received reports about other Hunts across the country, which it was investigating. The HIT members are worried about reprisals and one who gave evidence during the trial was allowed to do so from behind a screen.
Julie Elmore, 55, of Abergavenny, south Wales, and Paul Reece, 48, from Chepstow, admitted causing unnecessary suffering to fox cubs.
Deborah Marshall, a spokesperson for the Hunt Investigation Team, said: "We are clearly pleased that the hard work and integrity of the Hunt Investigation Team has resulted in convictions. This case has taken far too long to come to court and we have faced false allegations against investigators and obstruction throughout. We are glad that justice has finally taken its course. The capture of fox cubs to be used to train hounds is nothing new and is widespread across Britain.. We will continue to expose cruelty and wildlife crime and our message to hunts everywhere is 'Expect Us'."
10-6-19 Facebook - Hunt Investigation Team Trial verdicts... The judge has today delivered her verdicts. 4 suspects are guilty on multiple counts of animal cruelty. Paul Oliver guilty on all 4 counts, Hannah Rose guilty on 3 counts, Paul Reece guilty on 2 counts, Julie Elmore guilty on 2 counts. Nathan Parry acquitted. This is a very good result!
The 4 fox cubs were dug out of their homes at 8 weeks old, taken from their mothers', through the gates of hell and were thrown alive to a pack of hunting dogs. We can only imagine the terror that they endured as they met the most brutal of deaths. This is the true face of hunting in 2019.
We would like to thank numerous people, the team that procured the original intelligence, the most excellent ground team that HIT dispatched to the kennels who secured the evidence, everyone on social media and in the national media that has fought hard to keep this case alive and secured these ground breaking convictions and thank you to our most 'special' of friends that have given so much and yet remain in the shadows. Please share and support our ground breaking work. HIT.
Details of trial, provided by 3C Hunt Sabs, can be found, along with background to the investigation, here.
POWAperson comments - Mixed emotions. The guilty verdicts were very welcome, though how Parry escaped is mystifying. But the sentences are pathetic, especially the lack of disqualification from keeping animals. What exactly to you have to do to actually get disqualified?
It has taken three whole years to bring these heartless, perverted excuses for humanity to some form of justice. The hunt side has tried all manner of dirty tricks to delay or prevent it coming to court including lies about the investigators and a police officer investigating the case. It's the clearest example of their ruthlessness, their willingness to do almost anything to cover up their crimes and protect their perverted 'sport'. And they have the resources and the clout to succeed far more often than they fail. How else, despite all the well-known failings of the Hunting Act could so many packs continue to get away, time after time, with hunting live quarry absolutely blatantly?
It is down to the courage and persistence of everyone involved in carrying forward the original investigation [which the police could not be trusted with] and overcoming every obstacle thrown in their way to bring it to court that a severe body blow has been dealt to the hunting community. The pitiful sentences delivered was a slap in the face. You'd hope the CPS would appeal the sentences, but it appears this is not permitted in case of offences not regarded as serious enough, such as this.
Unsurprisingly, given how horrendous and disgusting this case was, the trial and verdicts received wide media coverage. ITV evening News ran a substantial story on it but national BBC evening News mentioned it just in passing. Among much press coverage were the Independent, Mirror, Evening Standard, Telegraph, Mail