NT call police in after Surrey Union seen hunting on their land
15-12-18 Facebook - Guildford Hunt Saboteurs BREAKING NEWS The Surrey Union Hunt have been spotted on National Trust land near Polesdon Lacey. The Trust have confirmed they are trespassing and have called the police.
POWAperson adds - IF the report that the Trust have called in the police is correct, they're presumably convinced the SU were foxhunting. Otherwise it's just a civil matter.
Video of Belvoir FH hounds rioting in village uploaded
7-12-18 Facebook - Nottingham Hunt Saboteurs VIDEO Belvoir Foxhounds SABBED - Tuesday 4th December 2018 Notts and Lincoln Hunt Saboteurs (in our lovely new vehicle!) were on hand when the Belvoir Foxhounds completely lost control of their pack.

Hounds streaming across road in the village
The hounds rioted through the sleepy village of Billingborough, rampaging through residents' gardens while helpless hunt staff looked on. Sabs intervened by cracking whips and spraying citronella to see the fox to safety, then warned distressed locals to get their pets inside. The huntsman left Billingborough with his hounds on the scent, but quit and packed up when sabs wouldn't give him space to hunt.

Sabs follow rioting hounds into garden
We couldn't do what we do without your moral, social media, and financial support. Feel free to buy us a coffee* at https://ko-fi.com/M4M271WY.

Sabs rating hounds in garden to stop them chasing fox

The cavalry arrive

Redcoat tries to round up trespassing hounds

Can we have our dogs back please Mrs?

Hounds still roaming loose and scattered
Meynell FH supporting farmer tips manure over sabs in van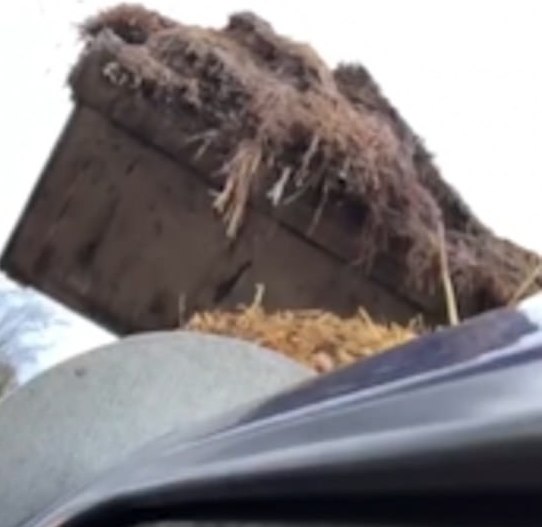 3-12-18 Daily Mail VIDEO 'I'm covered in poo!': Shocking moment tractor driver tips bucket of MANURE over hunt saboteurs' van after chasing it - Lincoln Hunt Saboteurs were filmed being pursued by a tractor tipping manure - In the video the tractor driver tips a bucket of manure over the roof of the car - The protesters later posted footage on Facebook and it has since gone viral This is the shocking moment a group of hunt saboteurs were chased by a tractor driver who tipped manure over their van. During the video footage, members of the Lincoln Hunt Saboteurs, a group taking action against blood sports in Lincolnshire, are filmed being pursued by a tractor with a bucket full of manure in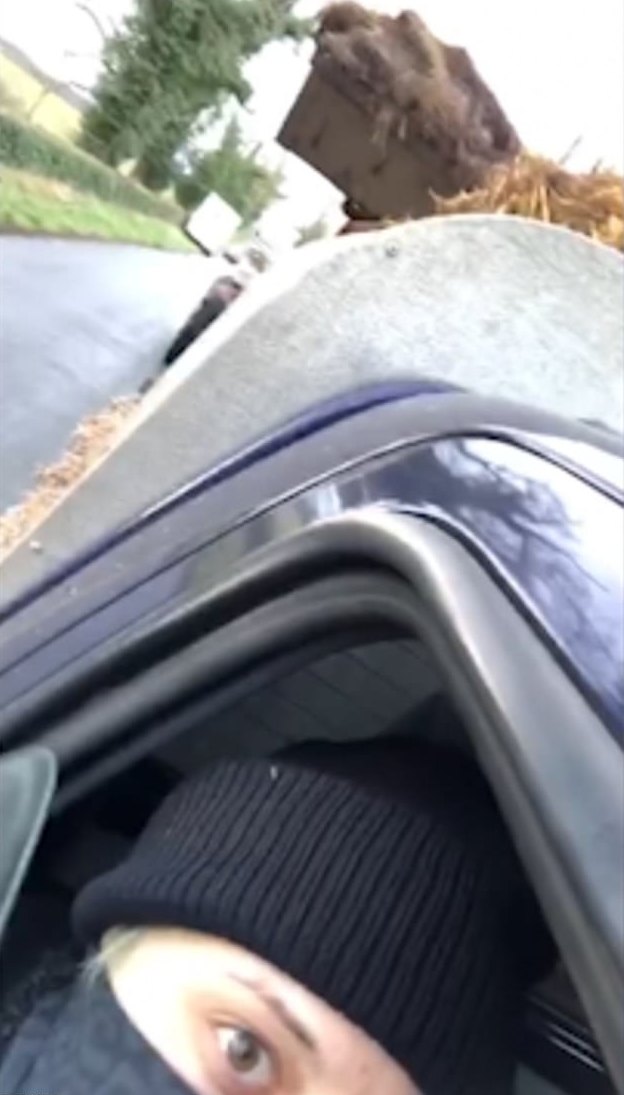 Hixon, Staffordshire.
The protesters, were attacked as they monitored the activities of the Meynell and South Staffordshire Hunt. The Hunt, which sees hounds being released into the English countryside, starts in September and takes place two days a week on Tuesday and Saturday. In the video the tractor tips the bucket sending manure cascading onto the roof and through the open window of the van. One of the saboteurs can be heard saying: 'They are pouring sh*t on us - I'm covered in poo, wonderful!'" The 1.45 minute footage has since gone viral after it was posted on the group's Facebook group following the incident on December 1st.
A spokesperson for the Lincoln Hunt Saboteurs group said: 'It's bumpkin justice. If the hydraulics failed on the tractor, it could have crashed into the vehicle and killed people - it could have been fatal. We often get intimidation like this and we need to make sure people are aware of it. We are a sab (sic) group that are there most of the time, we don't do anything illegal and we largely monitor the activities of Hunts. If they're doing nothing illegal then they can't object to our presence. If they do anything illegal then will take non-violent direct action, like laying false scent trails for the dogs to help the fox escape. The incident has been reported to the police. There were 12 of us altogether, seven in the van I was in and five on the van that was attacked with the tractor. You could see some of the Hunt's supporters laughing at us when it happened. It was because we ruined their day. This sort of stuff goes on all the time and the police do nothing about it. 'Many members of groups like ours have had dead foxes left on their steps, they'll do anything to intimate us.'
MailOnline have contacted Staffordshire Police for comment.
POWAperson adds - There is another video, filmed by hunt supporters, which they posted online. Obviously, they find it all hilarious. Helpfully, they name the farmer. Realising that if they were going to post the video they'd better get in the lie that they're only hunting a scent. one of the women says that.
3-12-18 Facebook - Nottingham Hunt Saboteurs Lincoln Hunt Sabs Attacked - Meynell Foxhounds Saturday 1st December Our comrades from Lincoln Hunt Saboteurs were the unfortunate victims of a road rage attack on Saturday. Clearly we had utterly ruined the Meynell's day, and someone blew a gasket.
Have we been scared away from going back to ruin them again? Answers on a postcard please. Nobody was hurt but their vehicle stinks of manure, and two of them had to take their Winter bath a month early.
All donations made below are for Lincoln sabs to, have their vehicle fully valeted, ready for next Saturday, and help cover any legal costs (depending on how seriously the police take this issue). www.ko-fi.com/lincssabs.
Story also in the Mirror
Sab drone keeps them on E. Kent FH - leads to v. early pack up
25-11-18 Facebook - East Kent Sabs EAST/WEST KENT HUNT SABS - Saturday 24th November After the mornings sab admin & organisation, East and West Kent Sabs headed over to Westmarsh to reports that a hunt was congregating in that area. Sure enough, we bumped into the EAST KENT with WEST STREET foxhounds at Sheerwater, as they headed out towards Hoaden. It was good to see some old faces in the hunt entourage, even some young "Tarquins" who were following in "daddies" classic Land Rover!
This meet has never been too good for us in the past, with much orchard and marsh land to cover..…this terrain allowed the hunt to move fast-the marsh is just a maze of ditches to navigate and the miles of orchard blocks your view, making it hard to get a fix on them. However our drone has given things a new perspective-the hunt now sticks out like a skinny dog's bollocks (!) on both types of landscape.
As soon as we had a fix on the Hunt, the foot sabs were deployed, trudging on after them [below]. When the foot sabs were not with the Hunt or in transit to them, the drone kept an eye on them. The result was another early pack up for the hunt at 2pm, not even 2 hour hunting!!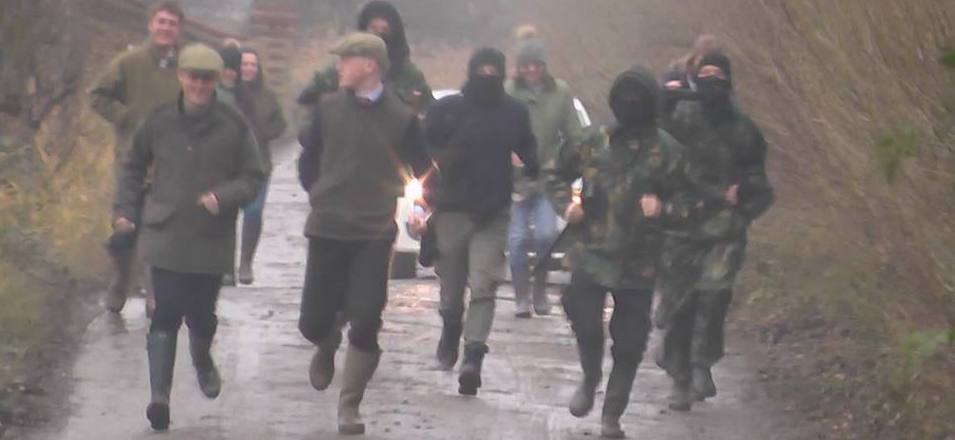 We have no doubt that this would have been a different story had we not been with them, as they had two quad bikes following, with terrier men and the usual paraphernalia to dig & hunt foxes below ground….so so sorry to spoil your fun chaps!
Our two groups worked really well together and after taking an aerial group photo, we headed home for lashings of ginger beer (well…..maybe a well deserved Cider!!). If you wish to donate to our group and keep us out in the fields, you can do so here - many thanks. https://www.paypal.me/EASTKENTHSA or "buy us a coffee" (small donations) here - ko-fi.com/kenthuntsabs. Thanks x