Member of public sees Warks FH clearly hunting a fox
18-2-18 Facebook - West Midlands Hunt Saboteurs Warwickshire Hunt - Saturday 17th February A member of the public came across the Warwickshire Hunt yesterday and witnessed them hunting a fox. They filmed and took photos of the Hunt and sent them to us. Thanks to the exposure they have received from us this season more and more local people are standing up to the the Warwickshire Hunt. This is the account of what happened -
"I was out walking when we bumped into a Hunt. I asked them if they were fox hunting and they said no they were drag hunting. I decided to keep and eye on them as they ran off across the fields, we could see the dogs chasing something but it was far away so we couldn't be sure if they were chasing a fox or not. Not long after we saw a fox running across the field back towards where we were and had been.
The Hunt weren't chasing it at this point but I headed to the direction the fox had gone and sure enough a terrier man was there on his radio. Not long after I heard the dogs back and a man (dressed like the Huntsman) with a horn, he was making calls I believe (high pitched squealing and blowing the horn). The terrier man said to him "it came across here", pointing to where the fox had run. The horses then gathered and the dogs disappeared. At this point it's was gone 5:30pm so the light was bad. I am not sure if they found a the fox as I haven't witnessed a Hunt before."
We have filmed the Warwickshire Hunt dangerously hunting into the dark on a number of occasions this season and it seems they still do when we aren't about.
The National Trust saw no problem giving the Warwickshire Hunt a license to use its land and yet even members of the public who have never seen a hunt before can clearly tell that this Hunt are hunting foxes and using terrier men to assist them hunt foxes.
If you come across the Warwickshire Hunt whilst out and about please contact us confidentially on 07767620767.
Monitor's windscreen smashed after threats from Easton Harriers supporters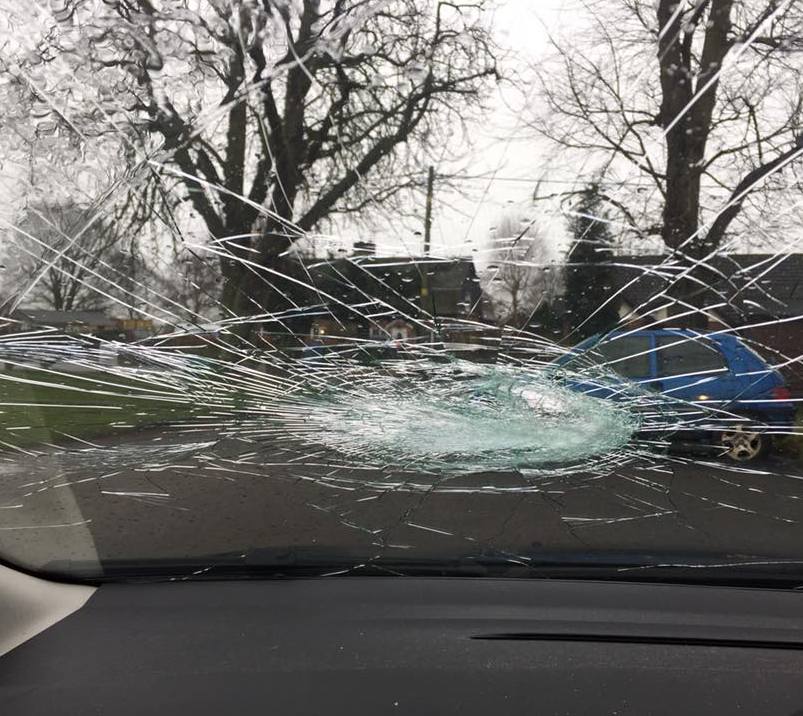 11-2-18 Facebook - Norfolk/Suffolk Hunt Saboteurs Yesterday, Saturday 10th February, an investigator from the Hare Preservation Trust along with a concerned member of the public were subject to aggression and intimidation while monitoring the Easton Harriers at Stutton Estate in Suffolk. Estate workers, game keepers and others associated with the Hunt took it upon themselves to use threats of violence against monitors who were acting within the law.
Not much can be revealed at this time in regard to the activities of the Hunt and the support, due to legal proceedings, but are able to let our supporters know the damage that has been caused on the day. The windscreen of the investigators vehicle was smashed at the end of the day as he attempted to leave after the Hunt was packed up. If the Hunt were acting within the law then why would they feel the need to allow such behaviour?
We send our thoughts and thanks to those two who went out of their way to monitor the Easton Harriers. We'd also like to show solidarity to North Cambs Hunt Sabs who were also subject to violence and criminal damage. Please support the work of the The Hare Preservation Trust - HPT Official.
Pics below - Hounds and riders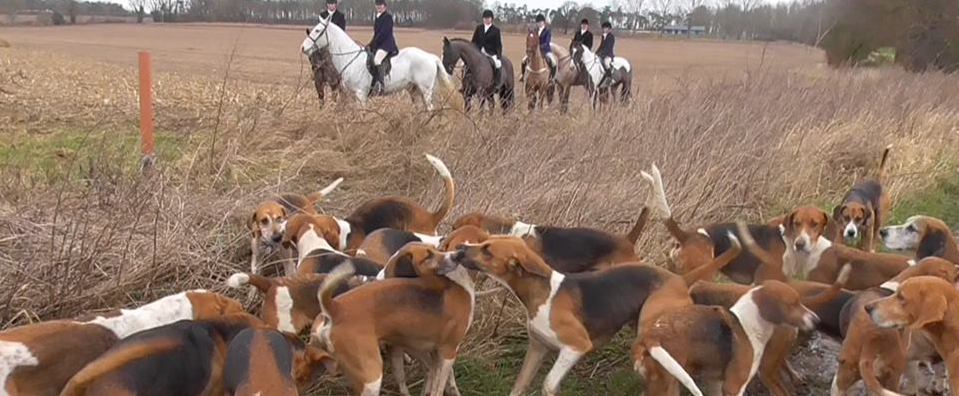 13-2-18 Facebook - Norfolk/Suffolk Hunt Saboteurs Easton Harriers – 10th February 2018 Stutton Estate, Stutton, Suffolk On Saturday 10th February while the majority of Norfolk & Suffolk Sabs were at another Hunt one Norfolk & Suffolk sab and a Hare Preservation Trust monitor took a look at what the Easton Harriers Hunt were up to. To say the Hunt was caught a little off-guard, is an understatement.
The meet bordered the stunning Stour Estuary, which meant that the plentiful footpaths, which walkers frequently use, could be used to access the meet. Within a matter of seconds of spotting us, the Master of the Hunt was on her phone. Why would she worry about our presence if the hunt were hunting legally?
A few minutes later, while attempting to keep up with the hunt by accessing a footpath on the estate, we were greeted by what can loosely be described as a welcoming committee. Two estate vehicles and a quad bike stopped us in our tracks and the occupants got out and surrounded our crew of two. Slightly outnumbered at 12 to 2, we nonetheless managed to keep calm and composed while veiled threats were made by the estate workers/hunt supporters. Thankfully the whole episode was captured on film, so we have a record as to the threats that were made which included "Don't think you're special with that thing, coz we will take it off ya" and "You can call who you like. At end of day, if it kicks off up here that thing will be gone, we will take that off ya" [referring to our video camera].
A bit later on in the day, after tracking the Hunt down, we were on the receiving end of more attention from the "hunt protection squad". Our vehicle got blocked in on a dead end road and once again we found ourselves surrounded. This time, the ante seemed to have been upped, so we called for Police assistance. We cannot fault the service we received from Suffolk Police, as they came in a matter of minutes and dealt with our concerns professionally.
At just after 2.00 pm we were told the Hunt had packed up. With the aggro we had had and with the rain setting in, we were rather relieved to be leaving to go home. However while making our way home we found the hunt further down the road, still hunting. Sure enough the hounds picked up a hare and made chase. A lone sab tried to intervene and it is hoped the hare got away but it is by no means certain.
Clearly rattled by the fact that we had had the audacity to stay with the Hunt and had not run scared, one of the hunt protection squad got himself a bit upset. As our HPT monitor was leaving to come home (for a second time) his windscreen was smashed by one of the individuals who had earlier been making personal threats. We cannot comment any further at this time as the matter is in the hands of Suffolk Police.
Consider helping us keep warm and energised in the fields by sharing a coffee: https://ko-fi.com/A8634QOZ.
Pics below - 1/ Hare pursued by lead hound 2/ HPT investigator menaced by hunters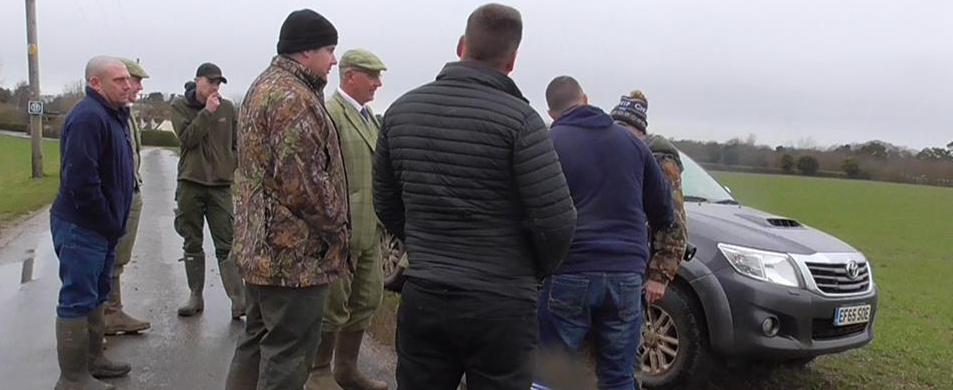 Severe misuse of horses seen at Eggesford FH while sabs save foxes
11-2-18 Facebook - Devon County Hunt Saboteurs Eggesford Hunt 10.2.2018 After the Eggesford killed on Thursday, we returned yesterday to hit them with more sabs and added determination. With three foot teams and two vehicles we had them surrounded all day. Wherever they went, we were already there waiting. It paid off and lives were saved.
They met at Heath Farm, just north of Winkleigh. As you can see from the pictures, it rained throughout and we found ourselves wading through bog for much of the day! The Hunt set off into the valley south of Week House, drawing both sides as they headed south and then north, with huntsman Jason Marles attempting to flush out foxes ahead of the hounds. Hounds began speaking on a line but we had it covered. A horn-blowing battle ensued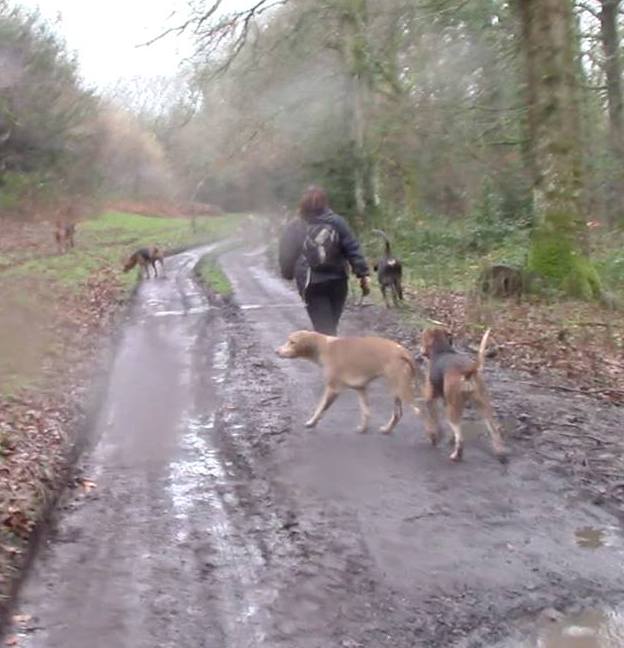 between sabs and Marles in Woodroberts Wood. Sabs had most of the pack and it took Marles a good 15 minutes to get them back together and move on.
Next, they entered the stream valley south of Hollocombe Moor. Again, foot teams were quickly repositioned, just in time to witness hounds in cry heading onto the moor and towards the busy A-road. What a strange place to lay a trail?! As sabs on the moor called hounds back, others prepared to stop the hounds on the road and prevent them from running into the traffic. Meanwhile, the terrier men stood around like lemmings and Marles was getting drenched on the moor. Another battle of calls ensued, as Marles struggled to regain control of the pack.
Marles eventually emerged on foot from the moor, got back on his horse and made his way over towards Narracott, where he began drawing the many small coverts and river valleys around the farm. Hounds rioted on deer but another effective pincer movement from our foot teams had the hounds surrounded and Marles was forced to call them back.
What followed was one of the most stressful experiences we've had in a long time. A fox ran within a few metres of one of our foot teams and headed straight for the woods. Hounds were less than 10 seconds behind and were excitedly speaking on the line. Sabs on one side of the valley tried to cover the fox's scent and rate the hounds, while sabs on the other side prepared to call them out away from the fox. However, a fox broke from the woods and headed towards that same foot team. We're not sure if it was the same fox as the two were just minutes apart. Calling at this point would have put the fox at risk, so sabs waited for the fox to get away and prepared to stop the hounds, who were not far behind.
Nathan, one of the Eggesford terrier men, had also seen the fox and pointed out to Marles where the fox had run. Marles immediately blew "Gone Away", the signal that a fox had broken from covert, and encouraged the hounds onto the line. Sabs who witnessed the whole thing shouted at him to call the hounds off. His response was the usual smug-faced "I didn't see no fox", and to another team he said "do you think I give a f*** what you've got on camera?!"
Although it had been an extremely close call, quick action from all our foot teams ensured the fox got away safely and Marles eventually gathered the pack and headed further south. Sabs followed closely through the woods to ensure they didn't double-back.
Meanwhile, in a display of some of the most irresponsible horsemanship we have ever witnessed, a couple of the riders forced their horses down a steep slippery slope in the woods and one of them was thrown off her horse straight into the mud. She was drenched in mud from head to toe. Surely they would turn around and head back the way they came?? But no... they carried on down the slope, dragging their horses down by the reins. The horses skidded and slid all over the place. One of the horses sank deep into the mud and had to be dragged out.
Surely it was time for Marles to give up and go home, and for once he did! By 3.15 the bedraggled Hunt were back at the meet, boxing up the hounds. With two hours of daylight left, we headed off to find the South Tetcott at Northlew but found them packing up as we arrived. Footage and more to follow.
If you support what we do, please contribute to our fuel fund: https://www.paypal.me/dchs. To get involved or send us information: 07717473305 or devoncountysabs@riseup.net.
Pics below - 1/ Sabs ask huntsman to call hounds off fox 2/ Rider thrown off into deep mud 3/ Hounds get some rest and a dry in the van at end of meet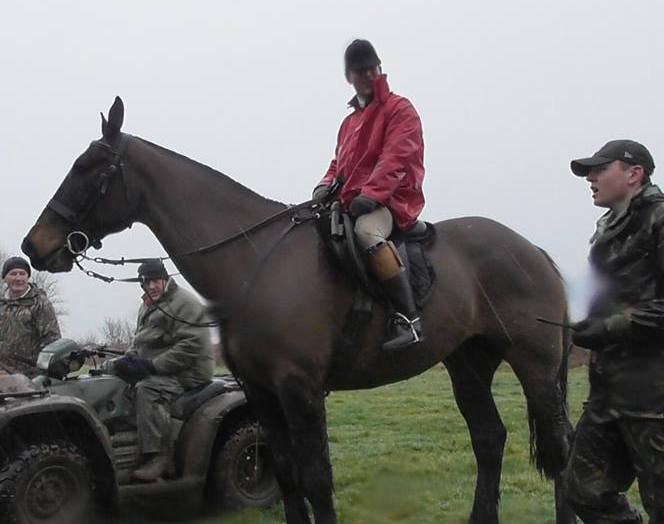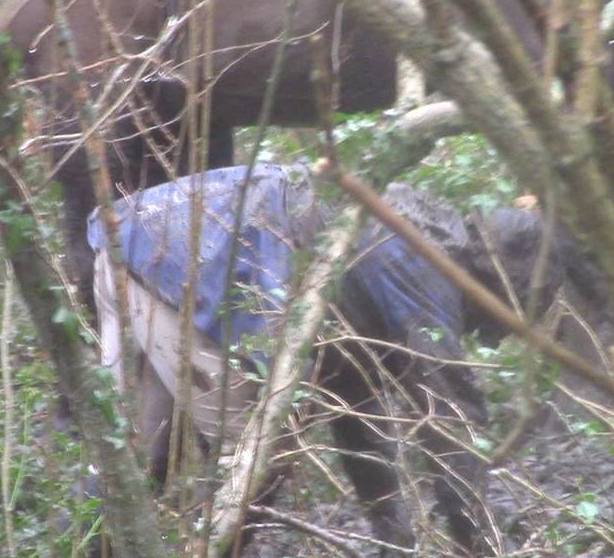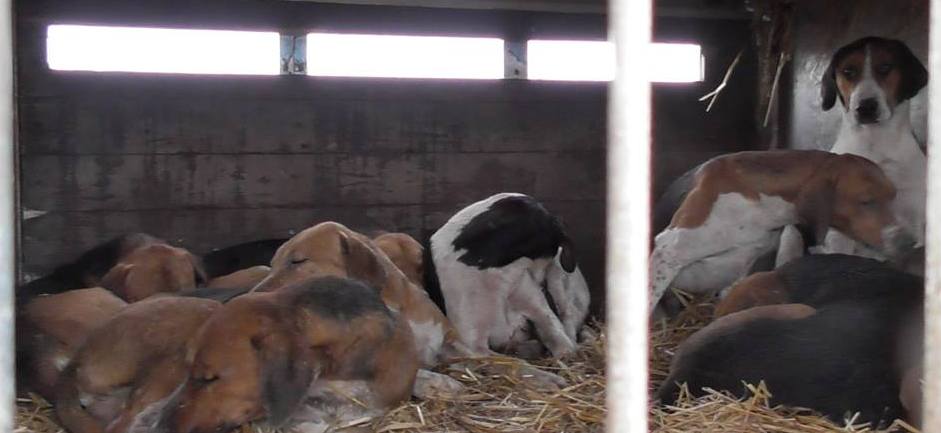 Sabs stop dig-out, one & a hound driven into by Curre FH terrierman
10-2-18 Facebook - Severn Vale Hunt Saboteurs VIDEO Curre & Llangibby Foxhounds Shirenewton nr Chepstow FOX MARKED TO GROUND. SAB & HOUND HIT BY QUAD With South Wales, Bristol & Bath Hunt Saboteurs. Firstly we would like to acknowledge our fellow sabs, monitors and the wildlife that were subjected to acts of violence today, notably North Cambs Hunt Sabs An attack on one is an attack on all. We will not back down.
News reaches us that the Curre are in trouble, Huntsman Neil Coleman has been sacked. Hunts are under pressure and their days are numbered.
Sabs in South Wales had a cold, wet and muddy day. The Hunt were located near Home Farm Court. Stoneycroft Wood was hunted as were the woods of Rhyd-y-fedw. Sabs stuck close to the hounds. Ex-Hunstman Peter Swann was spotted, loitering near woodland.
During the day as sabs rated hounds on a road, one of our crew and a hunt hound was hit by a quad bike being dangerously driven by terrierman Gareth Baker. Thankfully no serious injury was sustained. The quad was being driven illegally as it was on a public road with no number plates and carrying a passenger. Time and again we see the law being broken by hunts and them getting away with it.
In the afternoon, hounds went into cry and marked a fox to ground in view of sabs. As the terriermen closed in with spades and terriers at the ready to dig out the fox, sabs stood guard for 40 minutes until the terriermen gave up and left. The fox was able to escape to safety. Unhappy that they couldn't fulfil their blood lust for the day, the hunt packed up and were seen back to their kennels by sabs.
We would like to ask if you make a donation today to please help our friends at Bath & North Cambs with their vehicle repairs. Your help helps save lives! Very many thanks. https://www.justgiving.com/crowdfunding/vehiclerepairs

Sabs see Hunt untouched for decade chasing three hares
North Norfolk Harriers couldn't cope with anti presence
6-2-18 Facebook Norfolk/Suffolk Hunt Saboteurs North Norfolk Harriers - 03/02/2018 Stody Lodge, Stody – Norfolk ANOTHER FIRST. We have hit the North Norfolk Harriers. They'd become complacent after more than a decade of being sab-free. But illusions of another easy Saturday ride murdering hares were quickly shattered when they left Stody Lodge and ran straight into sabs.
We surrounded them with cars while foot sabs trailed them across fields. Two chases of at least three different hares occurred in quick succession within minutes of leaving the meet, showing what this hunt gets up to when they believe they're not being watched. Thankfully we believe all hares escaped.
Huntsman Simon "Eggcup" Dunn migrated from the Ross Harriers, a Hunt kept on the run by a host of sab groups... Presumably he came to gentle Norfolk hoping for a quieter time. Not today. And he did not seem pleased. Dunn retreated to the safety of the meet after just 45 minutes contemplating his next move.
The next move was to try and hide in Lodge Plantation, north of Stody Lodge, before riding out north-east along Field Lane. Sabs tracked and trailed him until eventually reaching Hall Farm. While some seemingly drunk supporters tried blocking our cars and driving at foot sabs, the hunt once again tried hiding in the farm until lackeys from Norfolk's finest turned up. After their usual threats about breach of the peace (Hunting Act not mentioned) they vanished and the hunt were left to continue out the west end of the farm and over the crest of a hill.
Unfortunately for them it seems the day was already over. They took a slow roundabout route back to Stody Lodge and were packed up by 2.30pm. See you again soon, Eggcup. Please support us out in the fields by buying us a ko-fi: https://ko-fi.com/A8634QOZ.
Pics below - 1/ Hounds chasing hare 2/ Hare fleeing Hunt 3/ Huntsman Simon Dunn 4/ Supporter who hit sab in head with his camera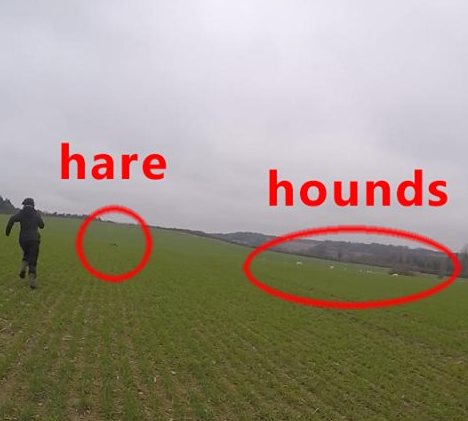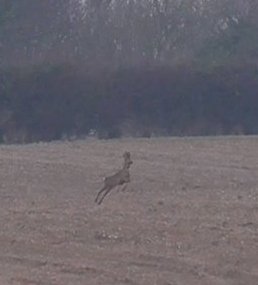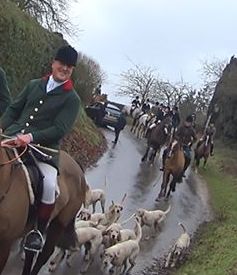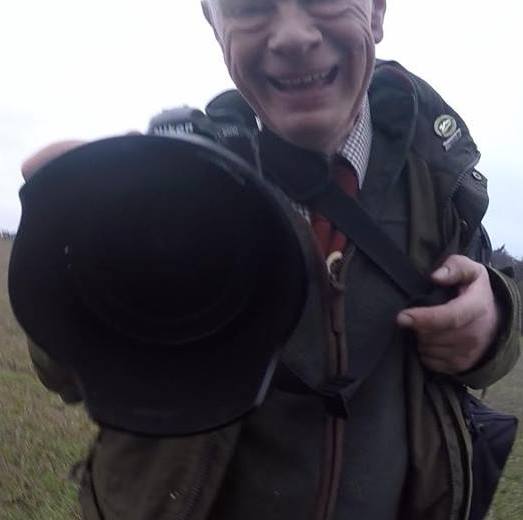 Cheshire Forest FH trespass on NT land, fail to put up foxes
18-1-18 Facebook - Cheshire Hunt Saboteurs Yesterday we joined forces with our very good friends, North Wales Sabs, and paid a visit to the Cheshire Forest hunt, who were meeting at Rode Hall Farm in North Rode, just north east of Congleton.... the hunt set off just after 12 noon and headed onto the busy A54.
They held traffic up for some time until they finally turned off... and headed out the other side onto a bridleway which leads underneath the North Rode Viaduct. Sabs followed on foot, running for a fair distance using the gizmo occasionally to keep the hounds heads up and to distract them from catching the scent of any potential foxes in the small copses we passed. This seriously annoyed the whipper in, Andrew Callwood [left], who furiously rated the hounds and called them away from us!...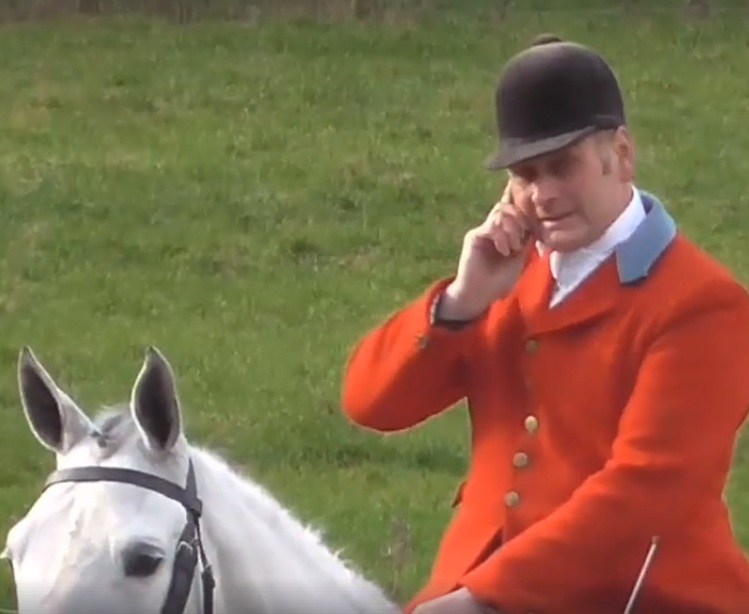 Eventually, sabs caught up with them to find German off his horse encouraging hounds along a hedgerow... Sabs caught up a short time later and were met with some slight resistance from German and an unknown member of the field who attempted to use their horses as weapons to push sabs back. Defiant as ever, sabs stood their ground and the hunt moved on...
Mobile sabs were now sat on a great vantage point up Tunstal Road where they could observe everything the Hunt was up to and also where foot sabs were. As they were up there, a fox was seen to start running from Hunt support vehicles who were parked close by. Bagged fox maybe?? Seems to be a common theme lately, these foxes are always either darting from quad bikes or from hunt support vehicles. Maybe Cheshire Police would like to get proactive and start searching these quad bikes and supporters vehicles??
Mobile sabs quickly sprayed the fox's line whilst the Hunt were heading up the road towards them. Sabs jumped out and pursued the Hunt onto National Trust land, The Cloud. As we were busy sabbing, we made a quick phone call to a friend about this, who then rung the rangers who said the Hunt are under no circumstances allowed on The Cloud and sent some rangers out to tell them to leave if they caught them...
We may have been small in numbers, but we were certainly big in presence! By half two in the afternoon, the hunt had packed in and riders were heading home. But this is where things became interesting!...
... upon noticing the sab in the field by the hound van, whipper in Andrew Callwood, the countryside criminal, handler of stolen goods and likes to drag women around by the hair, appeared to be boxing up a horse but then stripped off his pinks and chased the sab across the field with a female rider. Sab was caught by them both and asked to leave the land but things started to look like they were about to get heavy so other sabs jumped the gate to make sure our mate was all right and to film what was going on, they then stopped our sab from actually leaving the land! We'll let the footage speak for itself here!! Mr Callwood has some cheek to say someone doesn't have respect for a woman when he has actually been charged for assault on a woman though...
All In all, a very successful day for us, and most importantly, the wildlife. The Hunt had virtually nowhere to go where they could get away from us! It was nice to see some local support too. It's becoming quite clear to us that Mr German and his wildlife murdering cronies aren't very much liked in Cheshire... Maybe it has something to do with the fact he illegally hunts and all the foxes he's killed lately?? https://gogetfunding.com/cheshire-sabs-drone-fund/.
Pics below - 1/ Huntsman Andrew German with hounds 2/ Woman hunter to sab, who they are preventing leaving private land even though demanding he should do so - 'I ought to take your bollocks off.'